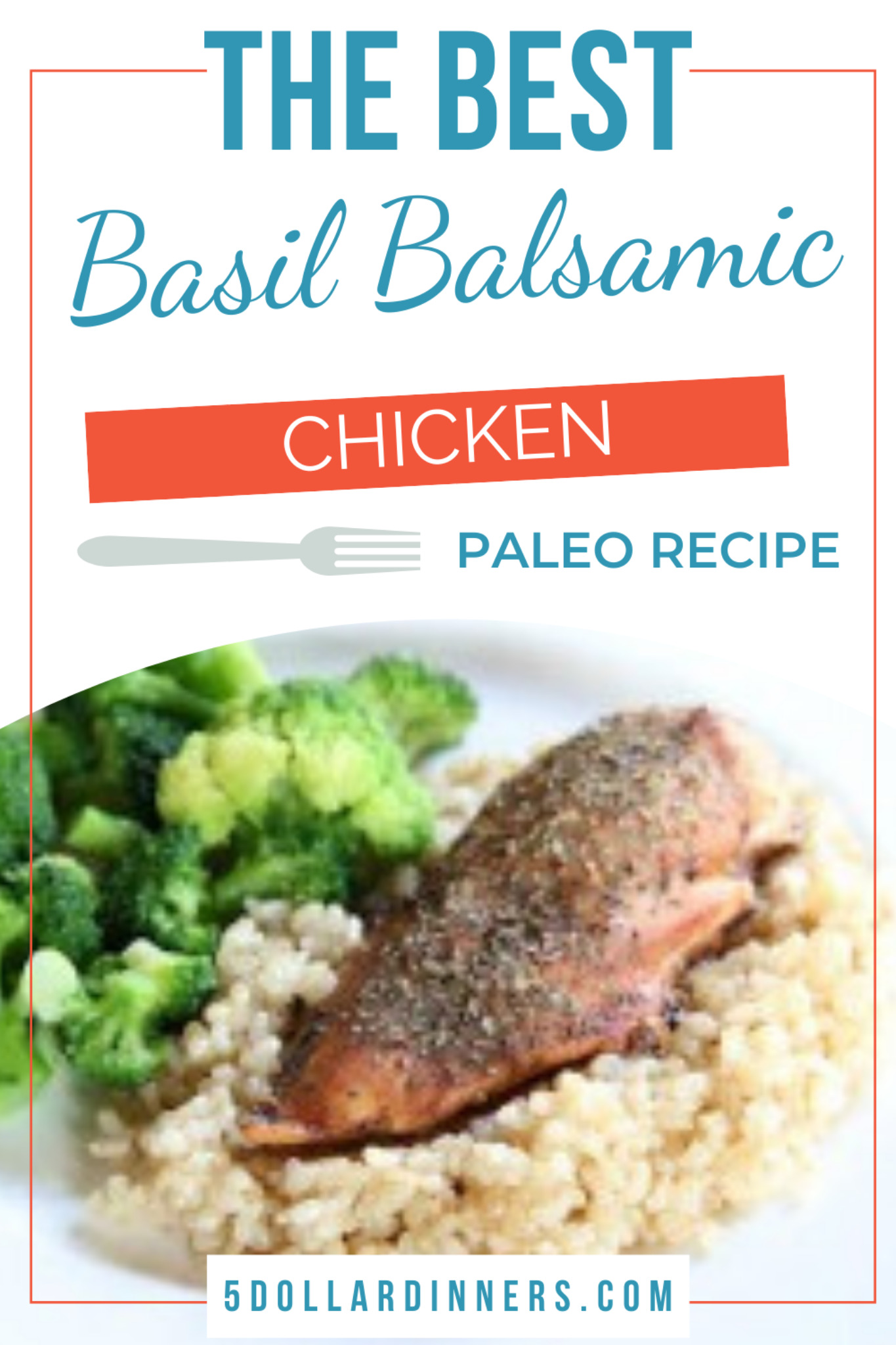 This recipe is part of the latest 21 Gluten Free Meals from Costco Plan.
Simple y'all. It doesn't get any simpler than this. This is your very basic, but very tasty, chicken and rice meal. I often encourage people to set up 'theme nights' in their meal planning efforts…to take some of the guesswork and edge off of the meal planning process and experience. Besides pizza night, pasta night and leftovers night, another simple one to include is 'chicken and rice' night…when you make a basic meal that consists of chicken, rice and some vegetables (or fruit.)
This is just that. Rice cooked in the rice cooker, or baked in the oven.
Chicken drenched in balsamic vinegar and then sprinkled with basil…then baked in the oven.
Add some broccoli on the side and we've got a meal that will please everyone at my table…and hopefully yours too!
Three cheers for simple, simple, simple!
This recipe is written for a single meal. If you wish to freeze the chicken in the marinade, add the chicken to plastic freezer baggie, then add the vinegar, oil, salt, pepper and basil. Freeze until you are ready to make it. To thaw quickly, add to bowl of warm water. Bake as directed below.
A simple marinade for the chicken and serve it with 2 Paleo-approved sides and you're good to go!
Ingredients
2

large

chicken breasts

1/4

cup

balsamic vinegar

2

Tbsp

olive oil

Salt and pepper

3

tsp

dried basil

1 1/2

cups

brown rice

3

cups

frozen broccoli
Instructions
Place the chicken into a bowl or dish and add the balsamic vinegar and oil. Season lightly with salt and pepper. Let marinate for at least 30 minutes...ideally overnight!

Preheat oven to 350. Lightly grease a baking dish with non-stick cooking spray.

Place the marinated chicken in the baking dish and generously sprinkle the basil on top. Bake for an hour, or until the chicken has cooked through. Cooking time may vary depending on thickness of the chicken. Slice the chicken and divide into 4 portions.

Bake the brown rice, or cook it as directed.

Prepare the broccoli as directed.

Serve Basil Balsamic Chicken with rice and broccoli.