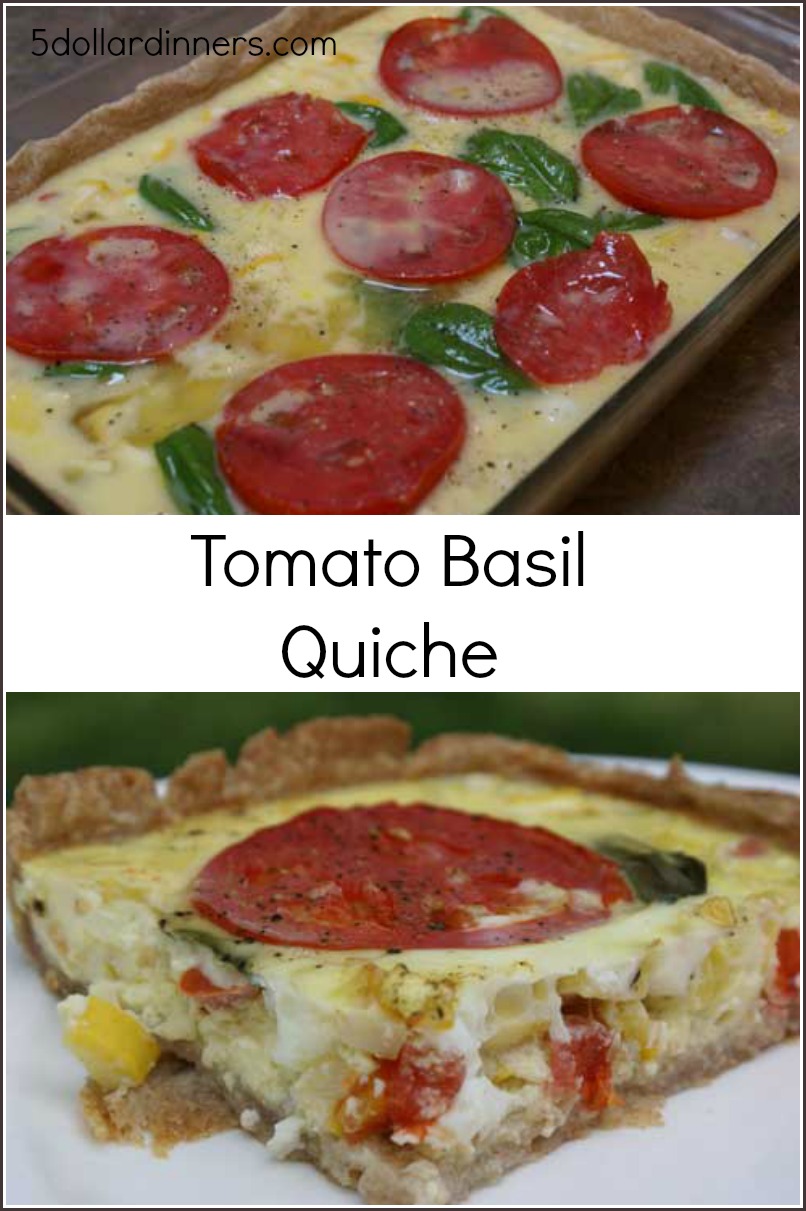 This was a most delicious quiche! Straight from the garden!
When it was time for dinner, I called the boys in from outside. Bubby asked what was for dinner and I thought about it for a second.
Quiche.
No. Don't tell him that. He won't eat it!
"Egg Pie," I told him.
"Yeah. I like egg pie."
And he runs inside to wash up.
By the time he gets to the table…"I love egg pie."
And Cheeks was even saying, "I wu egg pie"…copycatting his big brother.
And they both ate it up!
Just like we call broccoli, "trees."So we now call quiche, "egg pie!"
Homemade Whole Wheat Crust. Squash from the garden. Two tomatoes from the garden. And cheeseless. Yet still delicious!
Oh yeah. I intended to make this in a pie plate. But after I saw how many veggies there were, I doubled my pie crust recipe to make enough crust for a 9 x 13. What you see below in the "crust" portion is enough crust for a 9 x 13 or for 2 pie plates.
Ingredients
1

small

onion, finely chopped

1

medium

yellow summer squash

2

medium

tomatoes, 1 chopped, 1 sliced

12

whole basil leaves

2

garlic cloves, crushed

6

eggs

1 1/2

cups

milk

I used rice milk!

Salt and pepper, to taste

Optional: 1-2 cups shredded cheese

1/2

cantaloupe
Crust Ingredients
1

cup

white flour

1

cup

wheat flour

2/3

cup

shortening or butter

1

tsp

salt

6-8

Tbsp

COLD water
Instructions
Slice 1 tomato. Chop all other veggies. Leave basil leaves whole.

In mixing bowl, combine both flours with salt. Add shortening.

Using a pastry blender, cut in the shortening.

Add 4 Tbsp of COLD water. Using a fork, mix to form a dough ball. Add COLD water 1 Tbsp at a time until dough ball forms. I used almost 7 Tbsp to form my dough ball.

I laid the dough onto a long piece of plastic wrap. Then put another piece of plastic wrap over the top and roll it out so that it will fit into the base of the 9 x 13. (No extra flour necessary for this step!)

Remove the top plastic wrap layer and flip over the dough into the 9 x 13 baking dish. Remove the other plastic wrap.

Press crust dough up the sides about 2/3 of the way.

Load crust with chopped onions, squash and 1 tomato.

Top with whole basil leaves and sliced tomatoes. Season with salt and pepper.

Whisk eggs and milk in mixing bowl. (If you add cheese, whisk it in with the eggs and milk!) Pour into the crust over the veggies. Bake at 350 for 35-45 minutes. Serve warm.

Cut cantaloupe into wedges or bite size pieces.

Serve Tomato Basil Quiche with Cantaloupe. There was not much left from in the pan…glad that I made a 9 x 13, and not just a pie plate!