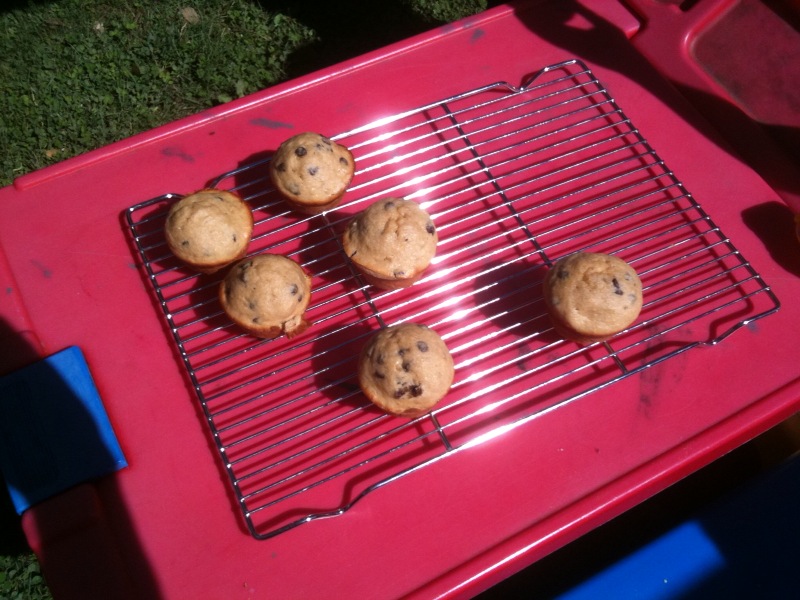 (Sorry about the sun glare. It's an iPhone photo!)
Those were the ones left after Round 1. About 3 minutes after the photo was taken, they were gone!
Last week, I tweeted this:

I had the pleasure (and it really was a pleasure, despite my dramatic tweet) of taking care of  my dear friend's 2 boys while she had back surgery.  They spent the night and stayed with us the day of her back surgery.
So for 24 hours, I was surrounded by testosterone. There was so much of it, I could almost breathe it in!!!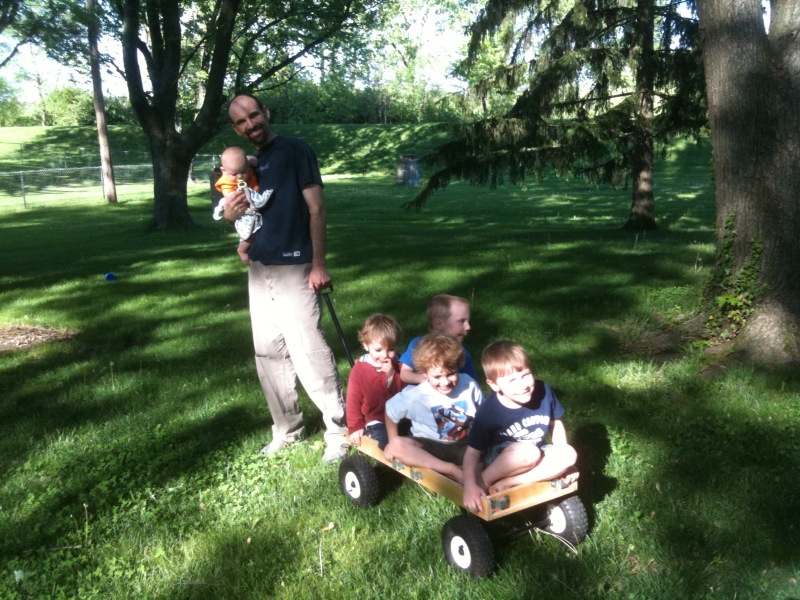 It was the moment above that I decided that perhaps, just maybe, I think there might be a possibility, that I just might want a daughter. I need some estrogen around here people!!!
So what's the best way to keep 4 little men energized and happy as they terrorize run around the backyard?!?
Makes these. Of course.
Ingredients
1 egg
1/2 cup white sugar or substitute
1/2 cup milk (I use rice milk)
1/3 cup canola or vegetable oil
1 teaspoon vanilla
2 ripe bananas, mashed with fork
1 1/2 cups whole wheat flour
2 teaspoons baking powder
1/2 teaspoon salt
1 cup mini chocolate chips
Directions
1. Preheat oven to 350. Grease or line 12 muffin cups.
2. Place the egg, sugar, milk, canola oil, vanilla and mashed bananas into a mixing bowl or stand mixer. Mix with hand mixer or stand mixer for 2-3 minutes, or until smooth.
3. Add the flour, baking powder and salt into the bowl or stand mixer. Mix until batter is smooth, about 3 minutes. Remove the bowl from the stand mixer or set aside the hand mixer. Fold in the mini chocolate chips.
4. Fill the muffin cups about 2/3 full with the batter.
5. Bake at 350 for 16-18 minutes, or until toothpick comes out clean.
6. Let cool a few minutes, then remove muffins from the muffin tin. Let cool another 5-10 minutes, then serve.