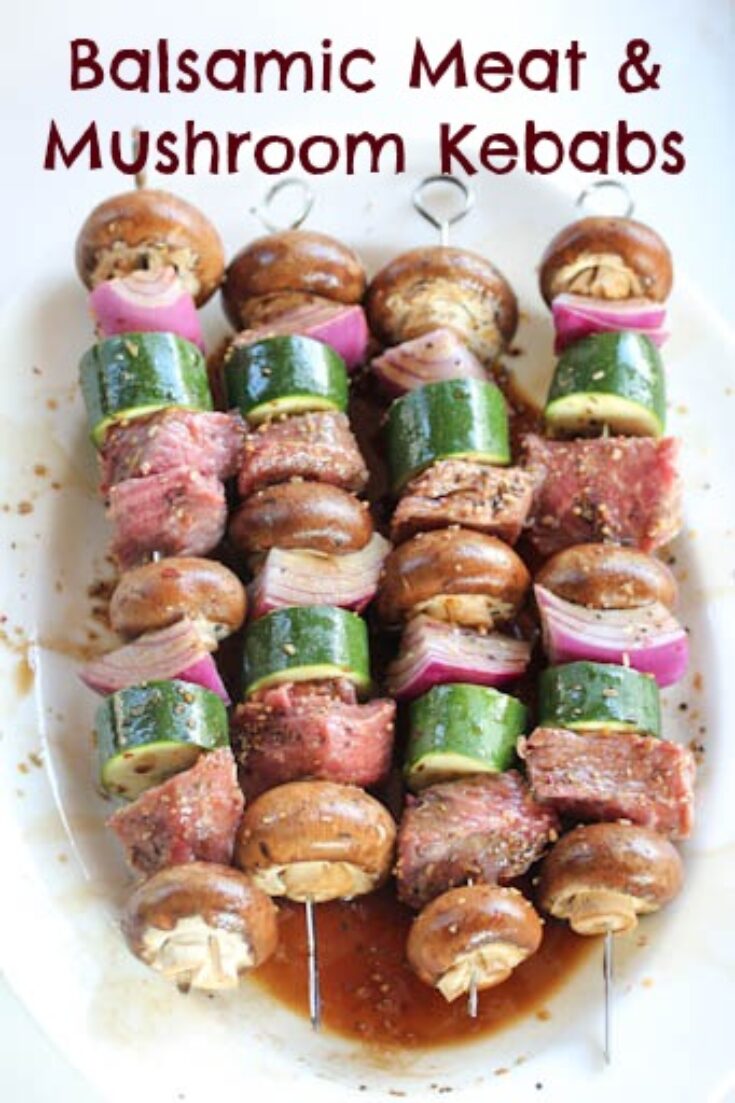 Y'all…the grilling bug has hit our house. It seems we are outside grilling and eating at least 3 nights a week these days. The last few weeks have been out of town on the weekends, so during the week it's been a "pantry and freezer clean-out." Literally…clean out the food and then clean out the cabinet and freezer. (See.)
Much of the meat that we had in the freezer ended up out on the grill, as you see above!
With the meat and mushrooms blended together on the skewer and soaked in balsamic vinegar, these Balsamic Beef & Mushroom Kebabs are the perfect meal for an evening of entertaining on the back deck!
The perfect meal for an evening of entertaining on the back deck!
Ingredients
1

lb

stew beef or beef roast cut into kebab chunks

8

oz

whole baby bella mushrooms, washed

2

small

zucchini, cut into kebab chunks

1

large

red onion, cut into kebab chunks

Salt and pepper

1

cup

balsamic vinegar

French bread, as side dish
Instructions
Add the beef pieces, whole mushrooms, zucchini chunks and red onion chunks onto metal or wooden skewers. Season with salt and pepper, and then drizzle the balsamic vinegar over the top.

Let marinate in the fridge for at least an hour, rotating the kebabs about every 15 minutes so each side has time to soak up some of the balsamic vinegar.

Grill for 10 to 15 minutes, rotating every few minutes. Cook time may vary, depending on the size of the beef pieces. Grill until the beef is cooked through.

Prepare french bread. (Perhaps using this grilled garlic french bread recipe!)

Serve Balsamic Beef & Mushroom Kebabs with a side of French bread.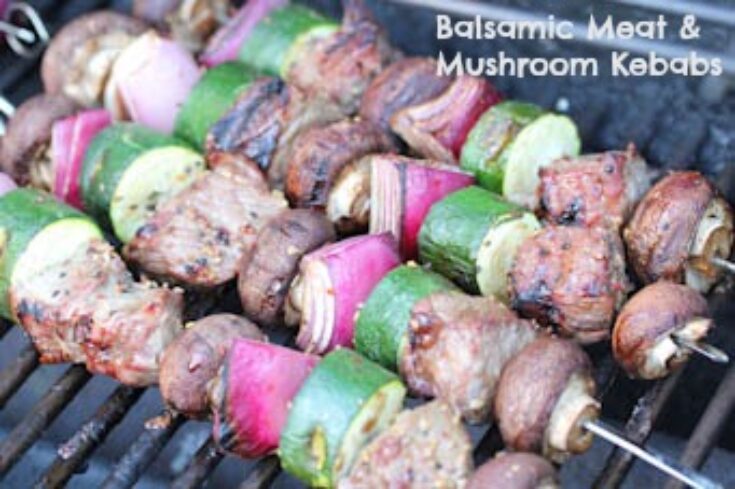 Disclosure: I am a Mushroom Channel Ambassador and paid freelance writer for the Mushroom Channel blog. Recipe and opinions are my own. Originally posted here.