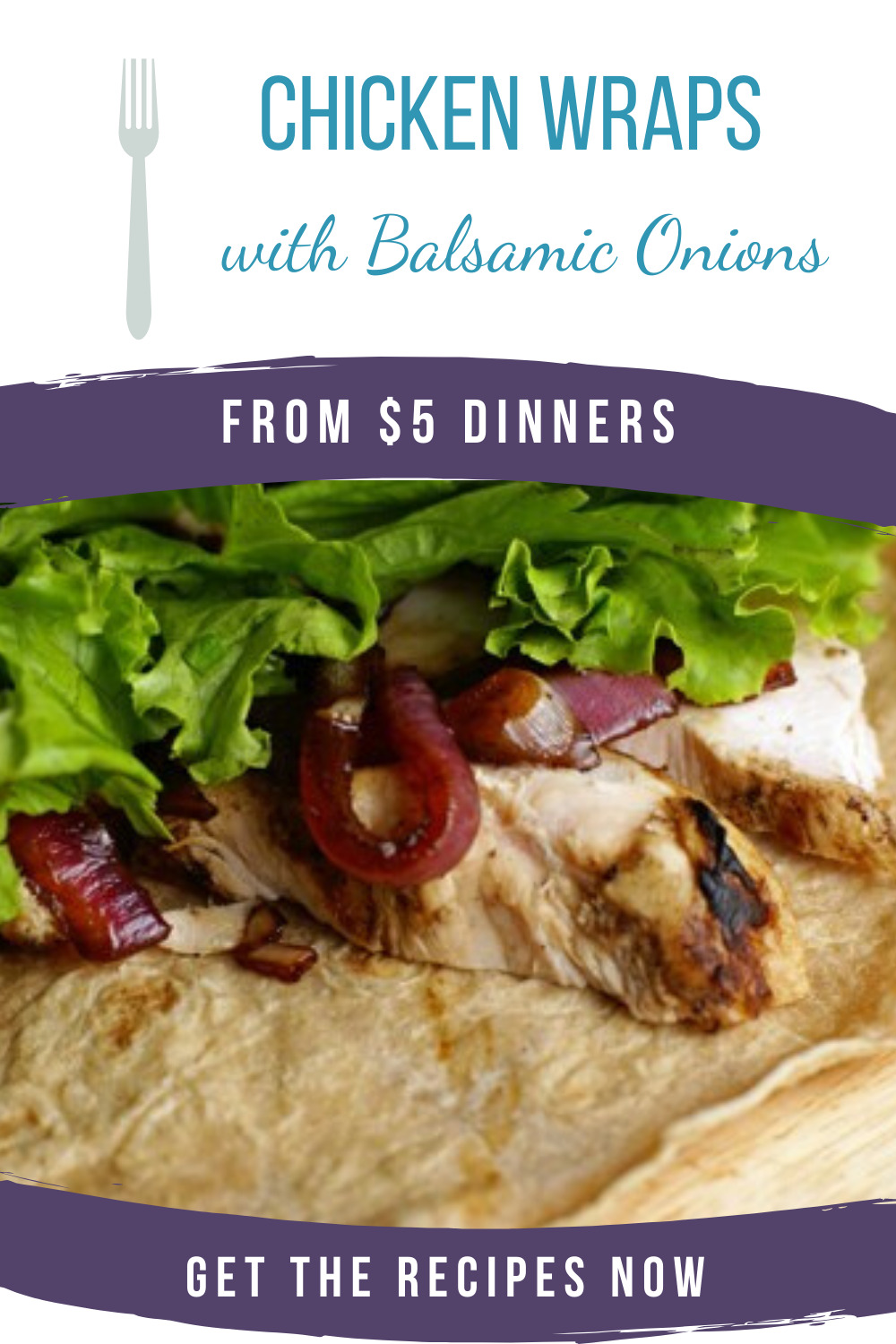 I made up a new word. I think.
I haven't googled it. And I don't plan on it. I'm going to play ignorant on this one and just revel in my new word.
Balsam-melized.
Onions. Caramelized. In balsamic vinegar.
Balsam-melized.
Add said onions with some grilled chicken, lettuce (and Swiss cheese if you're not dairy free) in a tortilla…and you've got yourself some scrumptious wraps!
I dare you to balsam-melize something.
I double-dog dare you.
(Now there…you have to try it now.)
Ingredients
2

chicken breasts, grilled and sliced

1

red onion, sliced into strips

1

Tbsp

olive oil

1/4

cup

balsamic vinegar

Heaping

Tbsp

sugar

Few handfuls green leaf lettuce head, torn

8

burrito size tortillas

Green beans from the garden
Instructions
Grill chicken. (This is a perfect meal for batch grilled chicken slices.)

Let's move onto the red onions, shall we!? Chop off the top and bottom and slice down the middle in half.

Peel away the skin and slice into half-moons.

Add to a large skillet with some hot olive oil and saute for 1-2 minutes, separating the half-moons.

Add the balsamic vinegar.

Add some extra if you like. Now we've got the balsam– part done

And for the –melize part to these onions…add a heaping Tbsp of sugar. The tangy balsamic vinegar needs some sweetness to balance the flavors.

Toss around…and when it starts to get all bubbly, reduce heat to medium low. (I turned my dial to 4…out of 9.)

Let the vinegar reduce. And let the onions take on the sweet and tangy flavor.

Once they look like this, and taste like perfection, add them to a chicken wrap. And if you like, add some Swiss cheese.

Serve Chicken Wraps with Balsam-melized Red Onions and Green Beans.