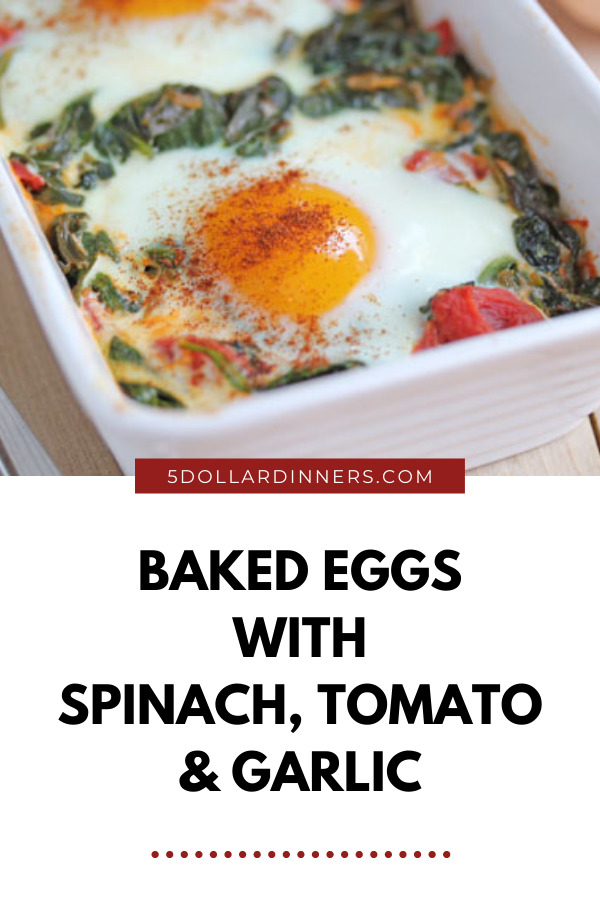 A baked egg recipe, made on a bed of spinach, tomatoes and garlic.
Sounds so fancy and gourmet!!!
But it's EASY…and so affordable!
First up is spinach. And yes, this is a fancy and somewhat gourmet way to use up your spinach from the garden.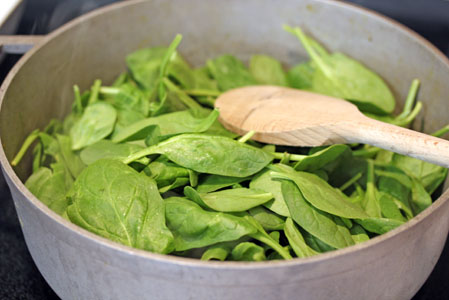 First saute it with some garlic.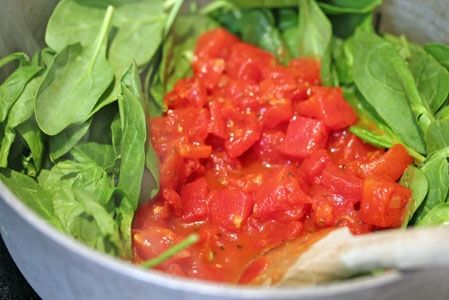 Add some diced (or fresh) tomatoes.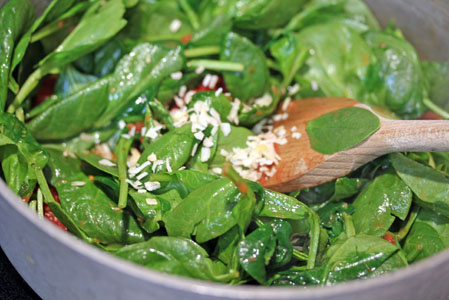 And some minced onion.
Cook it down.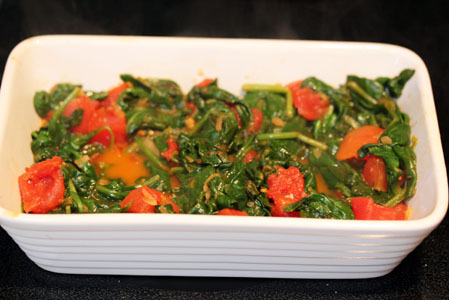 Place into a small baking dish…or you can do 1 egg each in ramekins.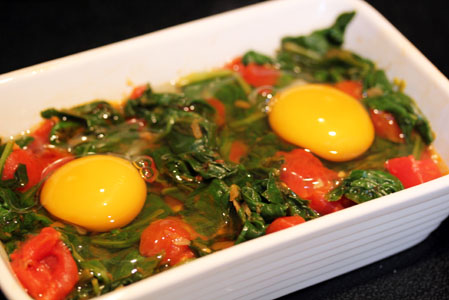 Create wells for the eggs, then crack 1 at a time into each well.
(This dish was the perfect size for 2 eggs.)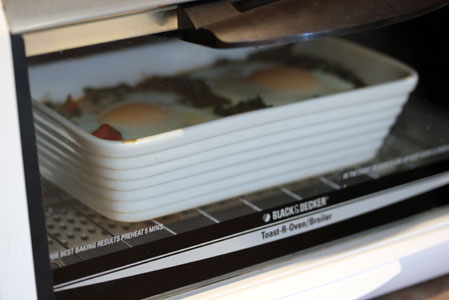 Bake.
I'm using my toaster oven because it was 97 degrees here yesterday. And I had no intention of turning on my oven to bake these. This is a much cooler and energy efficient alternative!
Give a little sweet flare with some paprika.
And enjoy a fancifully gourmet breakfast!!!
A lovely baked eggs recipe with spinach, tomatoes and garlic. Enjoy!
Ingredients
2

Tbsp

olive oil ($.05)

2

garlic cloves, crushed ($.05)

10

oz.

fresh spinach ($1.99 or from the garden)

15

oz.

can diced tomatoes, drained ($.16)

2

Tbsp

minced onion ($.10)

4

eggs ($.40)

Salt and pepper

Paprika, sprinkle as garnish

Fresh fruit as side dish ($.50)
Instructions
To a large skillet or saucepan, add the olive oil and saute the garlic for a minute, before adding the spinach. Toss the spinach around for a minute, then add the diced tomatoes. Toss together and then add the minced onion. Let simmer until most of the liquid has cooked off, about 5-7 minutes.

Place the sauteed spinach into an ovenproof dish (you could use ramekins), creating divets for the eggs. Crack 1 egg into each hole.

Bake the spinach and eggs for about 8 to 10 minutes, or until egg whites have turned white.

Once cooked, remove from the oven and sprinkle with salt and pepper and paprika.

Serve with fresh fruit for a well balanced breakfast!