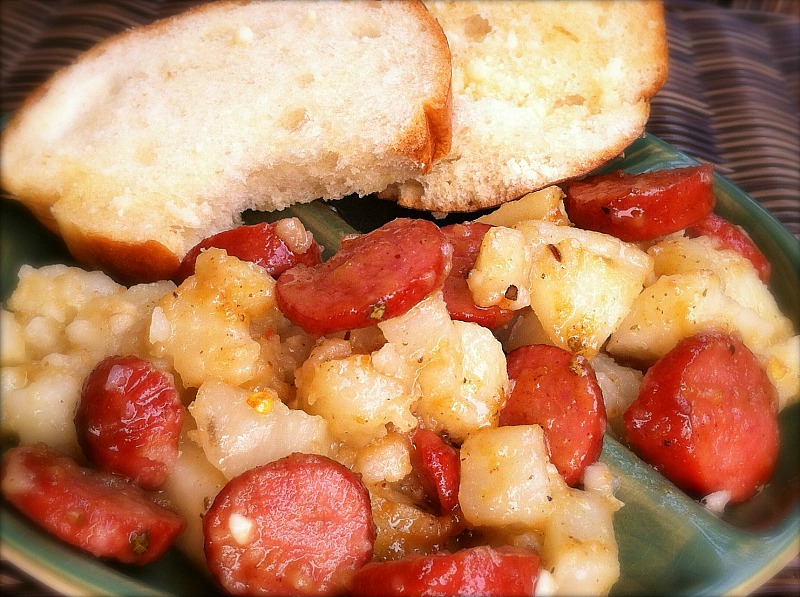 Winner winner sausage dinner! When I told my husband I was making turkey kielbasa for dinner, he wasn't thrilled. Once he tasted it, he went back 3 times!
This is a great basic summertime recipe, because you can add anything from the garden to it. Throw in different veggies each time you make it and it'll never get boring! This can add a little to the cost if you don't have a garden, but the basic recipe is inexpensive enough that it will still stay under $10.00.
If you have a regular sized family, don't forget to halve the recipe because this makes a lot! If you choose to prepare the whole recipe, you might have to divide it between 2 skillets.
Sweet Kielbasa Skillet

Yield – 10 servings

Preparation Time – 20 minutes

Cooking Time – 20 minutes

Ingredients

10 potatoes, boiled until tender & then cubed
1.5 pounds smoked kielbasa or Polish sausage, cut into 1/4-inch slices
1 cup chopped onion
⅓ cup chopped garlic
4 tablespoons olive
5 tablespoons brown sugar
4 tablespoons cider vinegar
4 tablespoons spicy brown mustard
2 teaspoons dried bay leaves
1/2 teaspoon pepper
(optional) 1 cup vegetables: spinach, peppers, etc…

Directions

In a large skillet, saute kielbasa and onion (plus any veggies) in oil until onion is tender.
Add potatoes; saute 3-5 minutes longer or until kielbasa and potatoes are lightly browned.
Combine the brown sugar, vinegar, mustard, bay leaves and pepper; stir into skillet. Bring to a boil.
Reduce heat; simmer, uncovered, for 2-3 minutes or until heated through.

Cost $6.75