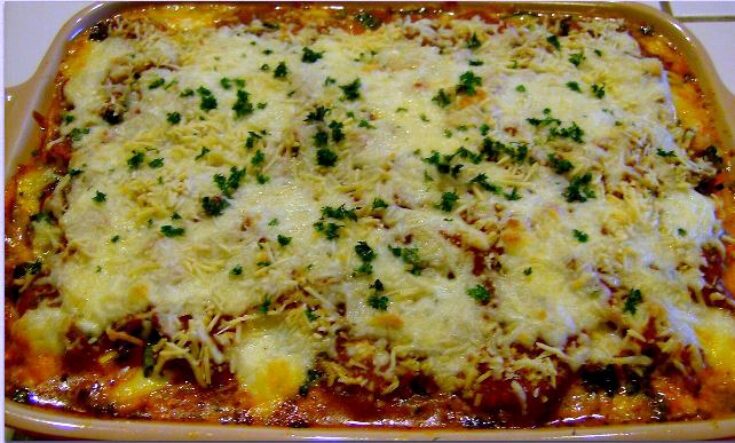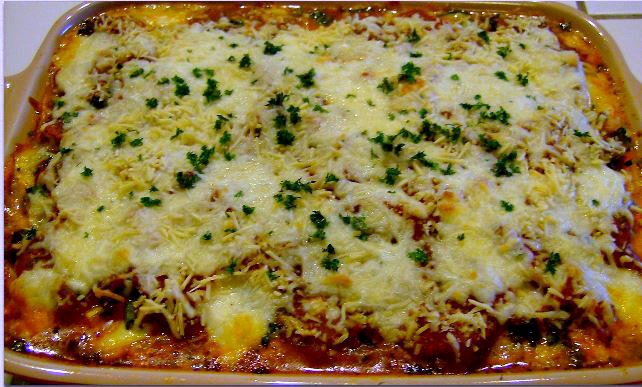 Summer finally arrived and all of my cool weather crops reacted to the heat by bolting. One nice thing about spinach when it bolts is that the leaves along the flower stalk are flat making them a great substitute for noodles in lasagna: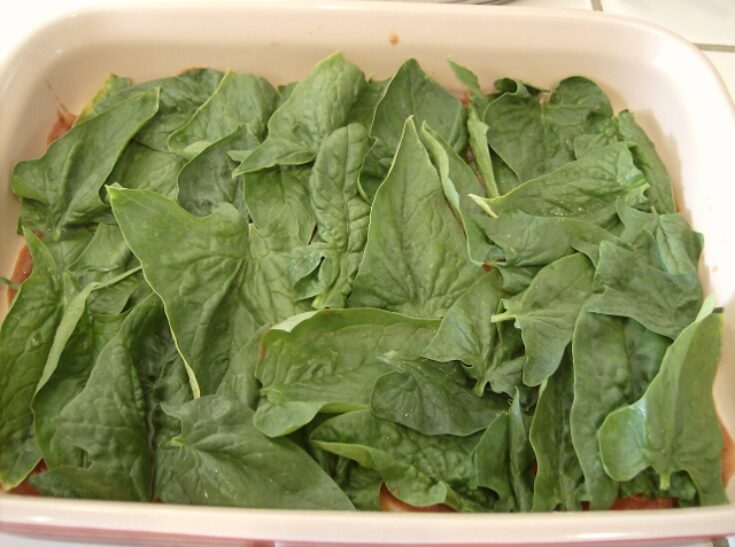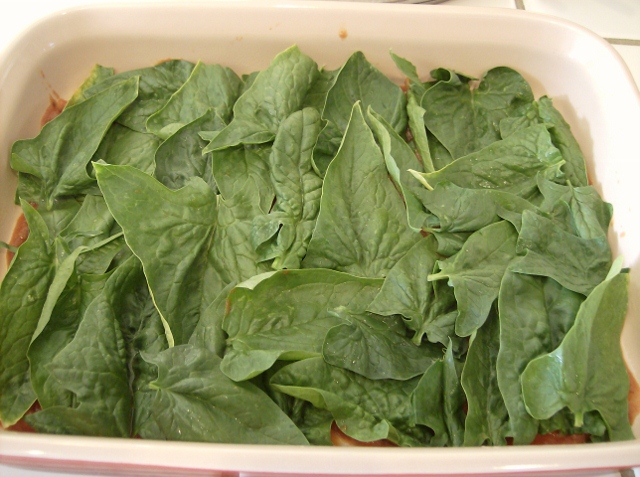 I overlap the spinach leaves to create a layer. If you only have curled spinach leaves you can flatten them out a bit by making small tears in the curves. But I don't worry about laying them perfectly flat since they are on the bottom layer; all the other veggies and cheese will flatten them out.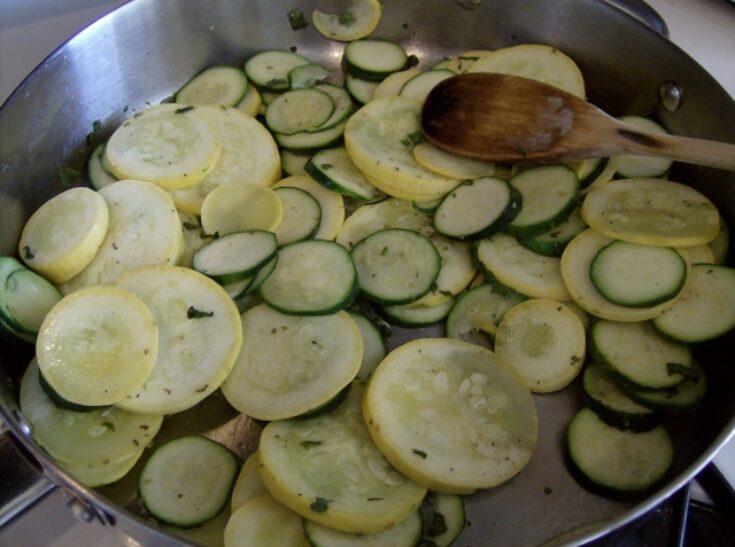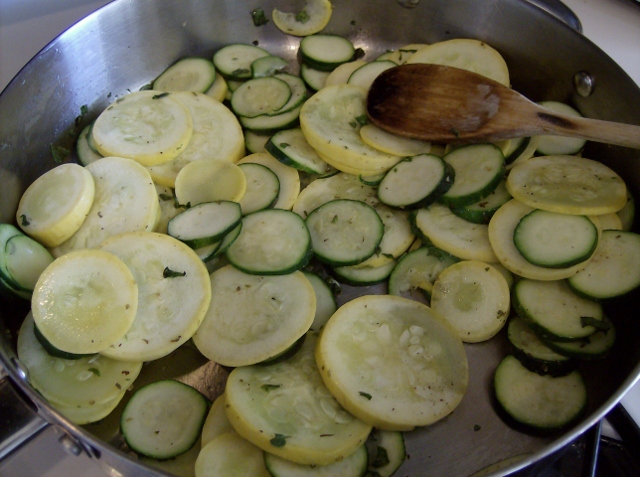 I include cooking the squash and the other veggies (except for the spinach) in the prep time. Sauteing the vegetables in advance helps them release some of the water. Since this recipe does not have pasta, you don't have anything to absorb the excess fluids. For this reason, I also use a thick spaghetti sauce. If your favorite sauce is not thick, let it simmer while you prep the other ingredients to cook off some of the fluids.
Don't be overwhelmed by the long ingredient list. I like to use lots of vegetables and herbs because I have them in abundance and because they add flavor. Please don't feel tied to the list either. If you don't have fresh herbs, substitute half as much dried herbs. Make use of what you have available and substitute the ingredients that are fugal for you to cook with.
Vegetable Lasagna with Spinach "Noodles"

Yield – 6 -8 servings

Preparation Time – 45 minutes

Cooking Time – 30 – 40 minutes

Ingredients

2 tablespoons olive oil , divided
2 small zucchini, thinly sliced
1 medium yellow squash, thinly sliced
2 tablespoons fresh oregano, divided
2 tablespoons fresh basil, divided
pepper
1 cup broccoli, finely chopped
1 cup carrots, julienned
1 cup onion, chopped
1/2 cup chopped green bell pepper
1/2 cup celery, thinly sliced
6 cloves garlic, minced
1 (16 ounce) container small curd cottage cheese
1 cup Parmesan cheese, divided
3 tablespoons fresh parsley, shredded
4 cups spinach leaves, washed and thoroughly dried
3  cups shredded mozzarella cheese, divided
3 cups spaghetti sauce (I used this spaghetti sauce recipe w/o the meat)

Directions

Heat oil in a large skillet over medium heat. When oil is hot add zucchini and yellow squash. Add 1 tablespoon of oregano, 1 tablespoon of basil,  and a dash pepper.  Sauté for 5 –7 minutes. Place zucchini and yellow squash on a dish, but do not rinse out the pan.
Reheat the remaining oil in the large skillet adding a little more if necessary. When oil is hot add broccoli, carrots, onions, bell peppers, and garlic. Add 1 tablespoon oregano, 1 tablespoon basil, and dash of pepper.  Sauté for 6 – 8 minutes; set aside.
Preheat the oven to 375 degrees and coat a 9 x 13 pan with a light coat of oil.
In a small bowl, combine cottage cheese, 1/2 cup of parmesan cheese and 2 tablespoons parsley.
Spread about 1 cup of spaghetti sauce in the bottom of the prepared pan. Layer spinach leaves, half of cottage cheese mixture, half of zucchini and squash, 1 cup of mozzarella cheese, half of the vegetables, and 1 cup of spaghetti sauce. Repeat layers. Top with  1 cup mozzarella cheese and 1/2 cup Parmesan cheese. Sprinkle 1 tablespoon of parsley over the top.
Bake at 375 degrees  for 30  minutes, or until lightly browned on top. Cool for approximately 10 minutes before serving.