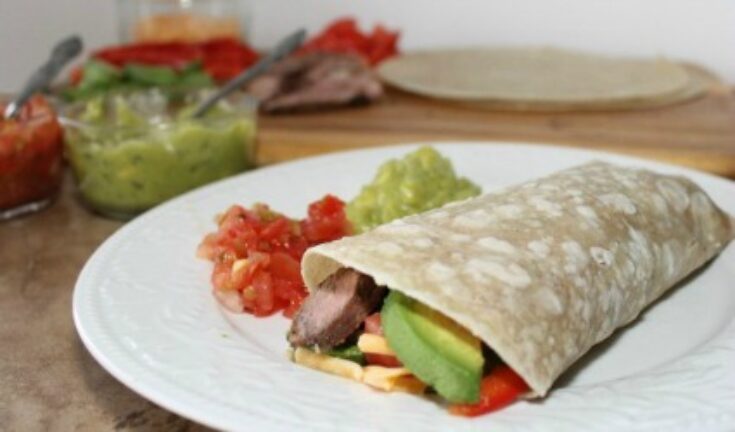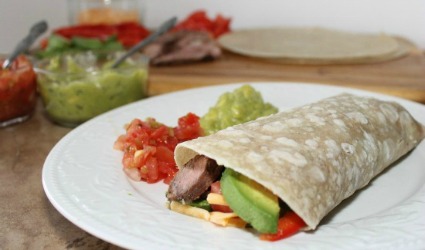 My husband called me while waiting in an airport for his flight home last week. It soon became obvious that he was hungry because he started telling me how much he loved my wraps. Then he started sharing ideas for wraps that I could make him in the future. I was pretty sure by "the future" he meant for dinner shortly after he arrived home that night. One of the good things about wraps is you can prepare them on short notice. 🙂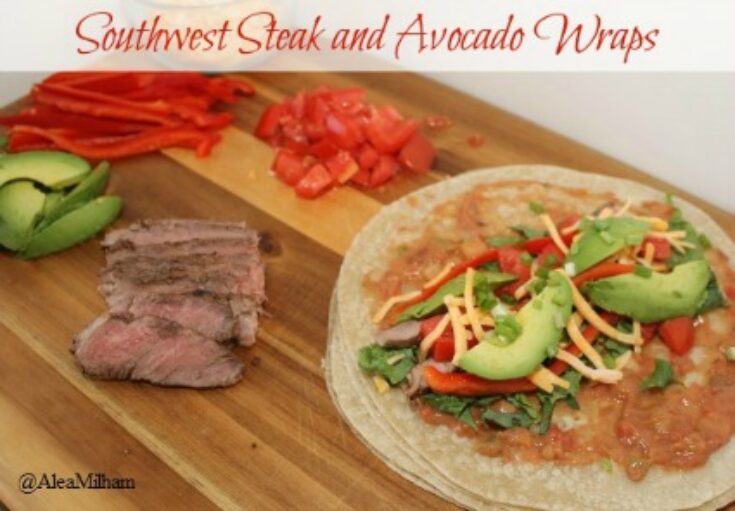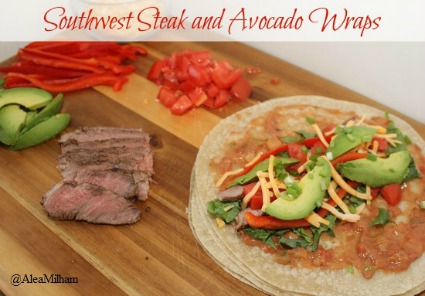 Instead of using a mayonnaise based dressing to coat the tortilla, I used a mixture of refried beans and salsa to create a low calorie, but flavorful topping for the tortillas. One of the benefits to using a mixture of refried beans and salsa in place of dressing is that it is much less likely to drip than dressing.
Juicy steak wrapped with avocado and a tortilla!
Ingredients
1

lb

steak

2

tsp

olive oil

2

tsp

chipotle seasoning mix

4

wraps

1/4

cup

refried beans

1/4

cup

salsa

1

avocado, thinly sliced

1

bell pepper, thinly sliced

1

Roma tomato, diced

1

cup

shredded lettuce

1/2

cup

cheese

1

green onion, thinly sliced

salsa and/or guacamole for dipping
Instructions
Light the grill or heat the broiler.

Brush a little oil on both sides of the steak. Rub the chipotle seasoning into the steaks.

Cook the steak on the grill or in the broiler, approximately 6 minutes per side or until the internal temperature is 140 degrees.

While the steak is grilling, slice and dice your vegetables.

Mix the refried beans with a 1/4 cup of salsa.

Thinly slice the cooked steak.

Spread 2 tablespoons of bean and salsa mixture on tortilla.

Top with shredded lettuce, steak, peppers, tomatoes, avocado, cheese, and green onions.

Wrap the tortilla.

Serve the wrap with salsa and/or guacamole.
Do you like wraps? What's your favorite combination of ingredients?