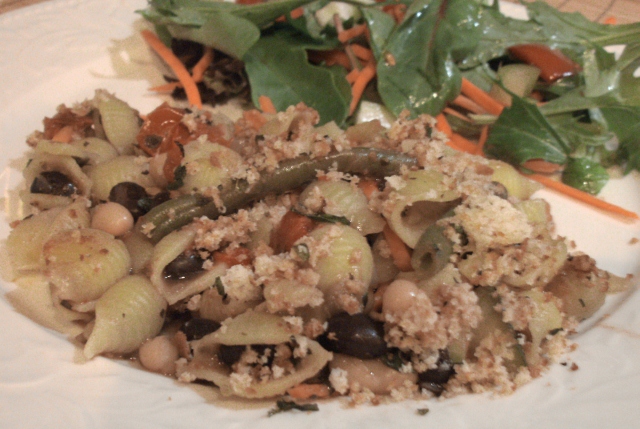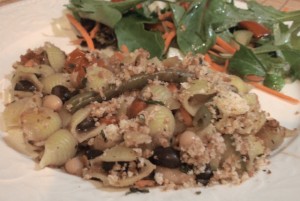 The evenings have been cooling off and I am beginning to crave soups. I have one little problem…my 4-year old. He thinks he is big enough to eat the same things we eat, but he still struggles to get soup from the bowl to his mouth without any mishaps. Last week I was going to make Chicken Noodle Soup, but my son had already created several major messes – we're talking "new house rules" messes and I did not think I could handle another one. So I changed my plans and used the soup ingredients to make Chicken Noodle Casserole. As I was making it I started thinking about what other soups I could change into casseroles and the first one that came to mind was my favorite soup: Minestrone!
I would so love to tell you that the next day was a mess-free day. However the next day my son asked me for googly eyes, a glue stick, and a marker so he could make faces. And for some odd reason, I thought he would be making the faces on the construction paper I provided. He had other ideas: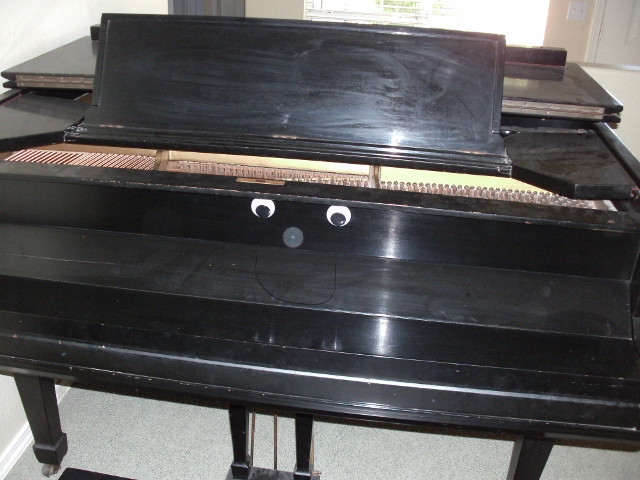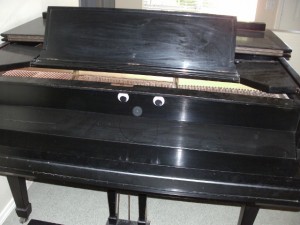 Ignore the dust, I am too busy trying to keep my son alive and my house standing to worry about dusting! He also put faces on the computer, the stove, the sliding glass door, and the globe. Needless to say, we have another house rule and I needed another no mess dinner recipe.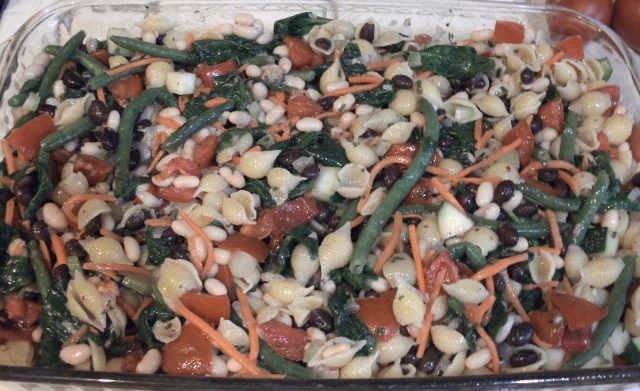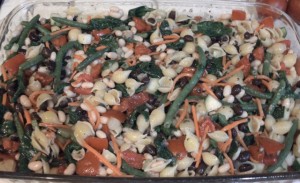 All of the ingredients are mixed together in a 13×9 pan but instead of adding lots of broth and making a soup, you add just a little broth and create a casserole.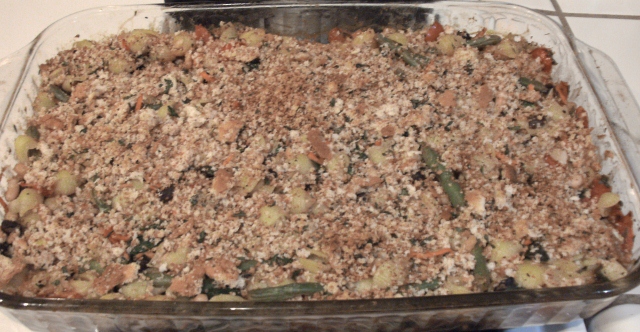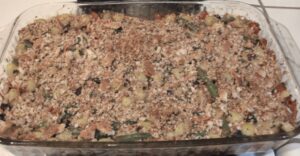 Many people like to add croutons to soup, so I decided to add an Italian bread crumb topping.
A flavorful baked dish with all the goodies you love in Minestrone Soup!
Ingredients
1

tbsp

olive oil

3/4

cup

onion, minced

1

cup

zucchini, chopped

1

cup

fresh green beans

1

stalk celery, minced

4

cloves garlic, minced

1/2

cup

Vegetable Broth

1 3/4

cups

cooked black beans

(or 15 ounce can, drained)

13/4

cups

cooked great northern beans

(or 15 ounce can, drained)

2

cups

fresh tomatoes, diced

(or 1 can with juice)

2

cups

fresh baby spinach

(or frozen spinach thawed)

1

cup

carrots, julienned or shredded

1

tbsp

fresh parsley, minced

2

tsp

fresh oregano, minced

2

tsp

fresh basil, minced

1/2

tsp

fresh thyme, minced

1/4

tsp

ground black pepper

8

oz

small shell pasta

1

cup

Italian bread crumbs
Instructions
Cook pasta according to package directions.

While the pasta is cooking, heat olive oil over medium heat in a large skillet. Add onion, celery, garlic, green beans, carrots, and zucchini and saut in the oil for 5 minutes or until onions begin to turn translucent.

Add vegetable broth tomatoes, beans, carrots, spinach, and spices to the pan. Simmer until the spinach wilts.

Drain pasta and place it to a 13x9 pan. Add vegetable mixture and beans. Stir to thoroughly combine.

Cover with foil and bake at 350 degrees for 20 minutes.

Remove foil, top with bread crumbs and bake for an additional 5 minutes.