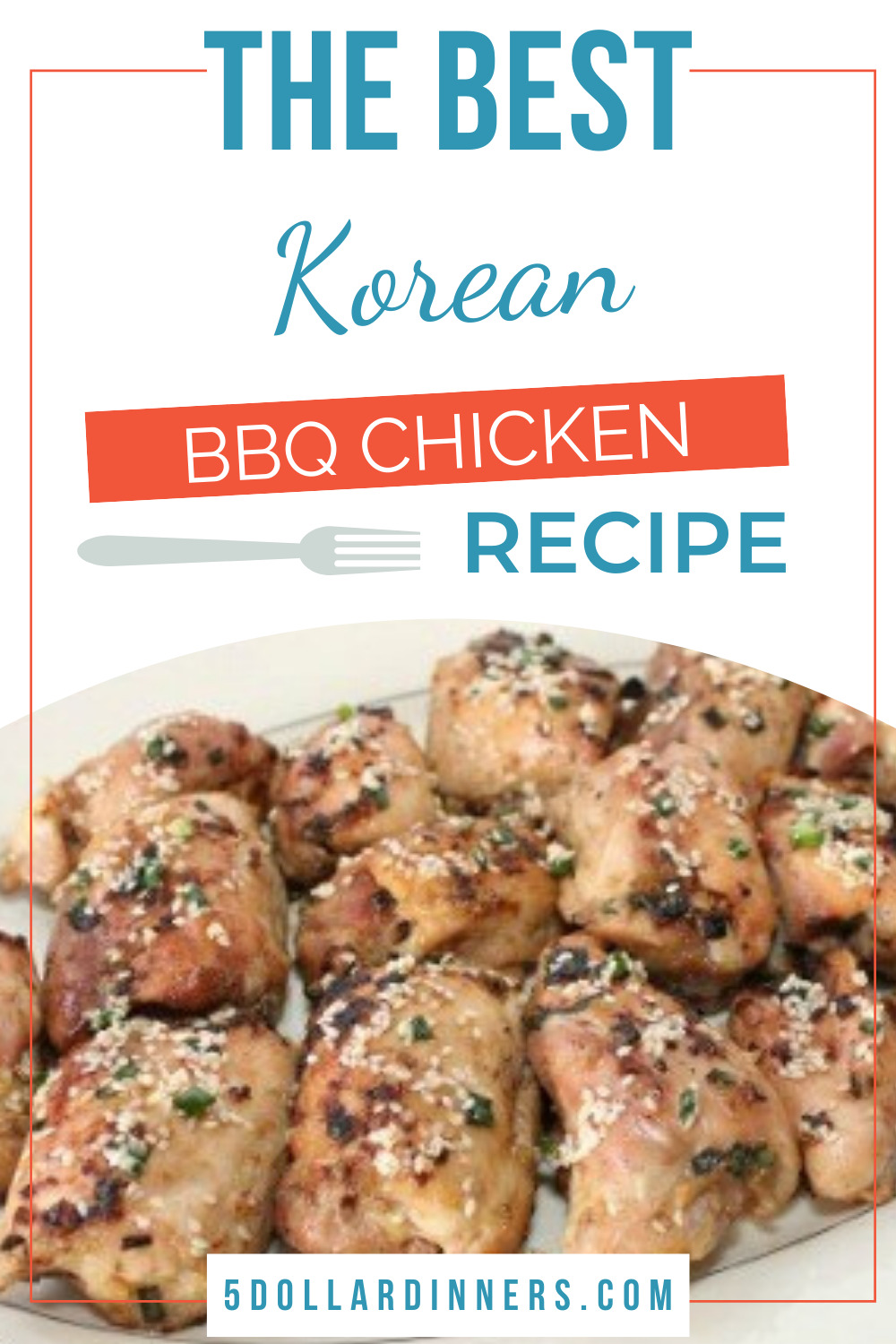 I really enjoy the Korean Barbecue Chicken at one of our local restaurants and occasionally find an excuse to stop in. However a while back I realized that for less than the cost of one meal at the restaurant, I could make enough at home to feed my whole family and the neighbors. Seriously! And it isn't that it is that expensive for the meal – just $5.99 per person, but for that price I can cook a whole meal for 6 – 8 people.
How do I do it? I stock up on boneless, skinless chicken thighs when they are on sale. I buy sesame seeds from the bulk bins instead of on the spice aisle. I buy fresh ginger and then freeze it, so none goes to waste. Finally, I buy specialty ingredients from the Asian market where they cost much less than they do at the local grocery store.
I think my Korean Barbecue Chicken tastes very much like the chicken at our local restaurant, but I make no claims to it being authentic. I created it by taste and modify the recipe based on the ingredients I have on hand. Which brings me to another way I save money on recipes: be flexible on the ingredients! Once when I didn't have any apple juice, I used lemonade in this recipe instead and nobody could tell the difference. Even though apple juice isn't that expensive, the time and gas involved in going to the store for a single ingredient adds up.
Just as good, if not better, than your local take-out!
Ingredients
1-2

lbs

chicken thighs

1/4

cup

soy sauce (I use Braggs to make this gluten-free)

1/4

cup

apple juice

1

tbsp

brown sugar or honey

2

tbsp

oil

(I use 1 tablespoon olive oil and 1 tablespoon sesame seed oil)

2

tsp

minced garlic

2

green onions

thinly sliced - divided

2

tsp

grated ginger

1

tbsp

sesame seeds
Instructions
Combine soy sauce, apple juice, oil, sugar, ginger, garlic, and the onion slices from one green onion in a small bowl. Reserve 2 tablespoons of marinade for later use.

Place chicken in a seal-able dish or bag. Cover with marinade. All ow the chicken to marinate for at least one hour.

Prep and light grill.

Grill chicken for 5 - 8 minutes on each side.

Brush the reserved marinade over the cooked chicken. Sprinkle the remaining onion slices and sesame seeds over the chicken.

Serve immediately.
I served the Korean Barbecue Chicken with white rice and a garden salad.