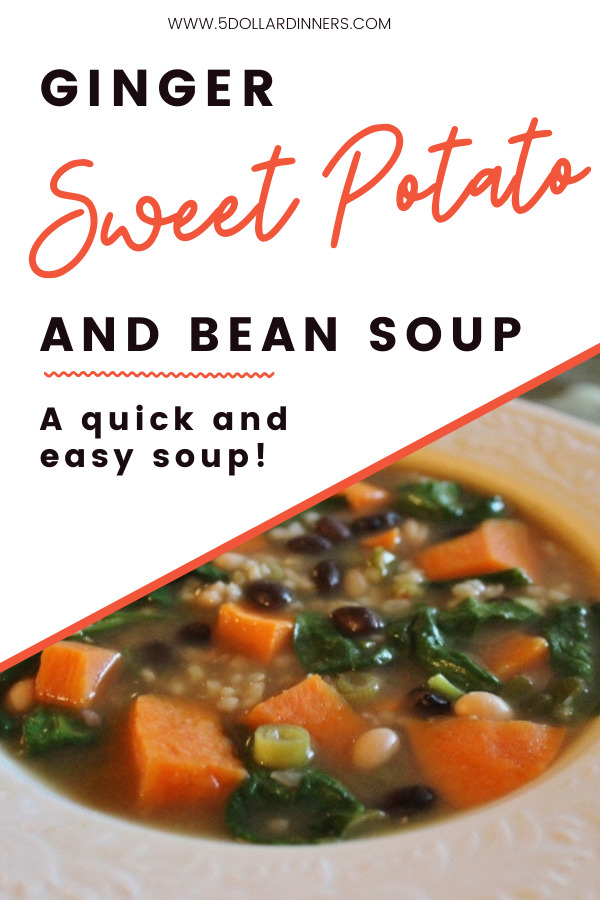 I know sweet potatoes and beans combined with Asian seasonings sounds like a crazy combination. You are just going to have to trust me on this. This soup is seriously delicious!
It is also fast and easy to make, filling, and frugal.
I pulled this soup together in under 20 minutes. I was able to do that because I had cooked rice on hand. If you don't have cooked rice you can add 1 cup uncooked basmati rice and an additional 2 cups of liquid and let the rice cook while you are making the soup, but you will want to let the rice get a 5 – 10 minute head start before you add the sweet potatoes.
If you don't have mirin in your pantry, you can substitute a sweet juice like white grape juice or apple juice. You can save money on mirin, rice vinegar, soy sauce, and sesame seed oil by shopping at an Asian market.
Delightful flavors in this hearty soup!
Ingredients
8

cups

vegetable broth

1/4

cup

soy sauce

(use Braggs Liquid Aminos to make this gfree)

1/4

cup

rice vinegar

2

Tbsp

2 tablespoons mirin

(or grape juice)

2

tsp

sesame oil

optional

3

green onions, thinly sliced

6

4 - 6 cloves garlic, minced

1

Tbsp

1 tablespoon grated ginger

2

2 sweet potatoes, peeled and chopped into bite size pieces

15

oz

black beans

15

oz

navy beans

2

cups

cooked rice

3

cups

raw spinach
Instructions
Put broth, soy sauce, rice vinegar, mirin, sesame seed oil, onion, garlic, and ginger in a large pot. Add sweet potatoes. Cook over a medium-high flame until the broth begins to boil.

Lower flame and simmer for 5 minutes or until sweet potatoes are fork-tender.

Add beans and rice and cook for 2 3 minutes until rice and beans are heated through.

Add spinach and cook until just wilted. Serve immediately.