My oldest son saw me chopping up squash and said, "Are we having squash again?" My husband told him to get used to it, "Your mother will be making squash for breakfast, squash for lunch, squash for dinner, crunch, crunch, crunch". The cheer did nothing to alleviate my son's concern and he walked out of the kitchen with a panicked look on his face. But after he tasted the Squash Calzones, he decided that eating squash for 3 meals a day wasn't such a bad idea and told me I could make Squash Calzones as often as I wanted to.
To save time, I make the filling while the dough is rising: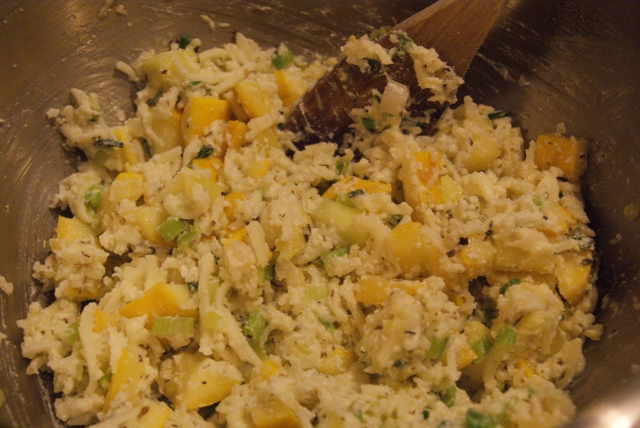 I used fresh herbs from my garden. If you do not have fresh herbs, use half of the stated amount of dried herbs. If you are on a gluten-free diet, you can substitute my Gluten-Free Herbed Pizza Dough Recipe for the dough in this recipe.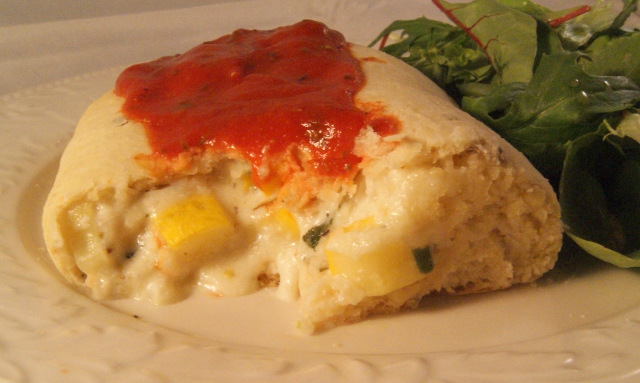 Squash Calzone

Yield – 4 servings

Preparation Time – 45 minutes

Cooking Time – 30 minutes

Dough Ingredients:

2 cups flour
2 1/4 teaspoon yeast
1 teaspoon garlic powder
2 teaspoons fresh sage, minced
2 teaspoons fresh basil, minced
1 teaspoon fresh oregano, minced
1 teaspoon honey or sugar
1 teaspoon salt
2 tablespoons olive oil
3/4 cup warm water (120 – 130 degrees)
1 egg, room temperature (here is a tip for quickly bringing eggs to room temperature)

Filling Ingredients:

1 tablespoon olive oil
1 medium yellow squash, diced
6 green onions, thinly sliced
3 cloves of garlic, minced
2 teaspoons fresh sage, minced
2 teaspoons fresh basil, minced
1 teaspoon fresh oregano, minced
1/2 cup cottage cheese
1 1/2 cups mozzarella cheese

Directions

In a large bowl, stir together the dry ingredients (including the spices for the dough) until completely mixed. Add the egg, water, and oil. Stir until it is completely mixed.
Form the dough into a ball, cover dough loosely with a towel or plastic wrap and let it sit at room temperature for 30 minutes. After about 25 minutes has elapsed, preheat the oven to 350 degrees.
While the dough is rising, saute the onion, garlic and squash until the onion is translucent. Add the spices for the filling and cook for 1 more minute while stirring. Remove from heat and let the mixture cool a bit.
In a medium bowl, combine the squash mixture with the cheeses. Stir until thoroughly combined.
Once the dough has risen, divide it into 4 balls. Coat 2 cookie sheets with oil and sprinkle with cornmeal or flour. Roll the dough out 1/4 inch thick on the sheet. If the rolling pin sticks, sprinkle the top of the crust with cornmeal or flour.
Place 1/4 of the topping in the center of each circle. Fold the dough over and pinch closed.
Bake at 350 degrees for 30 minutes.
I serve it with spaghetti sauce over the top (I use this easy spaghetti sauce recipe and leave out the meat).