Get Your Fridge and Home Ready for the Holidays with These Hacks and a Checklist
I don't know about you, but I'm not sure what's happening with the holidays…
Maybe if the weather is nice, we'll have a socially distanced, back patio turkey feast???
Maybe we will do a group Face-Time from our respective dining tables???
Whatever this year is going to look like for your might-be-happening gathering, now is a great time for what I like to call a "semi-deep" clean of the kitchen, house and fridge.
Either for your holiday guests…or just for yourself and your family.
Because there is something magical about a 7-minute speed cleaning session that makes you feel so productive and accomplished! Amiright?!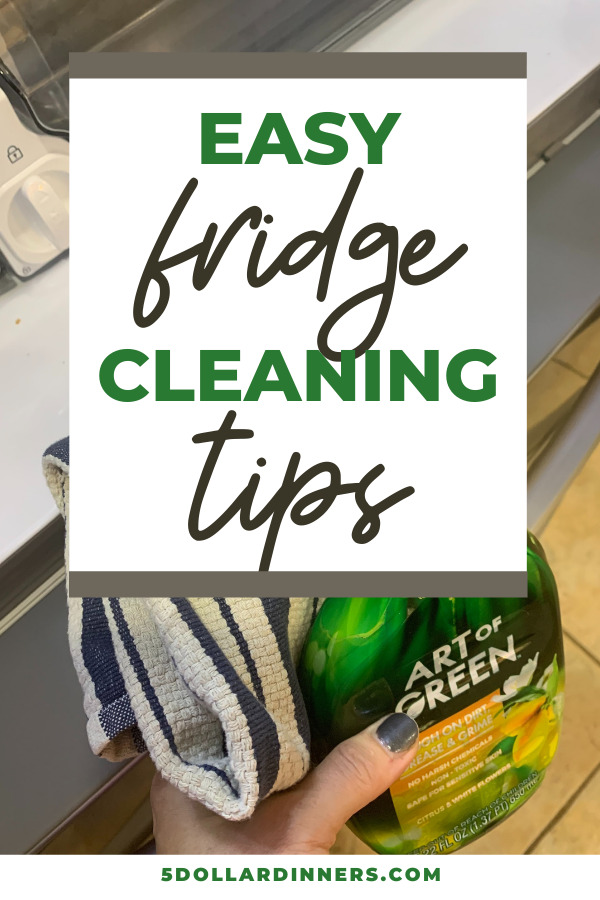 My cleaning strategy is three-fold. I need…
Affordable, natural cleaners

Efficient system

Effective cleaning products
As a busy mom of 4 boys, there are many demands and convictions that I want to follow related to our money, as well as purchasing the best quality products and ingredients within our budget. I do my very best to get the best quality ingredients and products, without busting my budget. And I've learned a few tricks and hacks over the years…and do my best to keep up with new, affordable products too.
If you want to align with my 3-fold cleaning strategy above: my best advice for you is to set up a cleaning caddy (see below) in the kitchen and bathrooms with Art of Green® wipes and spray.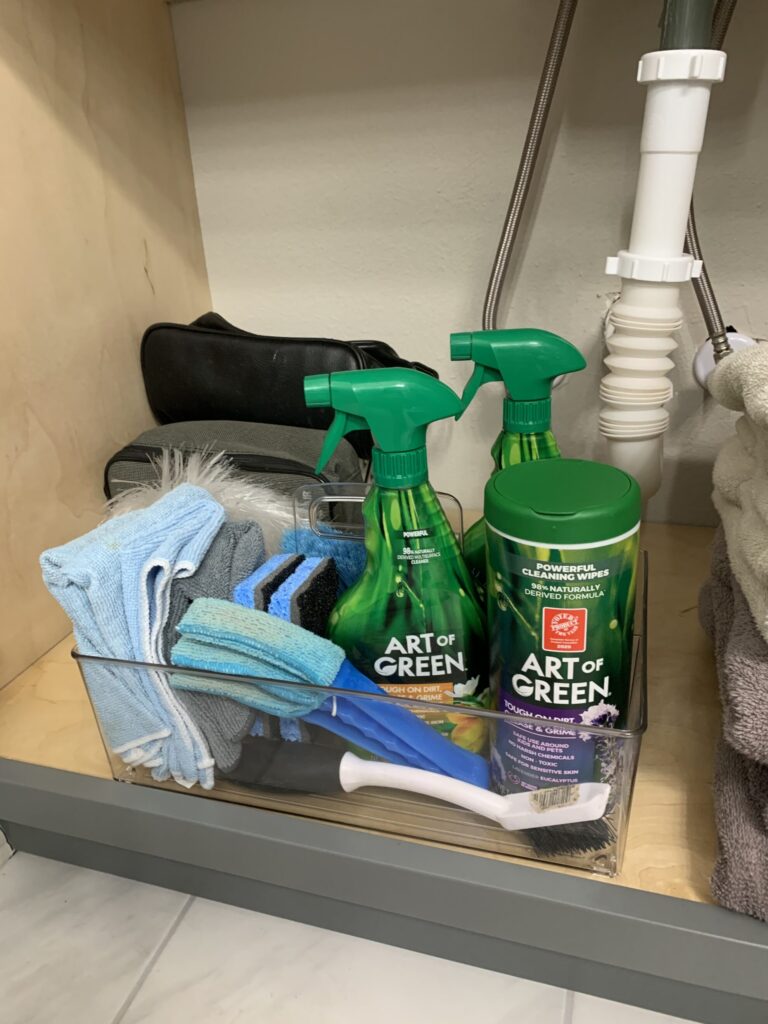 Erin's 3-Fold Cleaning Strategy – Caddy with Art of Green spray and wipes

As we prep for the holiday season, I want to help you focus on these areas – the fridge and a 7-minute speed clean/semi-deep clean around your home.
Below you'll find some important hacks for cleaning your fridge and keeping it "healthy," if you will.
Also, I've got a great list of 7-minute speed cleaning projects you can do around your home to get prepped for the holidays. (Whatever that may be this year.)

7 Important Cleaning Hacks for Your Fridge
Let's start with the outside of the fridge. I mentioned above that we need to keep our fridge "healthy" and that starts with the outside. A well-cared for fridge can last for decades and these first 2 hacks will help that happen.
1 – Clean the Coils Once a Year
Yes, "those" coils. The ones in the back or underneath of your fridge.
If you're not sure where to find them, google your fridge's make and model and find the owner's manual. Or go pull it out of the back of a cabinet or drawer.
Take a minute to read the manufacturer's recommendations.
I promise this will be easy, you just have to find the right location and information to clean them properly.
You can use a hand-broom brush or a vacuum attachment to best clear off any dust, pet hair, or debris.
Right now, go and put a note on your planner to complete this task. 🙂
2 – Remove Items from Top of Your Fridge
Your fridge "breathes" out the back and top of the fridge.
Heat is released from the top of your fridge and it's recommended to not store items on top of your fridge.
(Guilty here. When we got our new fridge earlier this year, the installation team suggested this so we have not stored any items on top of the new fridge.)
Take a moment to remove anything from the top of your fridge, and give it a good wipe down with a few sprays of Art of Green.
3 – Vacuum or Wipe the Floor Around the Fridge
Vacuum the crate underneath the front of the fridge.
Vacuum or wipe down the floor on the sides of your fridge.
Pull out the fridge and clean the floor behind and underneath of it. This will prevent dust, pet hair and other debris from getting into the coils.
(I don't want to hear any whining about this one, it's important too. And if what you find behind and under your fridge is scary…it's okay. Literally everyone has this problem. But not you, after you clean it!)
4 – Toss Expired Food to Make Room for Holiday Food
Pre-holiday prep is a great time to get rid of old expired food, the Chick-Fil-A packets you don't know how long you've had, the science experiment that's growing in the back left corner, and any produce that is just too far gone to cook with.
(I know, I shed a tear when we have produce go bad!)
Check all the condiments and other long-term tenants of your fridge and toss out any food that is past expiration date.
5 – Clean the Bottles and Jars
While you are checking for expiration dates, you can do this task as well. It will help prevent more stains on your shelves, drawers and cubbies.
Salad dressings, syrups and sometimes jams can make for a real grimy, sticky mess in the fridge.
Wipe down bottles and jars with damp washcloth to prevent future rings/messes in your drawers.
6 – Clean the Drawers and Door Cubbies
Remove all the food from the fridge and then clean the surfaces inside the fridge.
I've got 2 options for your here:
Option 1: Spray and wipe all the tops, bottoms, and insides of the drawers and cubbies inside the fridge.
Option 2: Remove all drawers and cubbies, then add warm water and dish soap. Rinse and wipe clean.
7 – Spray the Shelves
Spray the shelves in the door and any non-removable shelves with Art of Green spray and let sit for up to 5 minutes
(For caked on messes, leave for 5 minutes. For thinner messes, you can spray and wipe immediately.)
I like to use the Art of Green wipes to get into the nooks and crannies in the fridge.
Put all the food back into the fridge/freezer.
Repeat for the freezer!!!
I always use my Art Of Green cleaners to clean the inside and outside of my fridge. I have been using these affordable and natural cleaners in my home for years now, and I'm still crushing on them!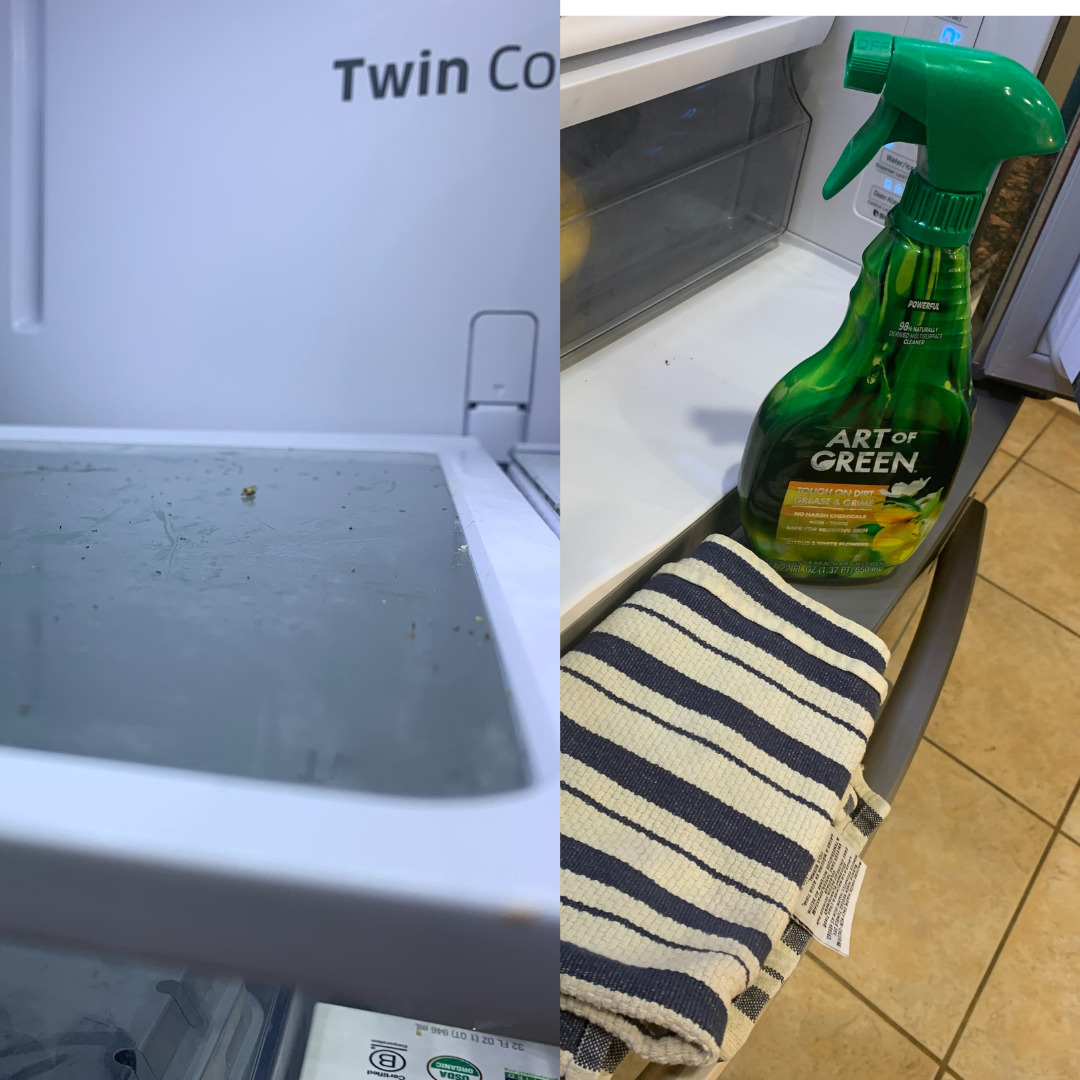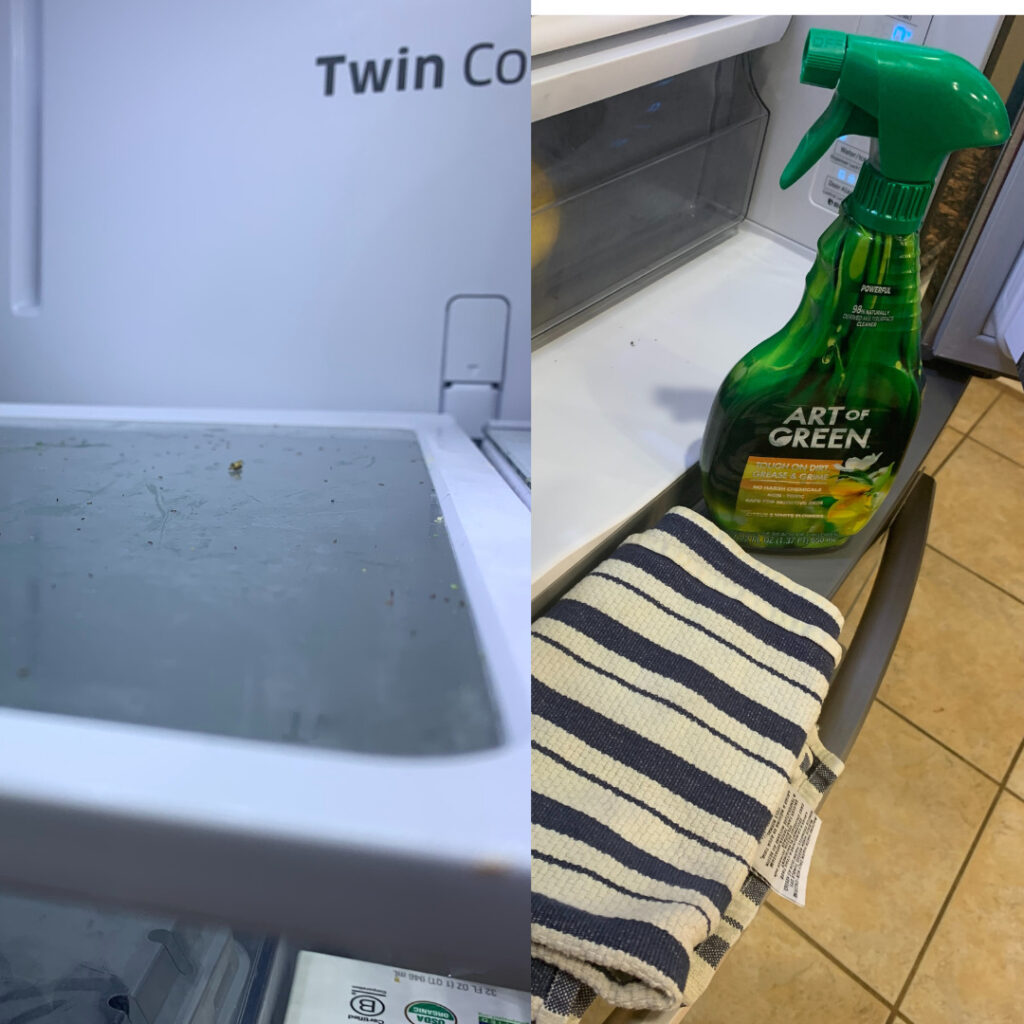 I ADORE-ADORE-ADORE them.
They work their magical cleaning powers on my kitchen counter tops, in and around the kitchen, and in the bathroom too. And I love using the wipes for quick a buzz-through of the bathroom counters, sink fixtures, and doorknobs!
Right now, they have a multi-purpose spray and cleaning wipes – available in two scents. And when I say scents – they are actual scents…more along the lines of essential oils scents, not harsh chemical smelling scents. You'll know what I mean when you get some and use it yourself.
Here's the skinny on the Art Of Green cleaners. They are:
tough on dirt, grease and grime

– they work as well as your current chemical-based products.
leave less residue

than leading Eco-friendly cleaner.
contain

no harsh chemicals

and are non-toxic.
safe

for sensitive skin.
98% naturally derived.*
created with the

purpose of making green available and affordable for everyone

(yes!!!!! This is why I'm so excited to be working with them!)
the

perfect choice

for switching from the regular cleaners that have harsh chemicals in them.
Right now, Art Of Green is available in a variety of stores nationwide and Target.com – find a store near you and pick up Art of Green today!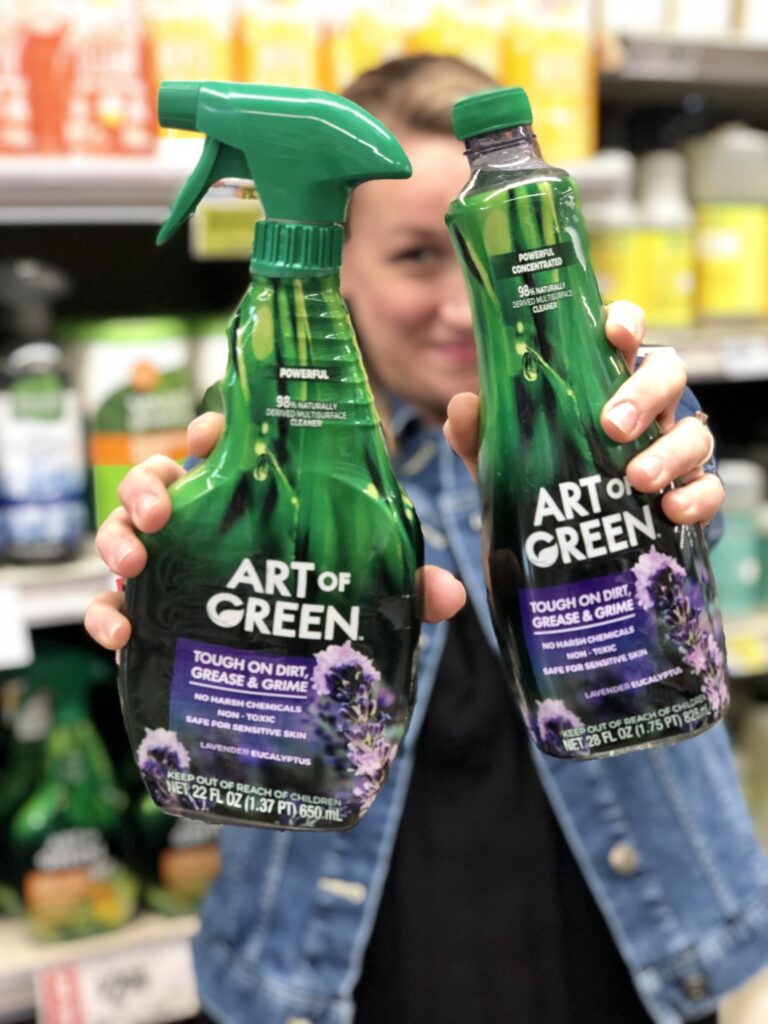 Okay, now that the fridge is all squeaky clean, let's move on to the rest of the house.
7-Minute Holiday Speed Clean Checklist
I've got the perfect checklist and action plan printable for you.
Just click to save it to your computer or print it out.
Then run out and grab some Art of Green at your local store or grab it from Target.com.
Finally, get to work on your 7-minute speed cleaning sessions and your fridge clean-out.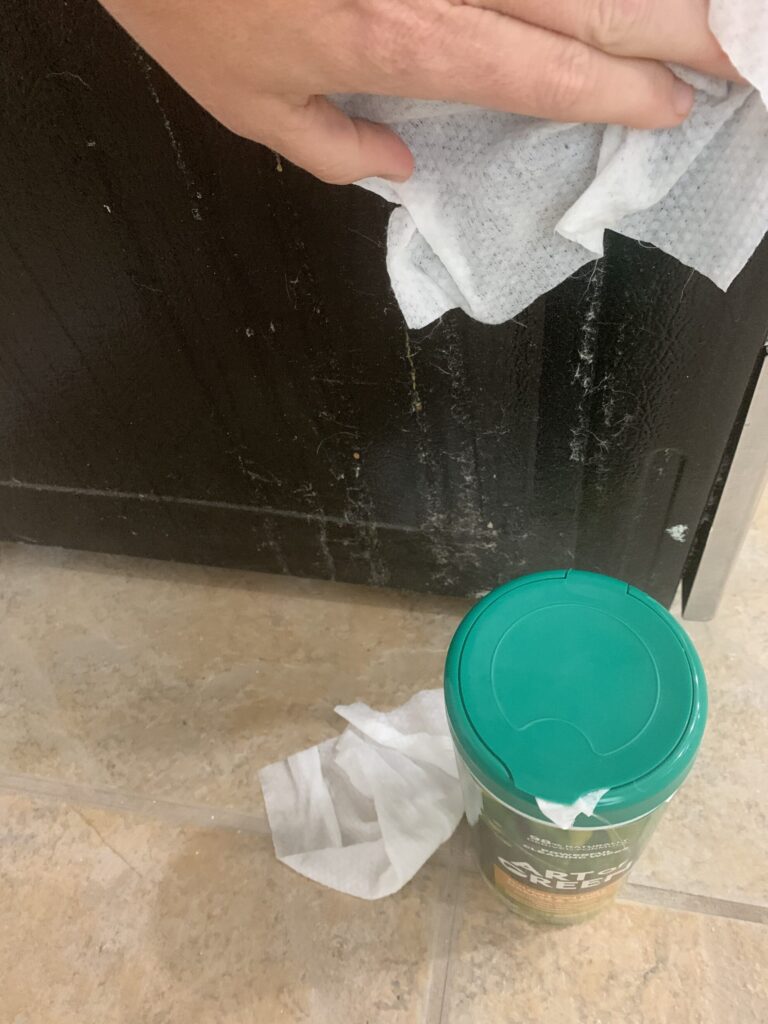 7-Minute Speed Clean: Erin cleaning the side of the oven! EEEEPERS! But Art of Green had no problem taking care of this grime and grease!
Disclaimer: This post is sponsored by Art of Green. Opinions and experience are my own.