A Scrumptious 5-Layer Queso Dip…with creamy white or yellow queso as the base and a pile of delicious toppings!
Here in San Antonio, it's often said that you judge and choose a local TexMex joint or taqueria by their salsa.
Well…….
I say you need to judge it by their salsa AND their queso dip.
Because queso is life.
(Seriously, I grew up dipping rolled tortillas in queso. It's pretty much the best bite of food you could ever take.)
But I digress.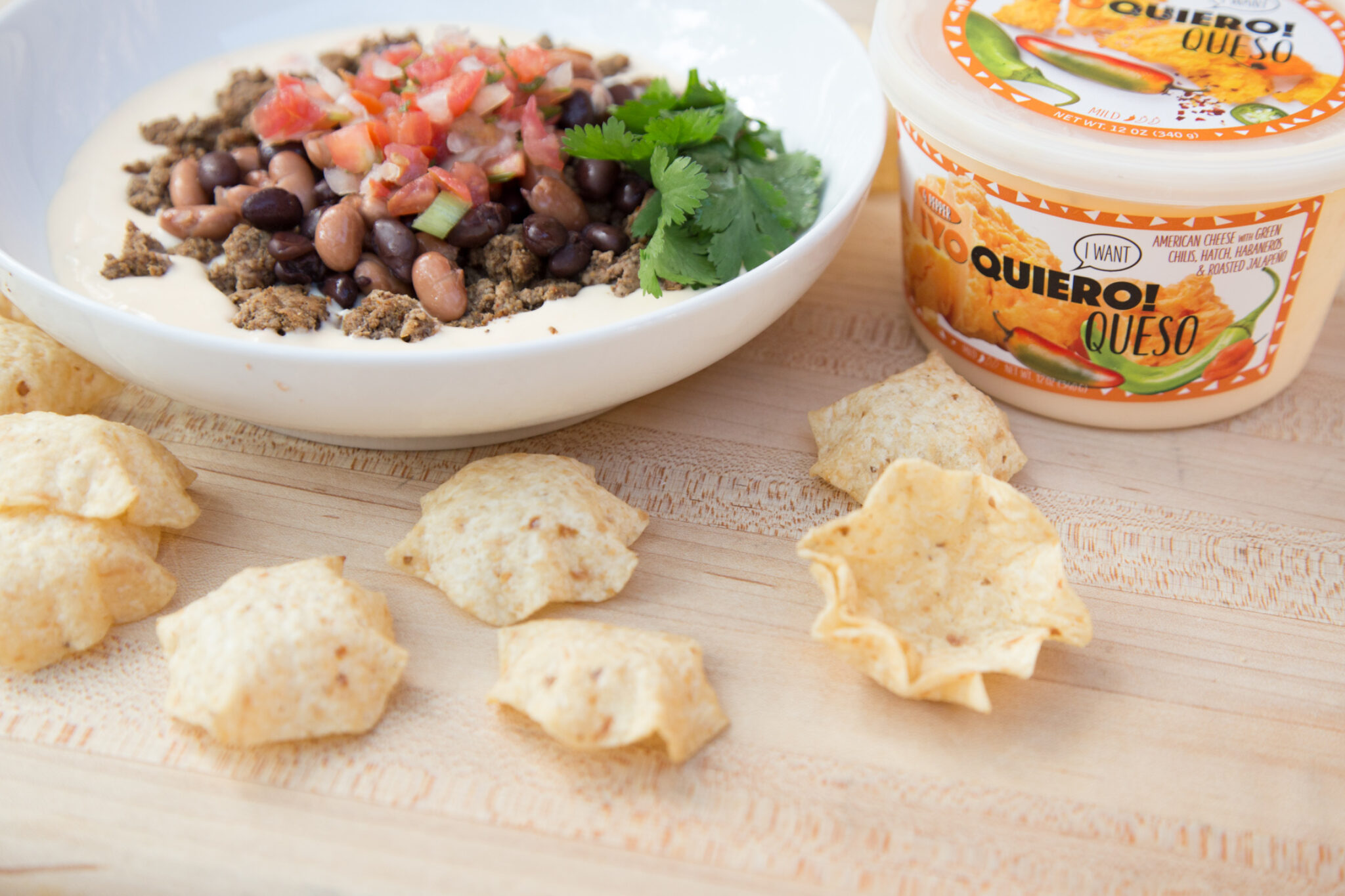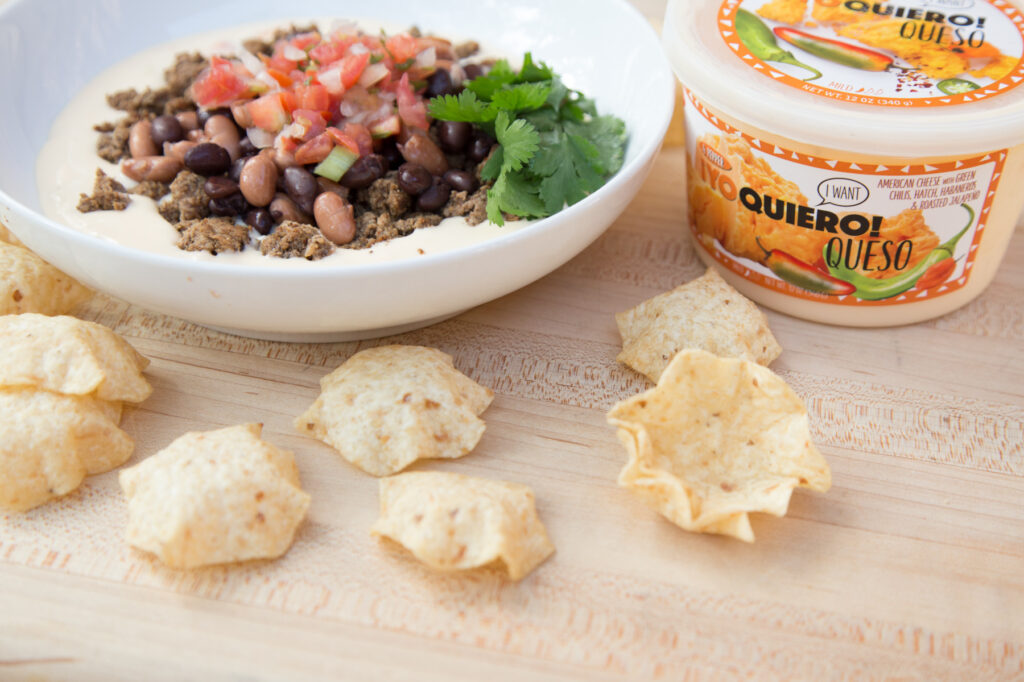 Well, not really.
I'm a tough judge of queso. And this ¡Yo Quiero!™ passes all the tests with all the flying colors!
Because today, I'm here with you. Featuring this fabulous new ¡Yo Quiero!™ Queso. Not just the white queso, but the yellow queso too.
When I first had this queso, we were having a working lunch in my home. Lauren and I were already halfway through the first container when my husband decided to join us for lunch. (After I said – QUESO is included. Ha!)
He buzzed right into the kitchen, grabbed some chips, took a bite, and declared this the best queso he's ever had.
I said – IKR – it's so good. How about we add a few more yummy ingredients and call this lunch…
And assembled this 5-layer dip.
Then we proceeded with our planned lunch.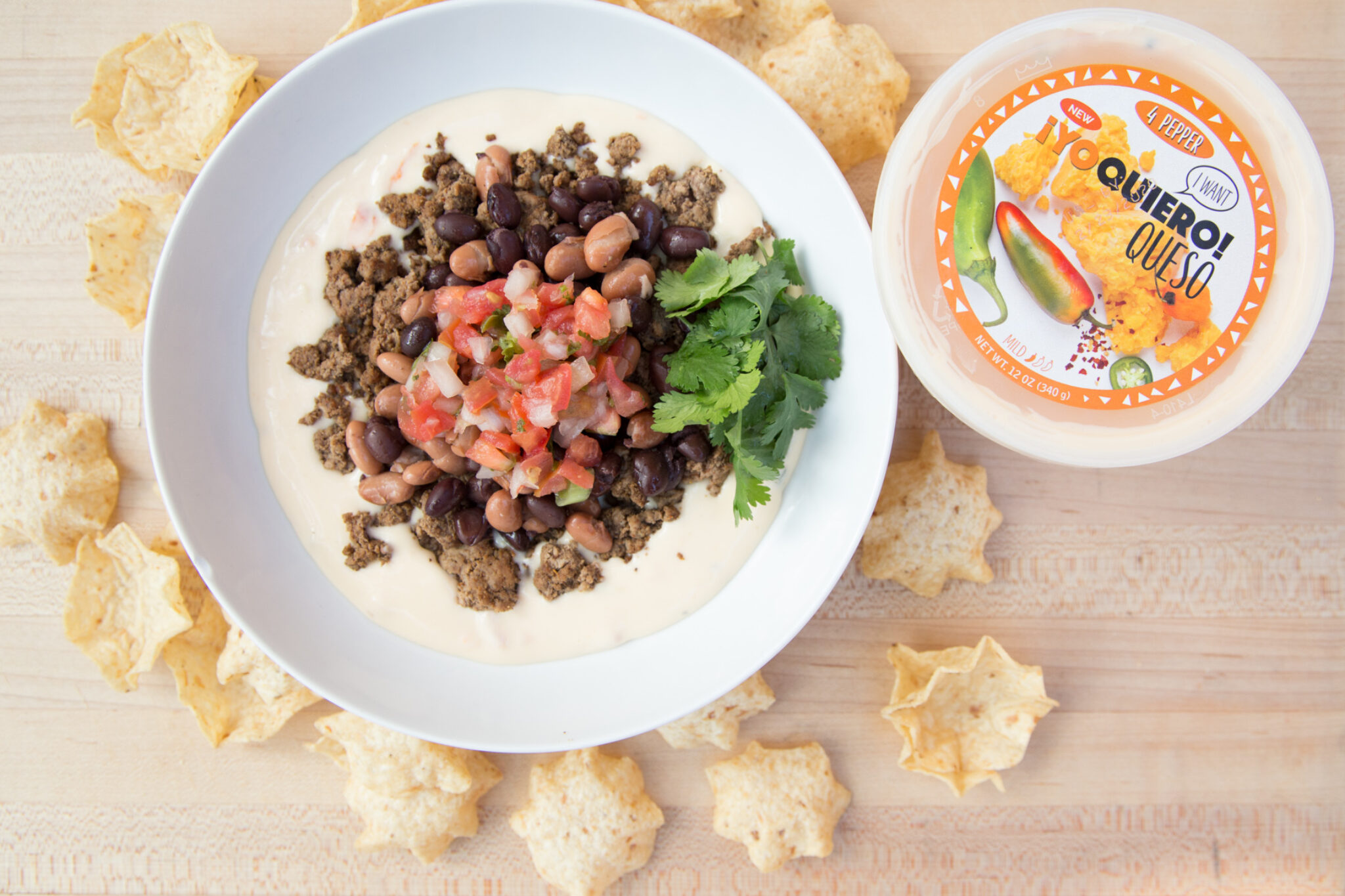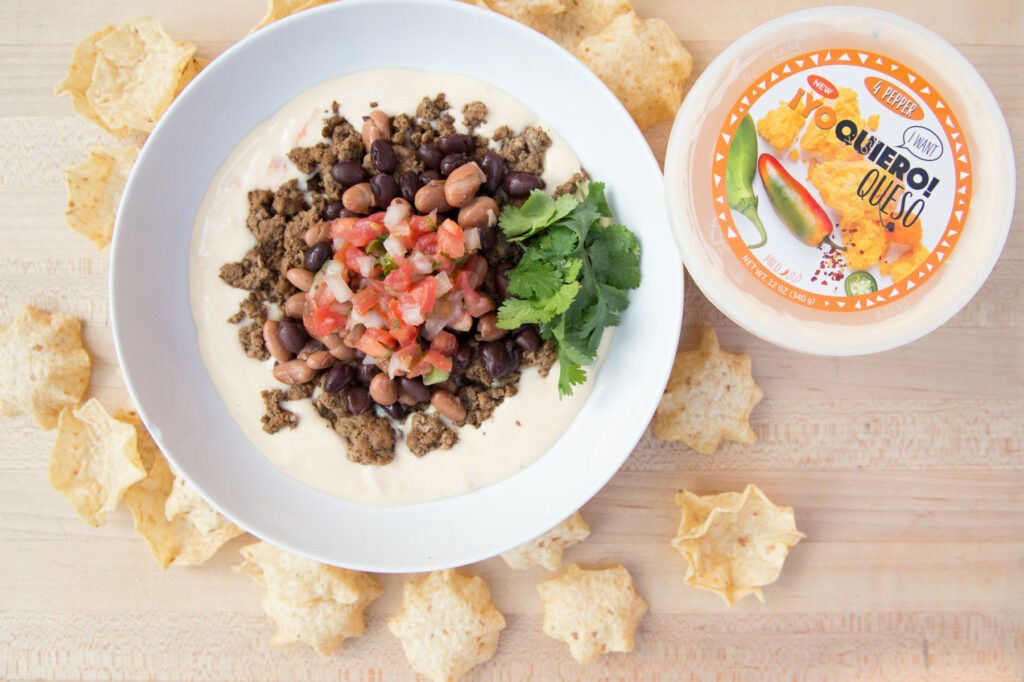 I've teamed up with ¡Yo Quiero!™ Brands to bring you some new delicious recipes this year!
Because I want to help you find affordable, fresh ingredients that are packed with flavor AND make meal prep quick and easy.
I adore products that are healthful, flavorful and super easy to use in your kitchen. And I'm thrilled to be creating recipes and yumminess with ¡Yo Quiero!™
How to Make 5-Layer Queso Dip
Usually with queso as a dip, you mix IN all of the ingredients. Sometimes that's chorizo or sausage, other times it's different kinds of peppers.
With this layered dip, we are adding what could be mixed in onto the top.
This way, you can get all the right flavors into each bite.
You could serve this in a larger bowl for a crowd, with a serving spoon.
Or, you could serve this in small individual bowls and enjoy as a meal. (Like we did, as a lunch and again as a dinner!)
It's very simple to put together…
Layer #1 – warmed ¡Yo Quiero!™ white or yellow queso
Layer #2 – taco seasoned ground beef or turkey
Layer #3 – black beans
Layer #4 – pinto beans
Layer #5 – pico de gallo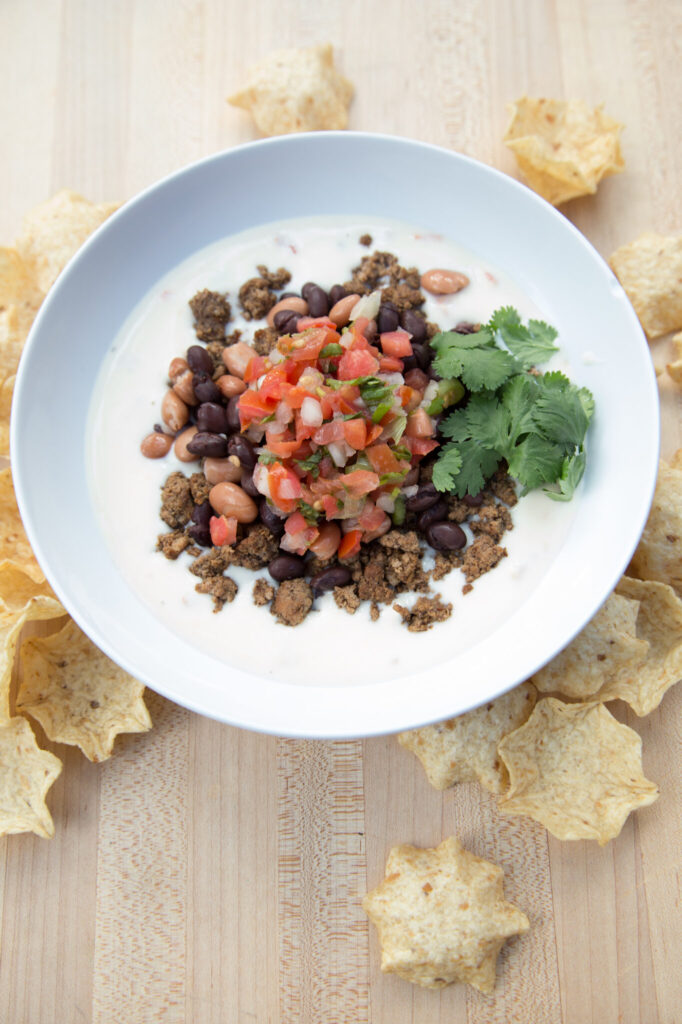 This layered queso dip is to.die.for.
Because….
Just look at that.
YUM.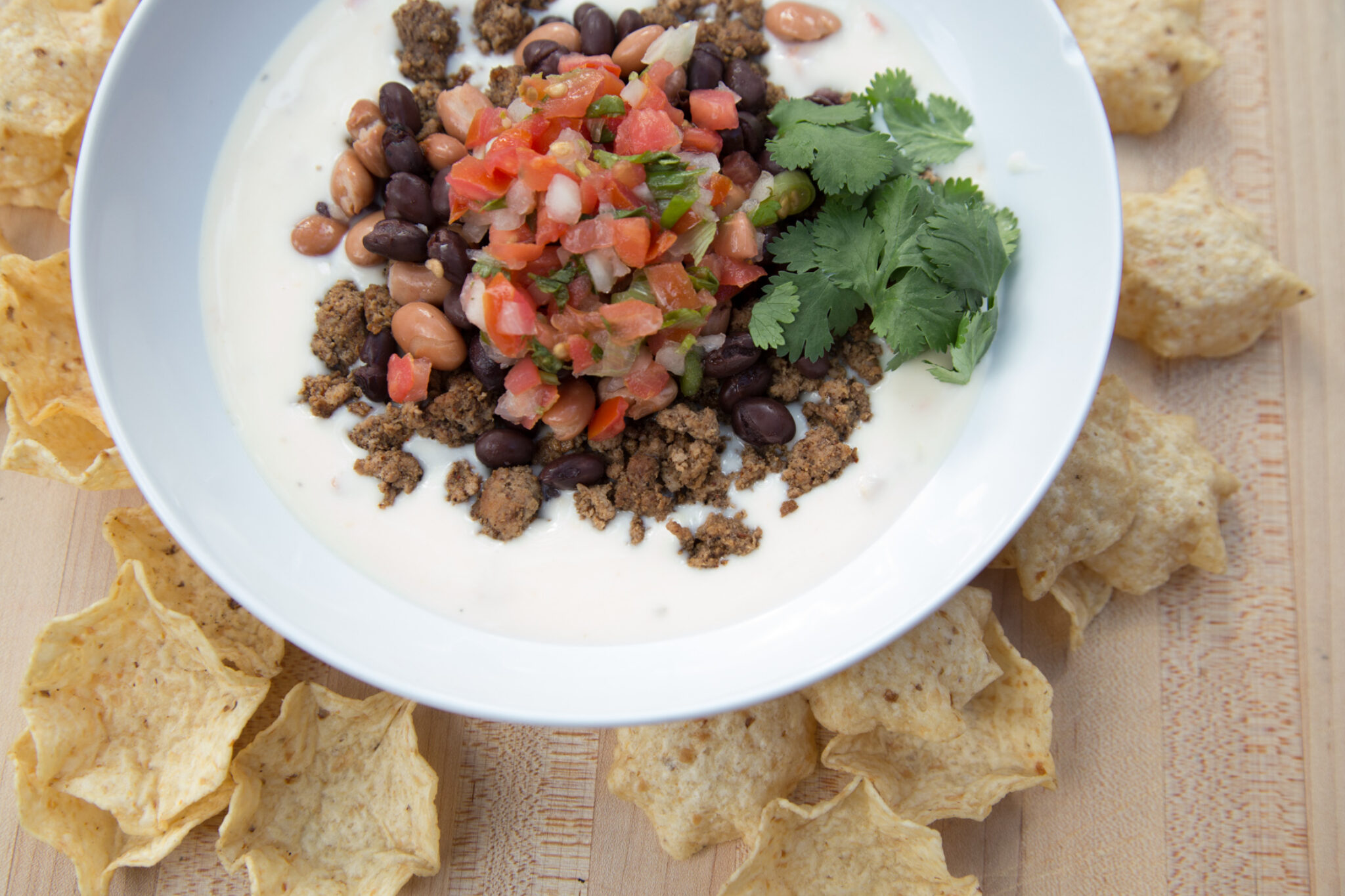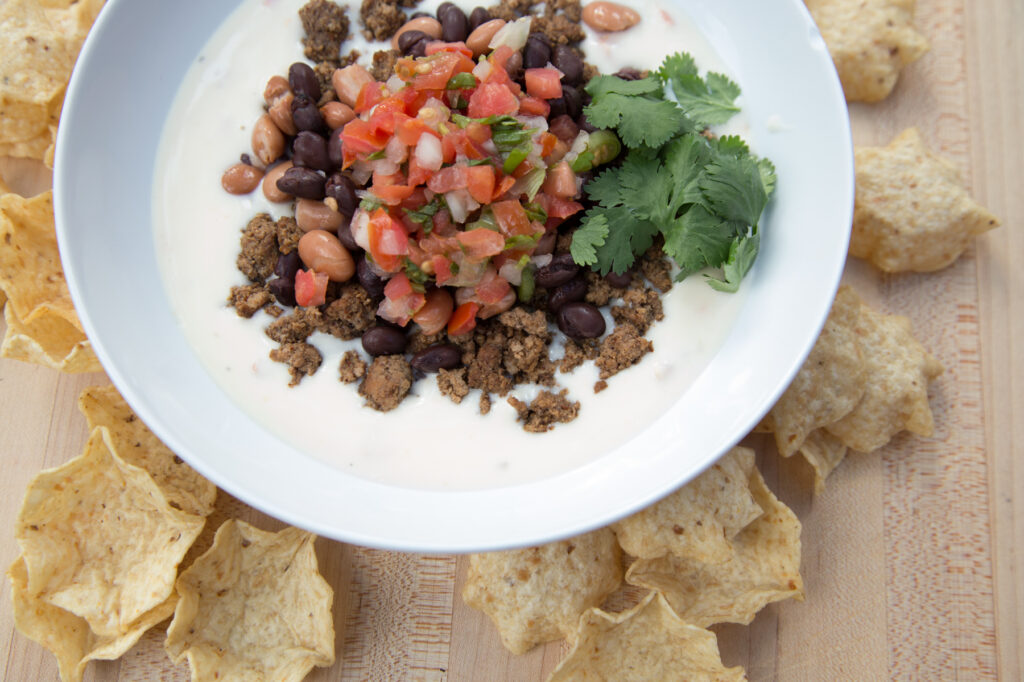 ¡Yo Quiero!™ is BRINGING THE HEAT WITH THESE QUESOS!
And by heat – I mean GOODNESS. (Not spicy heat. It has just the right amount of kick and spice.)
I made this twice in the same week. (Because YUM.)
First, I used the white queso.
Then, I used the 4-Pepper Yellow Queso.
¡Yo Quiero!™ Queso Flavors include:
White Queso
4 Pepper Yellow Queso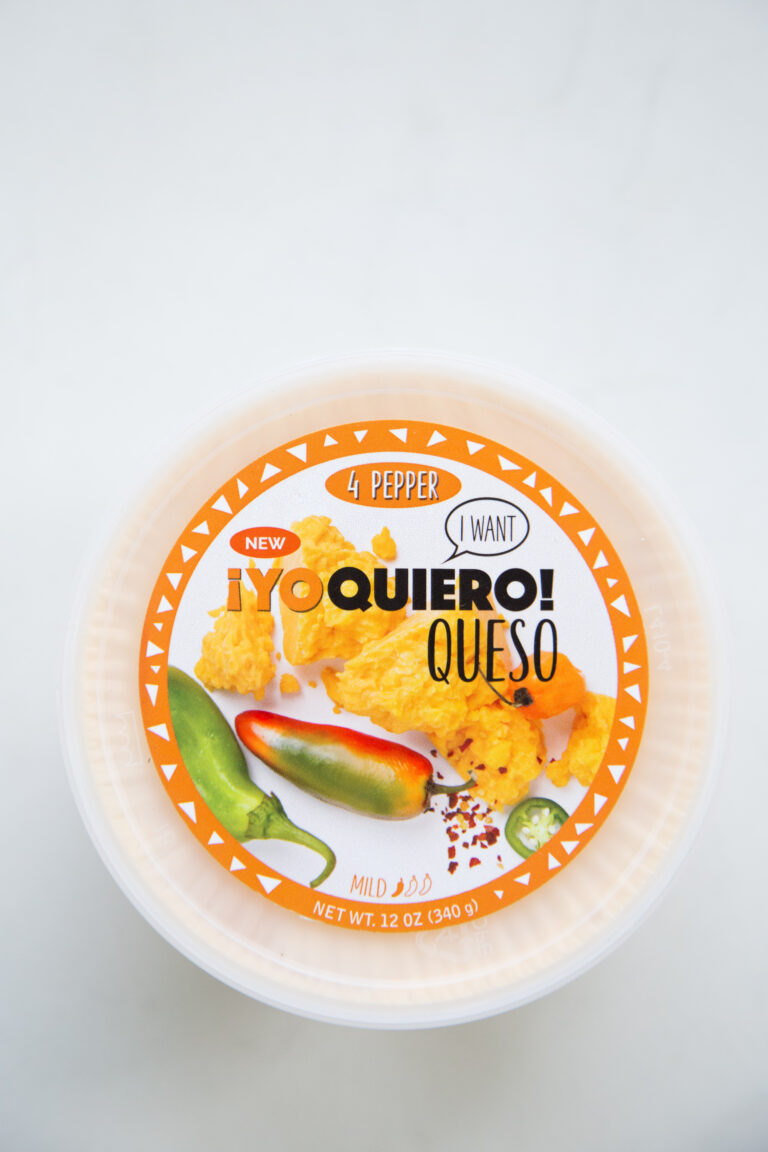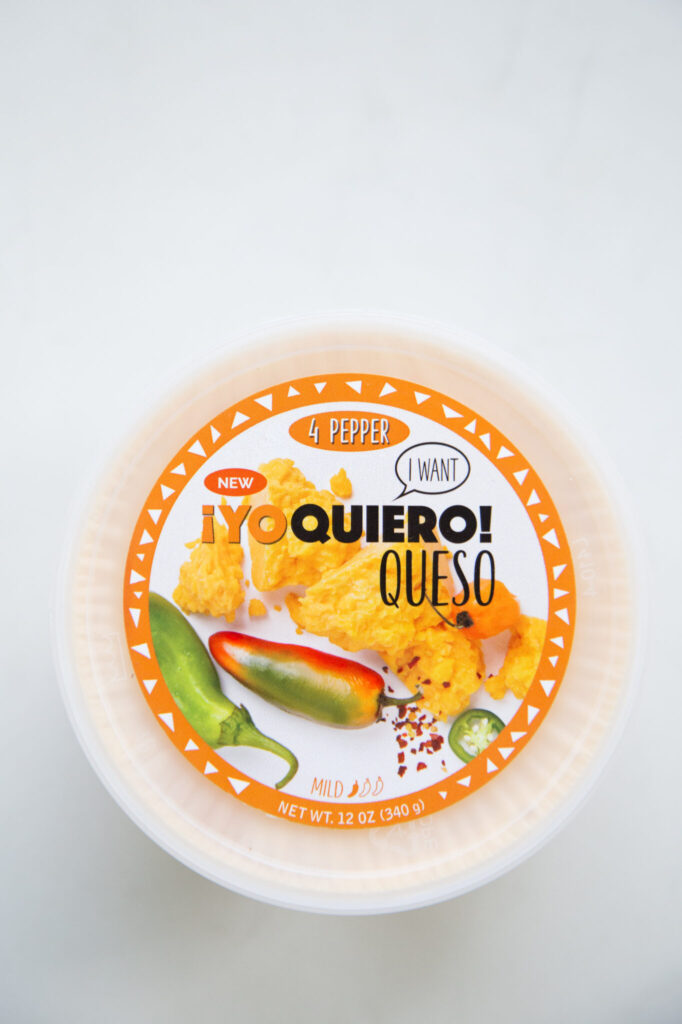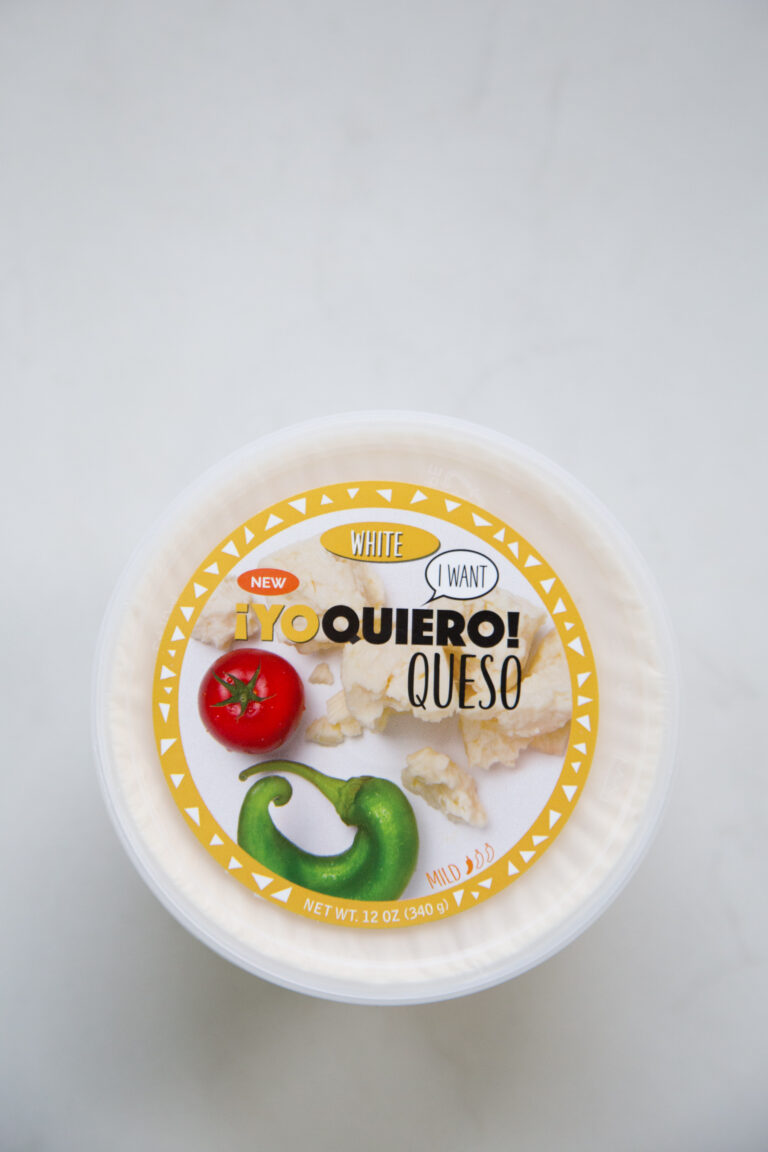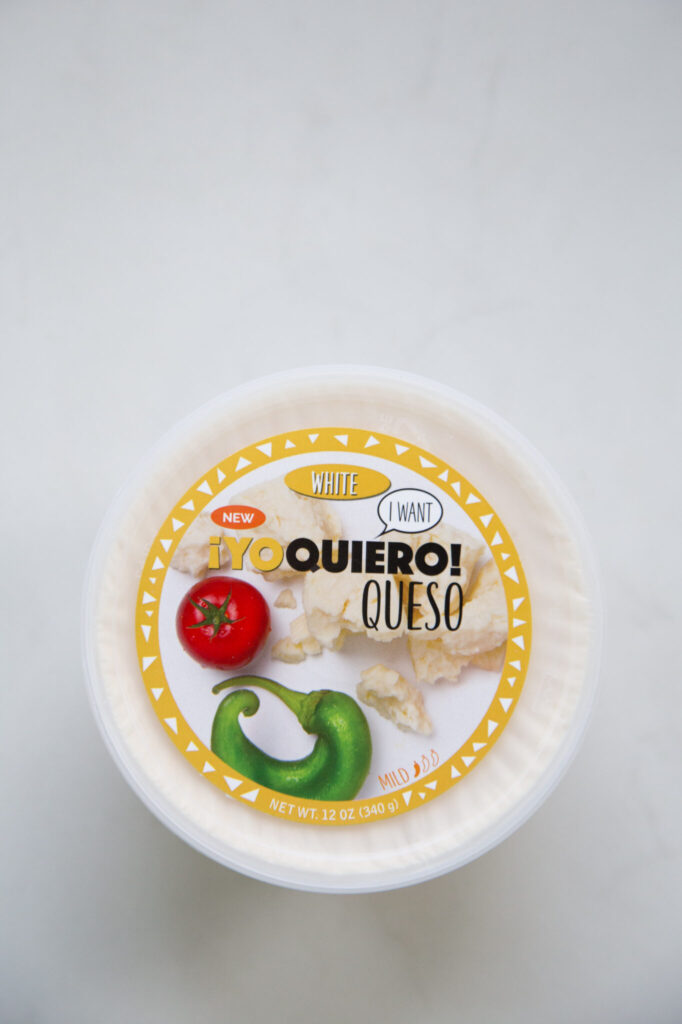 ¡Yo Quiero!™ brings you the finest ingredients they can get their hands on, along with flavor galore, fewest additives and handy packaging.
Where to Buy ¡Yo Quiero!™ Quesos
Right now, ¡Yo Quiero!™ brand products – guacamole, queso, and salsa – are available at Randalls, Tom Thumb, and Albertsons across Texas.
Plus a few other locations in PA, NY, CA and LA.
And yes, they should be available in more stores soon 🙂
You can check their store locator here.
And now for the recipe…
A scrumptious appetizer or dinner where you add toppings to the queso, instead of mixing them in.
Ingredients
1

lb.

ground beef

1

Tbsp

taco seasoning

12

oz.

container ¡Yo Quiero!™ white or yellow queso

15

oz.

can black beans

drained and rinsed

15

oz.

can pinto beans

drained and rinsed

1/2

cup

pico de gallo

1

bag

tortilla chips
Instructions
In a large skillet, brown the ground beef and drain if needed. Mix in the taco seasoning.

Warm the queso and place into serving bowl(s).

Add the warmed, browned taco meat over the top. Then add the black and pinto beans.

Top with the pico de gallo, and serve with tortilla chips.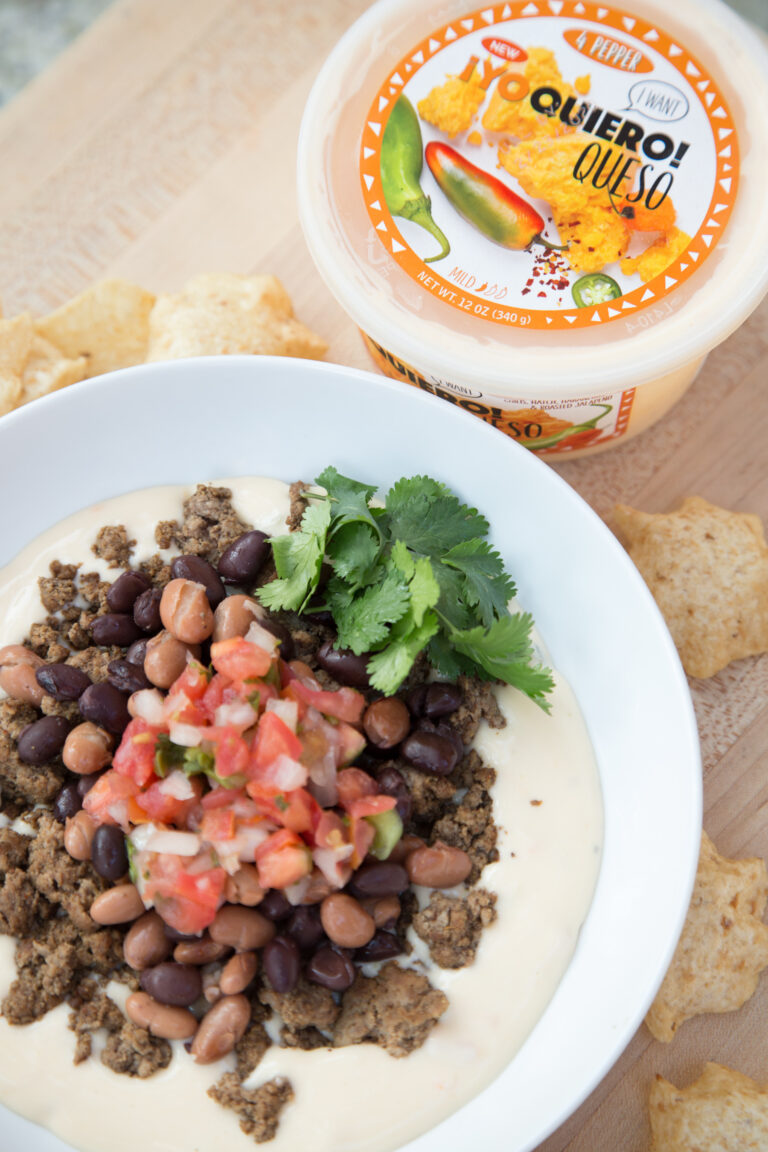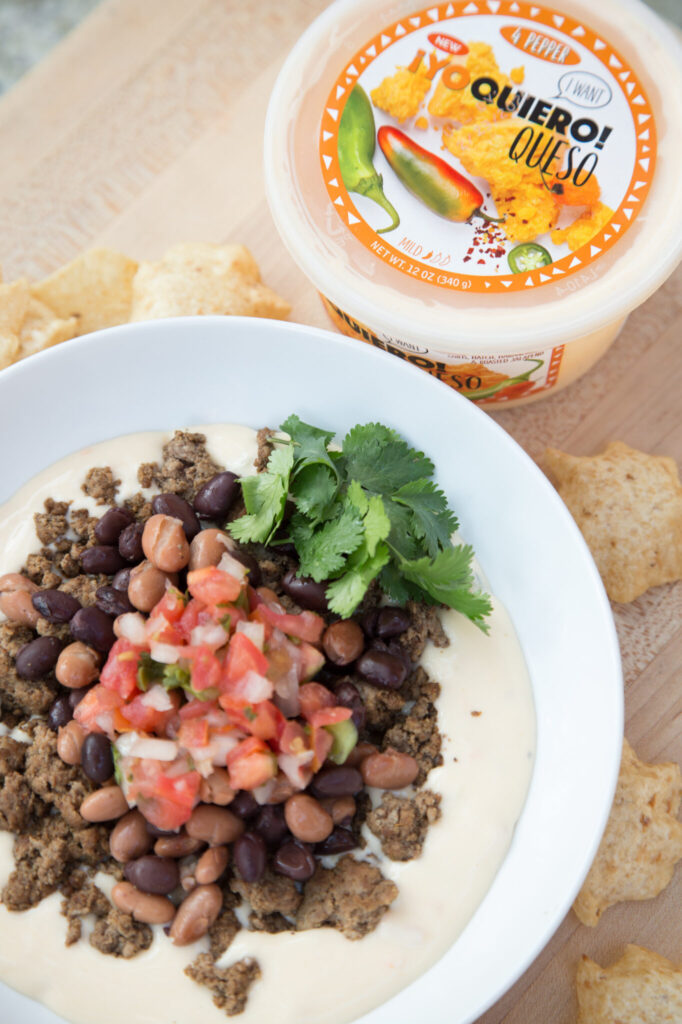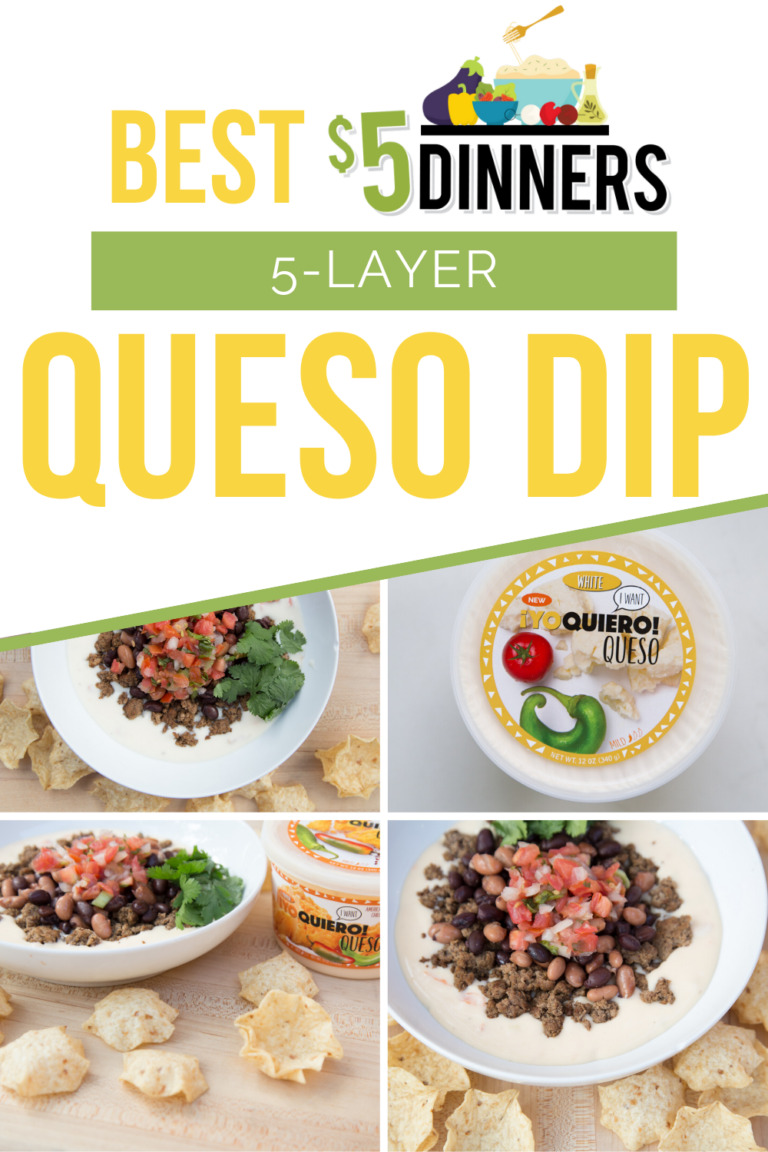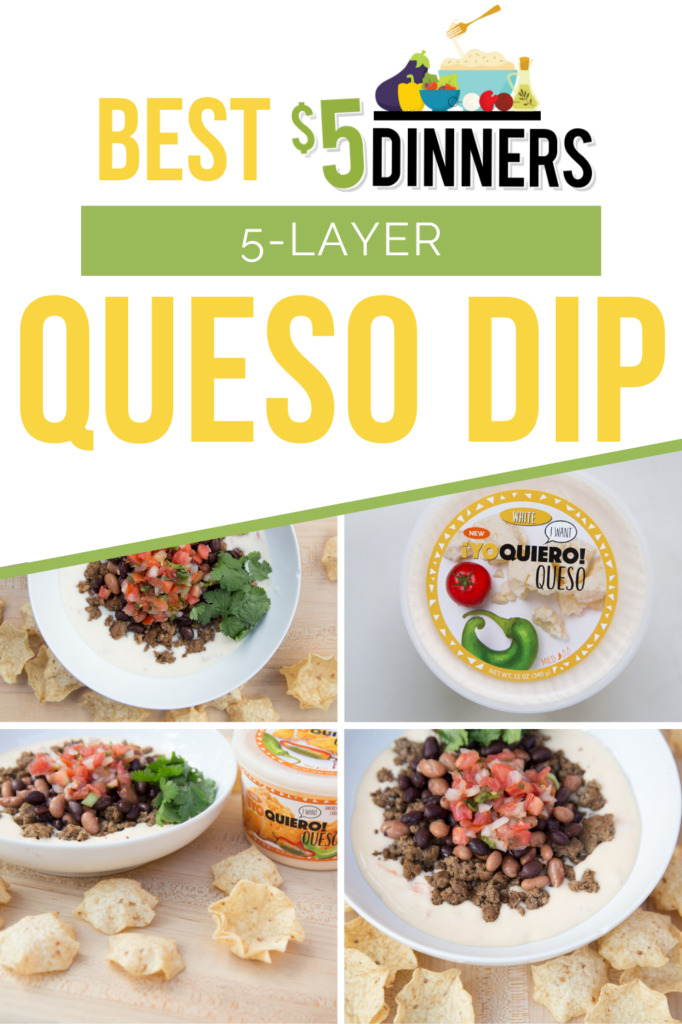 Disclaimer: $5 Dinners has partnered with ¡Yo Quiero!™ brands to bring you amazing recipes and flavors, using their guacamole, queso, and salsas. Recipe and opinions are my own.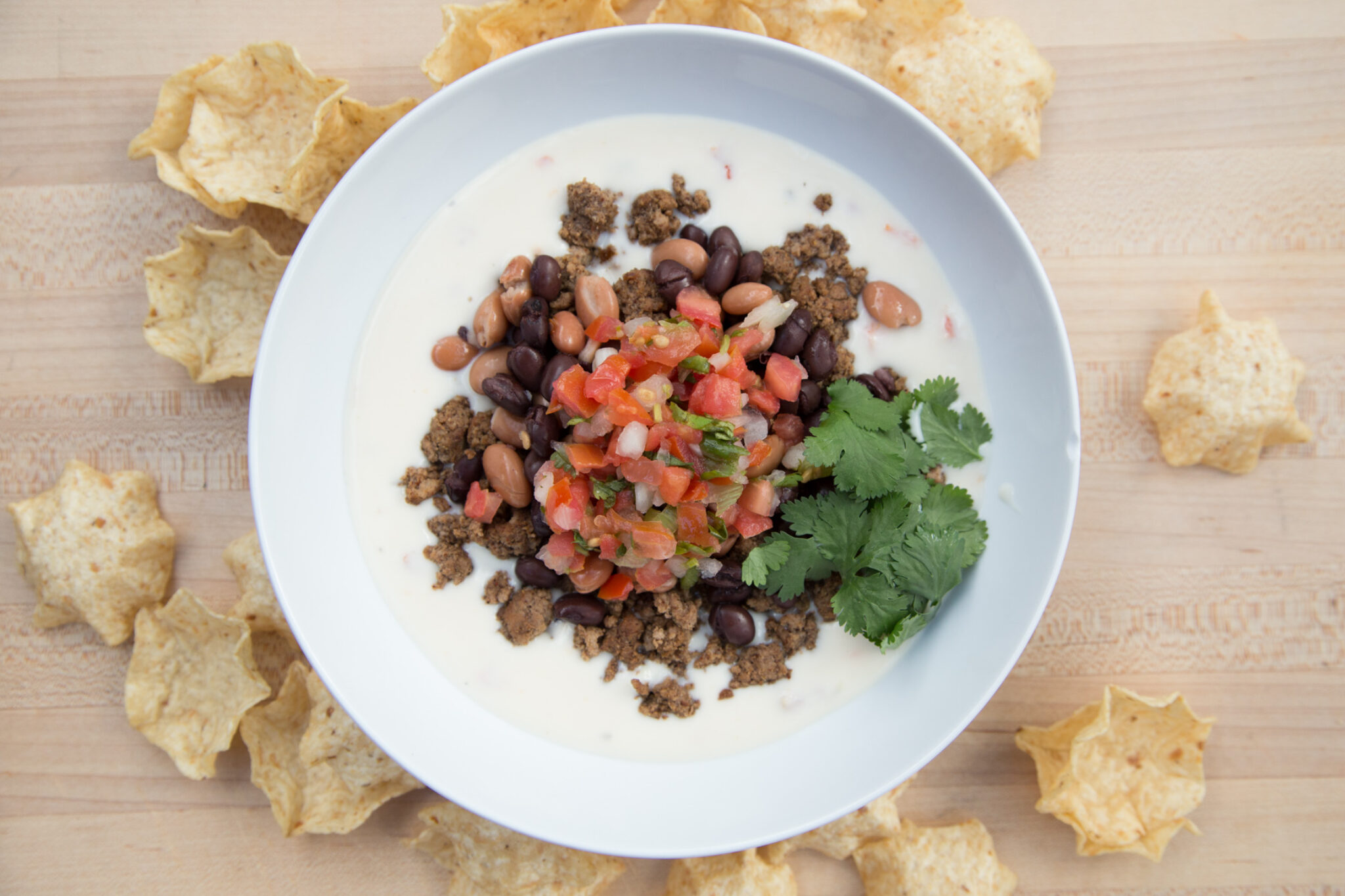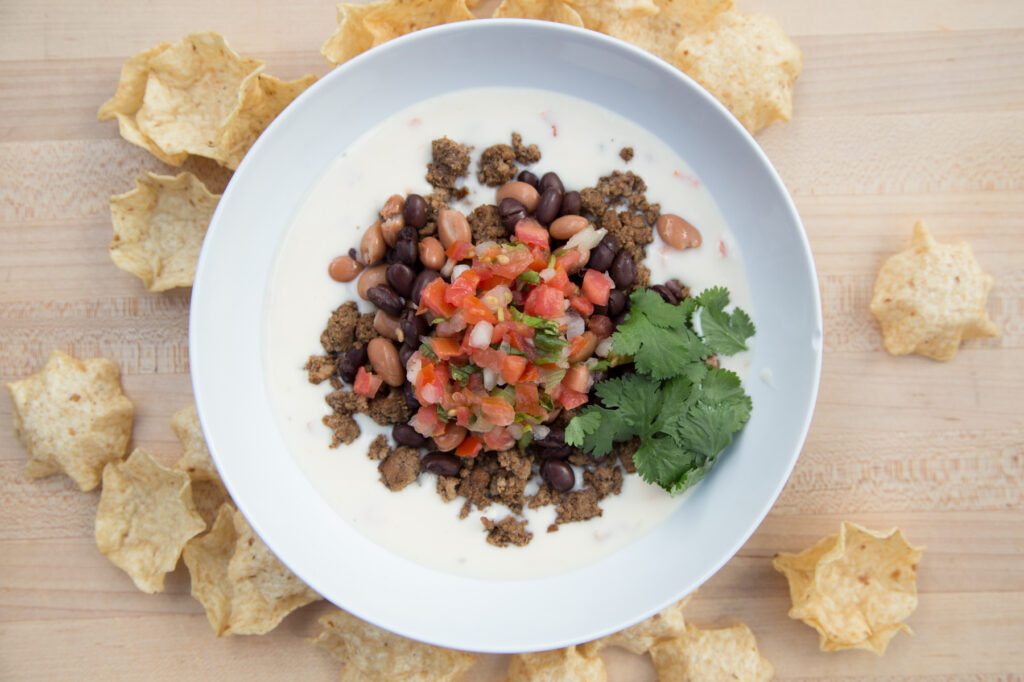 This recipe is featured on Meal Plan Monday #204.