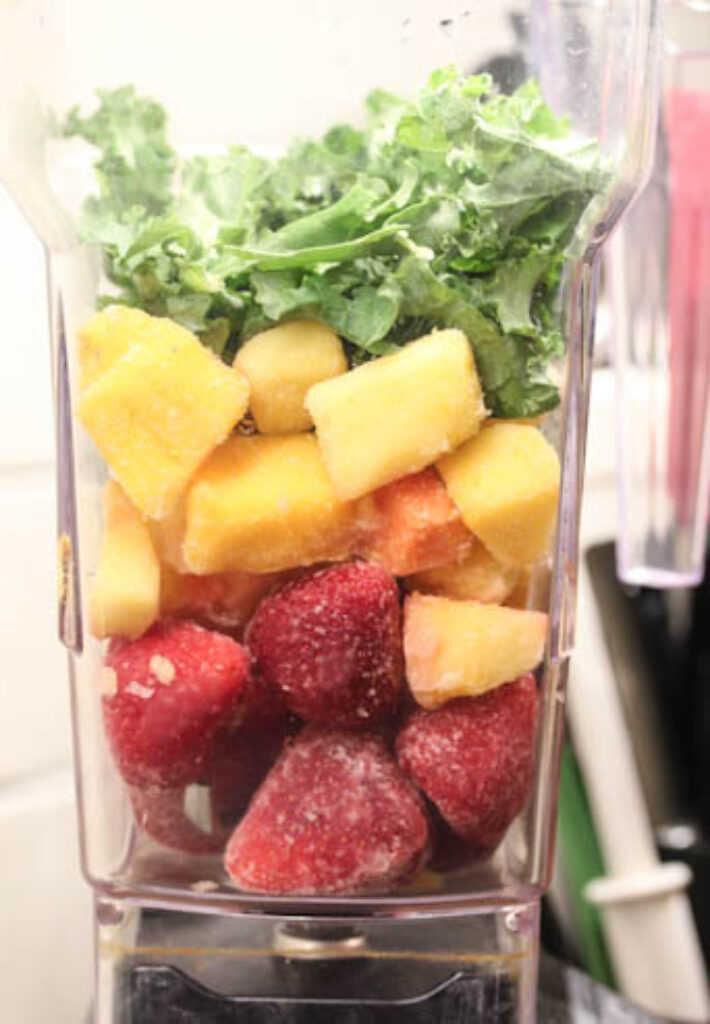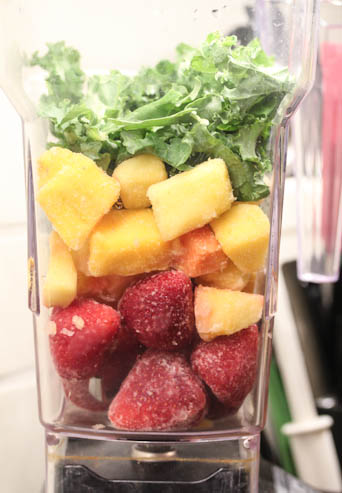 1. Ground flaxseed – We started adding ground flaxseed to our diets back when Ryan was struggling with speech delays.  After much research, I learned that ground flaxseed is full of Omega 3s, which are great for brain (and speech) development.  Whole flaxseed is less expensive than pre-ground flaxseed and can be ground in a coffee grinder.  It does go rancid quickly, so I don't grind more than 2 Tablespoons at a time.  It can be stored in the freezer to keep it from going rancid too fast.  I store mine in the freezer for up to 4 or 5 months. I add ground flaxseed to smoothies, applesauce, (dairy-free) yogurt, and baked goods.  I usually add about 2 Tbsp to muffins or cookies without it dramatically affecting the outcome of the recipe. Simple, inexpensive way to get more Omega 3s.
2. Real fruit smoothies – Make a fruit smoothie with real fruit and a natural sweetener like honey or agave nectar for breakfast or lunch…or an afternoon snack. And don't be afraid to add greens to your smoothies. And don't forget the ground flaxseed.
3. Salads with Homemade Dressing – Add more greens to your diet by committing to eat at least one salad a day, whether a large salad for lunch or a side salad with dinner. Buying the whole lettuce head is significantly cheaper than the pre-packaged lettuce. Try this ratio method for homemade vinaigrettes or mix up your own homemade ranch dressing mix.
4. Nuts and dried fruits – Keep a stash of dried fruits and nuts in your pantry…they are perfect for afternoon cravings, have a long shelf life, and can be stored in the freezer as well. And when you seem to be running low on each, mix them up into a pantry trail mix.
5. Beans, beans, beans. Inexpensive, and packed with fiber. And a complete protein when combined with other ingredients like brown rice and potatoes. Learn how to cook beans from scratch and spend even less when buying them!
(I'm not a dietitian. Just sharing common sense ways to eat healthy, on a budget.)
Have you made any recent changes to improve your diet and eat more healthy foods?!
Disclaimer: As an Amazon Associate, I earn commissions on qualifying purchases. Reviews, opinions are my own.