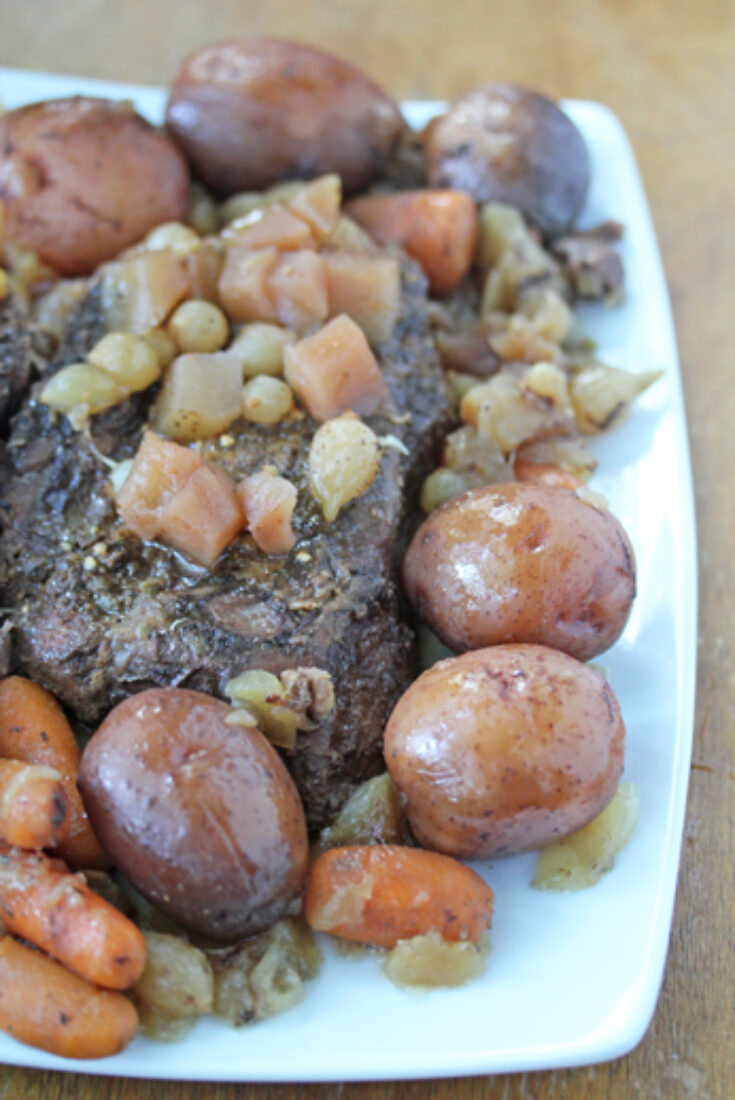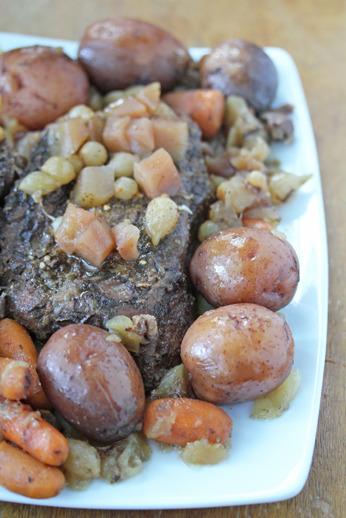 While I love beef roasts in the oven, especially for the holidays, I super-duper-love beef roasts made in the slow cooker for everyday meals, or for Sunday supper.
Comfort. Warm. Hearty. Flavorful.
And affordable too.
I may purchase a nicer cut of roast for a holiday feast, but for everyday meals a round roast will do just fine. And my frugal cooking heart does a leap whenever I see beef roasts advertised for $2.49 per pound, or even $2.79 per pound.
A 1 to 1 1/2 pound roast is plenty for our family, but I usually buy one that is a little larger so that we will have some leftovers for roast beef sandwiches, shredded beef sandwiches, or shredded into soup that calls for beef stew meat.
And don' forget to save the left over broth in the slow cooker. Just strain it, let it cool, skim off any fat from the top and then transfer to a freezer safe container. Freeze the portions to use in soups that call for beef broth.
I adore the flavor combination of the apples and pearled onions in this meal. ADORE!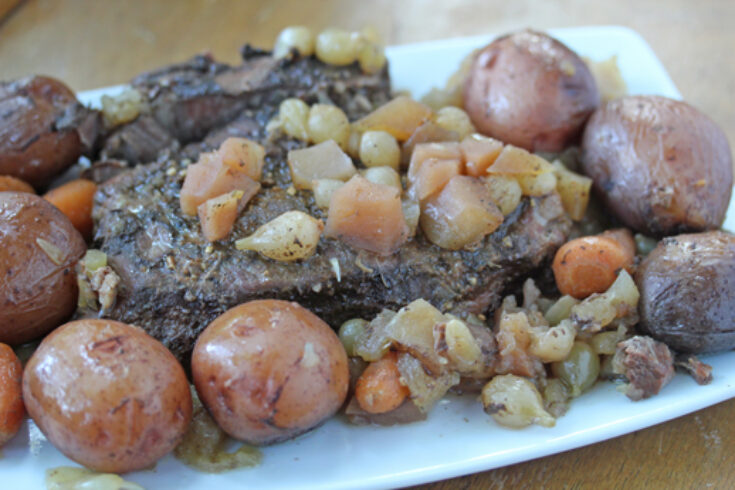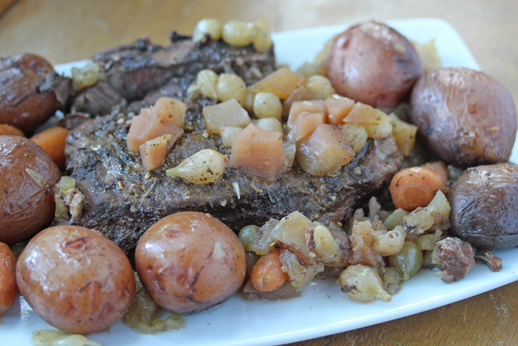 This one dish slow cooker beef roast and veggies/fruit is just superb! Must Try!
Ingredients
2

lb.

beef roast

3

medium

apples

peeled, cored and diced

1

lb.

baby carrots or peeled carrots

8

small

red potatoes

1

cup

frozen pearled onions

Garlic and Onion seasoning

Salt and pepper

Dinner rolls; as side dish
Instructions
Place the beef roast in the base of a 5 quart or larger slow cooker.

Add about 1/2 cup of water, that will help dilute the broth and steam the vegetables.

Place the diced apples, carrots, red potatoes and pearled onions around the roast and then sprinkle the garlic and onion seasoning and salt and pepper over the roast and vegetables.

Set the slow cooker on low and cook for 8 or 10 hours.

Once cooked, remove from slow cooker. Let cool slightly before slicing and serving.

Prepare dinner rolls for side dish.

Serve Slow Cooker Beef Roast with Apples, Carrots, Red Potatoes & Pearled Onions and warm dinner rolls.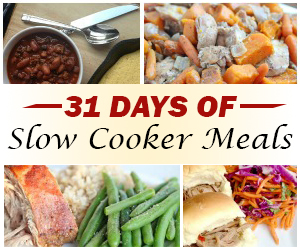 Welcome to our 31 Days of Slow Cooker Meals! July is a HOT month for most of us and one of my favorite ways to keep the kitchen cool in the summer is by using my slow cooker. Each day for the next 31 days, we'll be sharing tasty and easy slow cooker recipes with you. Be sure to bookmark this page as all of the recipes will be automatically added each day.
Enjoy and be sure to share all of our favorite Slow Cooker meals with your friends and family!