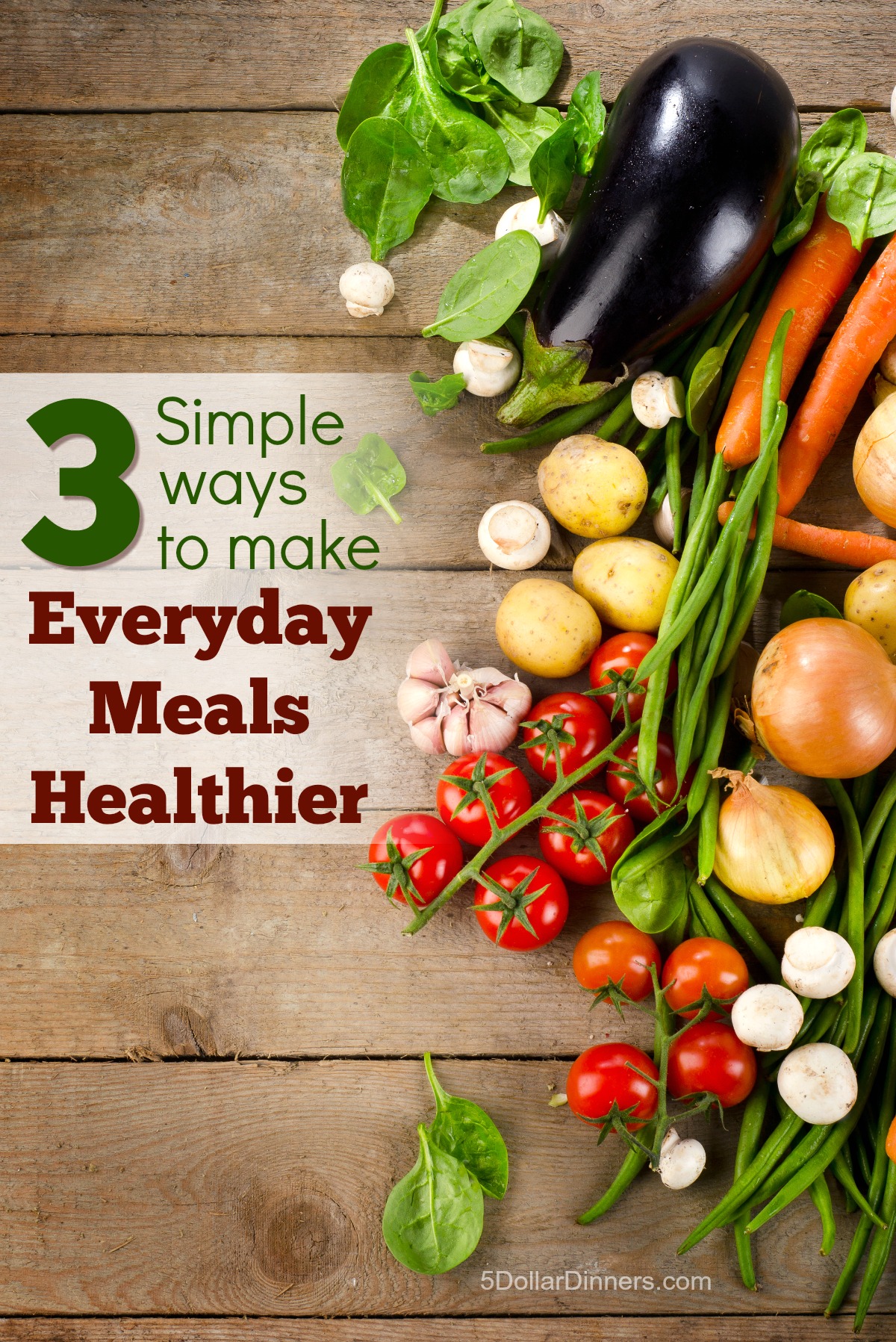 One of the biggest complaints that I hear from people when it comes to making low-cost meals is that they often feel like they have to sacrifice nutrition in order to keep from spending a fortune on their weekly grocery bill. Sadly, this results in preparing and serving dishes that aren't quite on par with your health goals, or the goals of your family.
Fortunately, by adding a few little (in both size and price) things to your everyday meals, you can pack them with more vitamins and minerals without paying top dollar to do it.
What little things are these, you ask?
Here are the 3 simple ways to make everyday meals healthier:
Veggies
Perhaps the easiest way to bulk up your meals with inexpensive yet nutrient-dense ingredients involves adding vitamin-rich veggies to your favorite stews, casseroles, and other similar types of dishes. For example, you can add peas to your tuna noodle casserole or diced carrots to your bean soup.
You can also use vegetables to create a healthy juice if you want something that is full of nutrients but more on-the-go. This is a great way to use them up before they spoil while realizing some real health benefits. You could also blend some leafy greens into your morning smoothie.
As far as cost, it's not uncommon to find canned vegetables for less than a dollar and frozen options are typically just a little bit more. My favorite frozen veggies are the organic packs from Costco, as they cost less per lb. than conventional frozen veggies at my regular grocery store.
Because fresh veggies tend to be the most expensive, it's best to slot them in your meal plan in the first 3-4 days after your purchase them. There's nothing worse than having to throw away fresh produce. You might not "feel like" having zucchini that night, but how do you feel when you have to throw it away once it turns bad?
Fruit
Like vegetables, fruits also supply your body with multiple vitamins and minerals, in addition to providing one other substance you need for maximum health—fiber. Fiber is essential for lower cholesterol, as well as keeping your digestive system on track.
Some of the highest fiber fruits to add to your everyday meals include raspberries, pears, apples, oranges, and strawberries. Bananas have a lot of fiber too.
Of course, the easiest way to increase your fruit intake is to incorporate these types of fruits into your desserts or add them to your morning yogurt. But all of these options also work well when mixed with leafy greens, giving you a salad that is both savory and sweet. Add an oil-based vinaigrette on top and you'll have a dish that is both healthy and tasty, for minimal cost.
Also, I recommend that you keep fruits visible because you (and your kids!) will be more likely to reach for them when they see them. I "catch" my kids going after bananas, apples and oranges for quick snacks all the time.
Spices and Herbs
Cooking with spices and herbs is not only a great way to satisfy your taste buds, but it's also a fabulous way to make your meals healthier since many of these flavor enhancers are health-promoting. For instance, cayenne has been found to be beneficial to circulation; cinnamon is good for blood sugar stability; and cumin has antibacterial properties, just to name a few.
Fresh herbs cost the most, but you can also purchase dried or ground spices and herbs at a lower cost. To save even more, you might want to buy them in bulk. However, only do this if you use a lot so they don't lose their potency before you're able to cook with them.
Article by Sara Upton. 
Incorporate these three little things to enhance the healthy factor of your everyday meals. How's that for easy?