And be sure to sign up for our FREE weekly email newsletter and find out why Rachael Ray calls this the dinner solution every family needs. Tap below to sign up!
Every dollar counts – and I'm all for snagging deals on things that I love, need, and use on the daily.
As I was working on my list and scouring for my own deals, I kept finding some great options for under $25!
The only higher priced item that we purchased was the eero mesh wireless network with beacon/boosters for our home. I will be working from home again in the Fall, and we need a stronger wireless setup at home!
Here is a short list of some of my favorite items (beyond food and the kitchen!) that I either ordered to re-stock now, or will order again when on super sale at the holidays!
I hope you find some goodies below and can snag a few of these too!
Erin's Favorite Prime Day Deals: 15 Items Under $25
Prime Day 2019: Prime Pantry "Stacking Deals" with How-To Video
Continue Reading
Tank Swing Dress
I wear these all summer long, and beyond! Simple, but easy to dress up with accessories. From $14.
Continue Reading
stila Liquid Eye Liner
Stay All Day Waterproof - this keeps my eyes "awake" and gives them a nice pop. And it really does stay all day!
Tap to order and save!
Greenies Dog (for our Cody!) 
Photo Credit: www.amazon.com
$19.14 (ends Monday! Dental Chews Dog Treats - Regular Size (25-50 lb Dog)
Continue Reading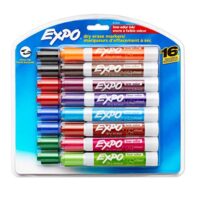 EXPO Dry Erase Markers, 16 Count
For when the kid's teachers email and say "can you send in more expo markers?!" Because I believe teachers don't need to buy their own supplies!!!
Continue Reading
Washable School Glue Sticks, 30-Pack
Less than $7 for 30-pack!
Also, because teachers shouldn't have to buy their own supplies!!! 😉
Tap to order and save!
Bentgo Kids Childrens Lunch Box
Bento-Styled Lunch Solution Offers Durable, Leak-Proof, On-the-Go Meal and Snack Packin'
Tap to order and save!
Silpat Non-Stick Silicone Baking Mat
Never bake cookies without these!
Continue Reading
Tsunami Cutting Board
WHY DIDN'T I THINK OF THIS?!? It's BRILLIANT. It's available in a pre-sale, I JUST found out about it and ordered 2!
Because you can never have too many efficient, practical cutting boards.
Note: this is NOT on Amazon yet. You can order from their website.
Tap to order and save!