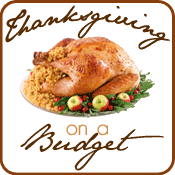 Looking for a new and different twist on your favorite traditional pecan pie??? Tossing in some sliced almonds will give your pie a new flavor and texture!
Be on the lookout for sales on pecans, almonds and walnuts around the holidays…grab a few extra bags to carry you in to the new year!!!
This is a must. try. pie!
 
Ingredients
 
Homemade Crust
1 cup all-purpose flour ($.20)
½ teaspoon salt
1/3 cup shortening or butter ($.30)
2-4 Tablespoons COLD water
 
Filling
4 eggs ($.40)
1 cup brown sugar ($.20)
1/2 cup maple syrup ($.50)
4 Tbsp butter, melted ($.40)
1 Tbsp vanilla ($.10)
1/2 tsp salt
1 1/2 cup pecans ($1)
3/4 cup sliced almonds ($.75)
 
Directions
 
Preheat oven to 375.
 
1. To prepare homemade pie crust, place flour in mixing bowl; add butter and cut in with pastry blender. Add salt and then add COLD water 1 Tablespoon at a time. Mix and toss ingredients together with a fork until dough ball forms. Place in plastic wrap or Ziploc baggie and put into the refrigerator while you make the filling.
2. To prepare filling, whisk the eggs, brown sugar, maple syrup, melted butter, vanill and salt together in a mixing bowl. 
3. Whisk.
 4. Stir in the pecans and sliced almonds.
5. Once filling is prepared, take the dough ball from the fridge and place on lightly floured surface. Using a lightly floured rolling pin, roll out the crust dough into a circle at least 12 inches in diameter and gently fold pie crust into quarters. Move the folded pie crust from the counter to the pie plate.  Unfold in the pie plate.  Pour filling into pie shell. Flute edges in your favorite design.
6. Place pie crust shield over the top or use foil to make a shield to keep the crust edges from burning or turning dark brown while baking.
7. Bake at 375 for 40-50 minutes, or until filling has set.
8. Let cool completely on cooling rack. Refrigerate. It's easiest to slice pie when its cold!
6. Serve cool with whipped cream or warm with vanilla bean ice cream. You'll have to imagine the dollop of whipped cream
Cost $3.85