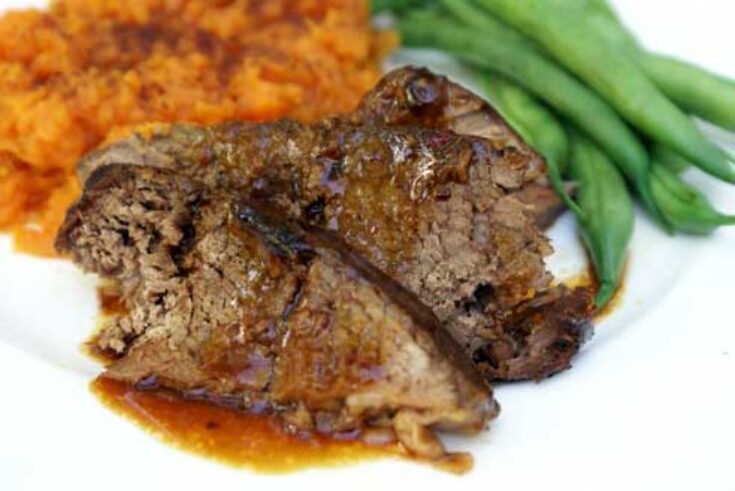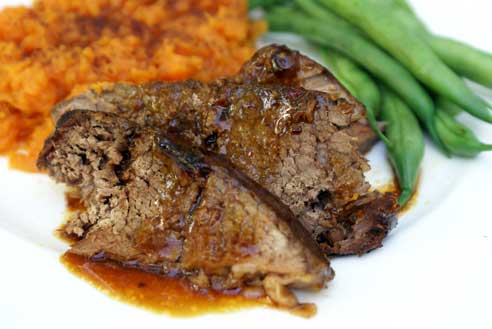 This uses the sauce in  this recipe from All Recipes that I originally found here at Once a Month Mom.
Basically, I just made the sauce and poured it over a beef roast, instead of chicken, in the slow cooker. Time to prep: 2 minutes.
Served with some baked sweet potatoes. Time to prep: 2 minutes.
And some steamed green beans from the garden (they keep coming and coming and coming…) Time to prep: 5 minutes.
Seriously, a very hands off meal to prepare! Just needs time in the slow cooker and in the oven!
(Oh, and the other half of the beef roast went into the freezer!)
Ingredients
2.2

lb.

beef roast ($5.15 divided by 2 = $2.60)

1

cup

BBQ sauce (free) This was the last of my free BBQ sauce! Bought with $1 coupon when on sale for $1.

1/2

cup

Italian dressing ($.10) Bought the bottle for $.49 this week!

2

Tbsp

brown sugar ($.02)

2

Tbsp

worcestershire sauce ($.05)

3

large

sweet potatoes (about 1.5 lbs.) ($1.32) Bought for $.88/lbthese will be MUCH cheaper in the coming months.

1-2 tsp cinnamon ($.05)

Butter or margarine, if you prefer! We dont.

Green Beans (from the garden)
Instructions
Place beef roast in the slow cooker.

In small bowl, whisk together BBQ sauce, Italian dressing, brown sugar and worcestershire sauce. Pour over the beef roast. Set slow cooker on low and cook for 8 hours.

Cut slits into sweet potatoes. Place in glass baking dish with 1/4 inch of water and cover with foil. Bake at 350 for 50-60 minutes, or until sweet potatoes are soft and cooked through. Cooking time can vary depending on thickness of the sweet potatoes. Serve with some sprinkles of cinnamon and butter/margarine if you prefer.

Wash and cut stems from green beans. Steam in stovetop steamer, or in microwavable dish with water, covered in plastic.

Serve Zesty BBQ Beef Roast with Sweet Potatoes and Green Beans.