UPDATE on what happened to Zaycon Fresh! Zaycon Fresh has suspended operations as of Monday, June 25th, 2018. They abruptly posted a notice to their website, sharing very little details beyond that. In recent months, they've tried to push the envelope and lower prices beyond what they were able to sustain long term, in an effort to boost growth. Internally, there were staff changes around the same time and they weren't able to handle the transition and growth together. They began pushing orders off, canceling orders, "losing" orders, and this resulted in lengthy customer service call lines, and anger and frustration for many.
Now they've suspended operations – and while we can be hopeful that all is not lost and they could regroup and come back stronger than ever, there is still work to be done to re-coup your money from any open orders you might have with them.
We are aware of a pending lawsuit filed by one of Zaycon's early investors. It seems that Zaycon has been able to proceed with business despite the legal fees, but a recent issue with one of their suppliers is what has caused the suspension.
There have been murmurings of a bankruptcy filing from former employees, but we have not been able to verify this with court documentation as of Tuesday morning. My understanding is that IF/WHEN they file bankruptcy, it would be a restructuring and they would still be required to meet their debt obligations, including customer reimbursement and refunds.
Saturday, June 20th Update – 
What's been shared thus far, above and below this bold section, is accurate. Much of what I suspected has been confirmed, and here's the short version. Zaycon Fresh began in 2009 as a small family run operation, and as they began to disrupt the market and make waves, gain new customers, they came to a point where growth was needed. At the same time of this need for growth, there was a surge in chicken prices across the US market and they did their best to keep their prices low and below market price. This double whammy began a series of decisions that changed the company and ultimately lead to it's demise. They brought on investors, some who provided guidance and leadership, some who provided cash, others who promised cash that never came through. As they moved through the process of growth and scale, the family lost majority share and control of the major decisions – those were then being made by the corporate offices – who were not located in the same city or state. More challenges, poor decisions, allegedly lead to lawsuits (which you can publicly see, should you choose to read them, just google it!). Coupled with the supplier fall out in the past few months, they couldn't handle the tens of thousands of orders that had been placed, so they closed the business. As of Friday, June 29th, bankruptcy had not been filed, but it seems imminent. 
DELIVERIES ARE HAPPENING IN SOME AREAS. If you have an order scheduled for pickup, we recommend that you show up at your appointed time and hope your order is there. Throughout the day on Tuesday, we've heard reports of people getting their orders and others with a no-show. I believe it's up to the discrepancy of the driver, and will vary by regions.
The drivers have been just as blindsided as the rest of us, and some have been asked to continue deliveries through July 4th. So if you've got an order, try to text back the automated notice that comes in, and just show up and hope your order is there. And be kind to the drivers – this isn't their fault and they are victims too. Miranda, a $5 Dinners community member, messaged and shared this: "Our driver – bless his heart…he was holding it together, but I don't think it had hit him yet." Be kind!!! They're devastated too!
Here's what you can do:
Contact your bank, credit card company or Paypal – depending on how you paid – and dispute the charge to get your money back. Please note that different banks and card companies will have different dispute windows and you could be looking at anywhere from 15 to 90 days before you'll see the refund.
If you have an order pending, the best option is to work with your bank or credit card to get a refund. There are several scenarios at play and the sooner you can process the dispute, the better! 
I shared a little more information in this FB live video just after the announcement on Monday – if you're looking for answers, check the comments…as there are many different situations at play here. There are some very helpful comments! xo Erin
Zaycon Fresh delivers different products at different times of the year to various locations across the US.
You order your meat from Zaycon Fresh in bulk, they pool orders from your area together and work with local farmers to bring the order to you. You "drive thru" and pick up your meat order at the designated time and location.
While you wait, I highly recommend that you come up with a plan for getting your meat prepared into meals for your freezer. (More on that below.)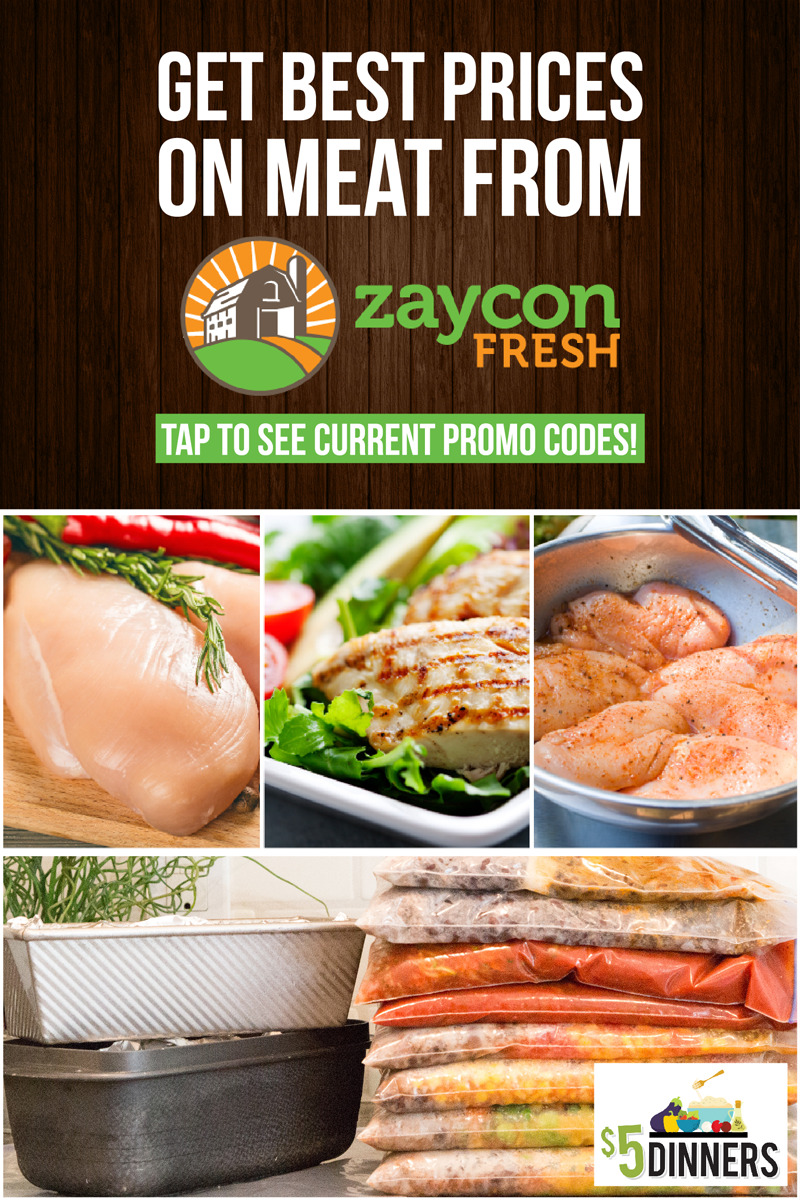 You've heard me gush about Zaycon Fresh, and I'll keep gushing about it. Especially when I see these amazing prices. Better than grocery store prices! And amazing quality too!
I love this company, their products and the fact that I can 'drive through' on my way home from picking up the boys from school and have 40 lbs. of chicken to prepare and get into the freezer. Here's what you need to know about how it works, the current promo codes and how our freezer meal plans can help you get the meat prepped into meals for the freezer.
xo
Erin
Here's How to Get Started
Find a pick-up location near you and select the different meat options to view prices and delivery dates.
Use Current Promo or Coupon Code, listed below.
Add reminder to your calendar for your pick-up time and location (don't worry, they will remind you too!)
Now, while you wait for your chicken to arrive, I HIGHLY recommend getting set up with a MyFreezEasy membership so that you can create/build a meal plan for the 40 lbs. of chicken (or other Zaycon Fresh meat order!) that will soon be yours!
Are you a fellow blogger? Zaycon Fresh has an influencer program, and you'll earn referral commission for every person that signs up from your referral! Sign up for an influencer account here!
Current Zaycon Fresh Promotions
There are no promos at this time. Check back often, as we update this page daily!
Fine Print: Cannot be combined with any other offer or promotion. One promo code per order. Limited to one-time usage per household. Offer is non-transferable. Void where prohibited. Offer will be revoked if terms and conditions are not met due to partial cancellation of order. Offer not valid on previous purchases. Offer subject to change at any time without notice.
What to Do with Bulk Meat Purchase
Make freezer meals!!!!!!
You will THANK YOURSELF, if you set up all of this chicken you received as meals vs. just throwing it into the freezer without any meal prep.
With the MyFreezEasy membership, you can pick from all of the different chicken meals that we have available – set up your meal plan with your Zaycon order in mind, print out the shopping lists. Then, the day before your Zaycon Fresh order pickup, I would go shopping for the other ingredients you need to make all these chicken meals for your freezer. MyFreezEasy has done all of the work for you!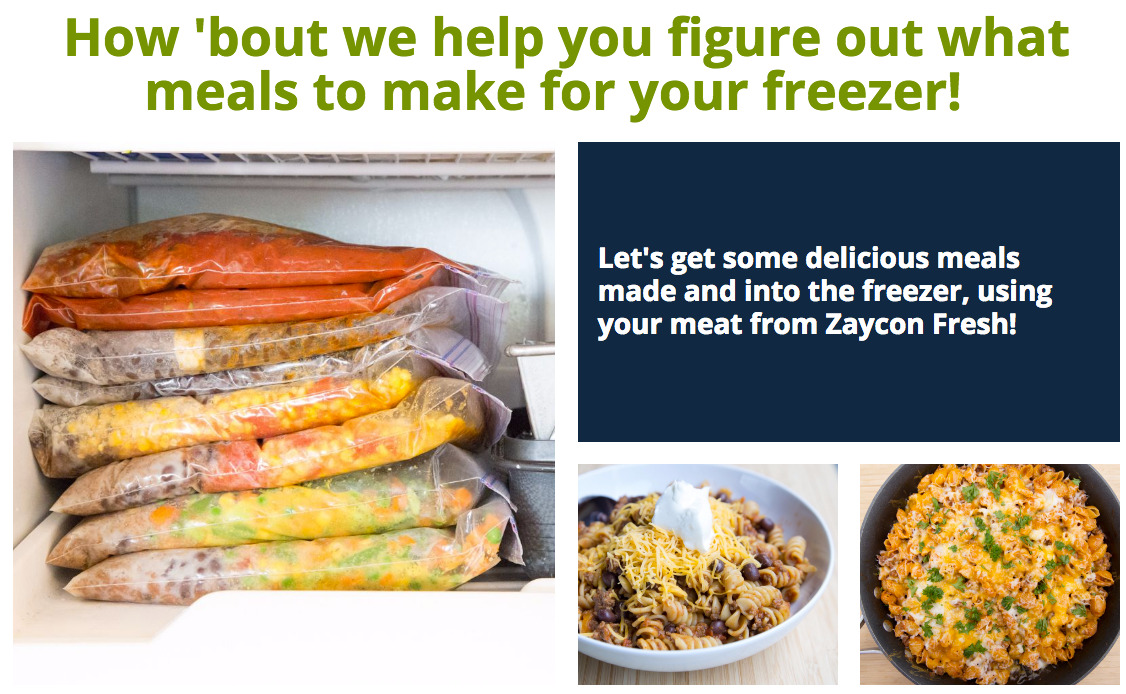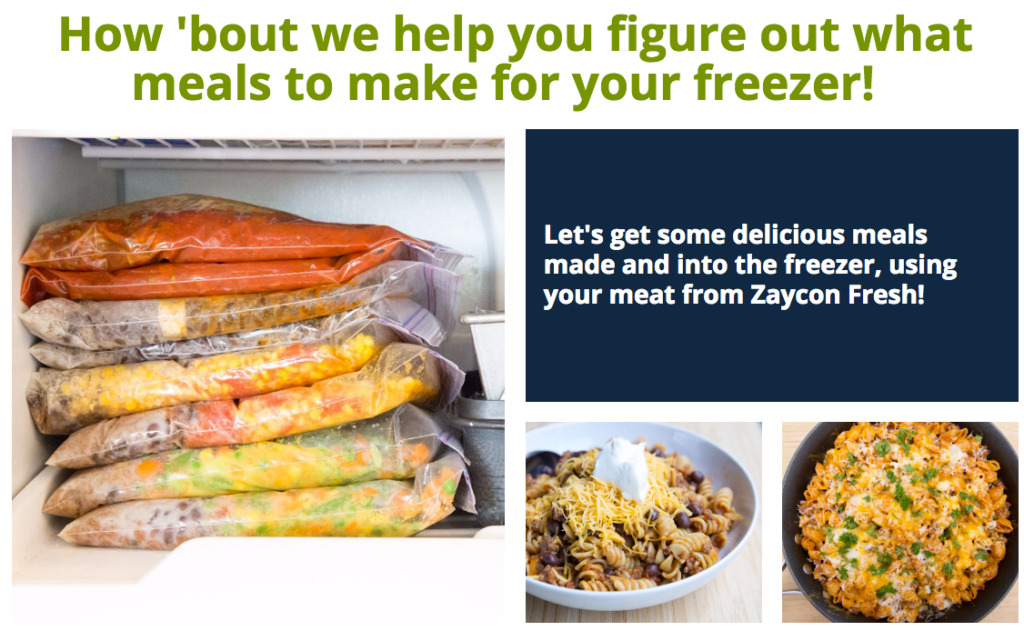 Watch to see how the MyFreezEasy web app works, where you can pick and choose the recipes you want to turn your Zaycon Fresh order into freezer meals!
Save SANITY by doing all the meal prep for your Zaycon Fresh meat, and getting your freezer loaded with amazing MyFreezEasy freezer meals!

Disclosure: This post contains affiliate links. Thanks for supporting $5 Dinners!