Everything you need to know about Amazon Prime Day 2020
Here's what you need to know to snag the best Prime Day deals this year!
(Also read – 5 Ways to Prepare for Prime Day)
Prime Day is the day that Amazon celebrates it's Prime members. And a day that they put all.the.things. on sale.
Well, maybe not all the things, but A LOT of the things.
In year's past, I've scored amazing deals on my favorite kitchen gadgets and appliances, makeup, school supplies (think bulk for when teachers need more…expo markers!), and more!
When is Amazon Prime Day 2020?
After much speculation and moving of the dates due to the pandemic – Amazon has finally announced Prime Day 2020 for…
Tuesday and Wednesday, October 13 & 14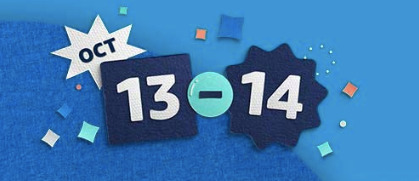 Some are calling this the unofficial kick off and first deals set for the holiday 2020 season.
So get your shopping lists ready!!
You do need to be an Amazon Prime member to take advantage of these deals.
Sign up for Free 30-Day Amazon Prime Trial.
Amazon Prime Perks include:
30-Day Free Trial
Free 2-day Shipping
Prime Now access
Access to thousands of movies, music and books
Early access to Lightning Deals & Prime Day Deals
I have had a Prime membership for years and it always pays for itself in all the savings, deals and offers!
What are these Amazon products we will save on…
Based on historical sales, we will likely see:
Amazon devices – such as Fire tablets, Echo & Alexa devices, Fire TV sticks, Fire TV Cube, Smart Home (Ring), etc.
Audible – listen for less, they always have great deals on Audible memberships on Prime Day!
Kindle Unlimited – expect deep discounts on the different Kindle devices and subscription
Music Unlimited – more savings on this subscription are expected too. The Music subscription is perfect for streaming on your Echos!
Freetime Unlimited (for kids!) – save on this subscription
Prime Pantry – they will likely have a deal on the Prime Pantry membership.
Whole Foods – they will likely offer $ off your order deal those days, with free delivery.
Twitch Prime – this one would be for your kids, if you don't know what this is, ask them! 🙂
Favorite Kitchen Appliances – I anticipate an AirFryer and Instant Pot again this year!
TVs & High Tech Gear
BOOKS – Coupon code for printed books will likely be offered again in 2019!
If you haven't yet, sign up for your Free 30-Day Amazon Prime Trial Now.
Disclaimer: As an Amazon Associate, I earn commissions on qualifying purchases. Reviews, opinions are my own.