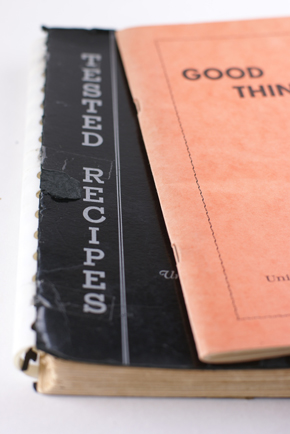 A few months ago my grandmother passed away.
I want to tell you a little bit about her. And tell you how these precious cookbooks of hers landed in my possession.
My grandmother was a stubborn pistol. (So that's where I get it from…ah ha!) But the one thing she was most stubborn about, it was this…eating together around the dinner table when we were all gathered at the lake.
She had a cabin on a lake in northern Minnesota, where we visited every summer as kids.  We would stay for at least a month, escaping the 100 degree Texas summer heat, and basking in the cool Minnesota sun.  We waterski-ed. We canoe-ed. We sailed. We swam. We fished. We tried skiing on canoe paddles. (Seriously, my cousin Mark was an expert canoe paddle skier.)We even managed to get 6 of us cousins, all on slalom skies (that's one ski), skiing all behind the same boat. 6 of us. It was nuts, but we did it.
Anything and everything to do with water, we did it.
But around 6 or 7 every night, we'd hear the dinner bell. She would ring the bell.  And whether we were out swimming in the water, building sand castles, or 6 of us skiing behind the ski-boat…we immediately stopped what we were doing and skidaddled up to the cabin for dinner. All 16 of us. Around the table. Together.
Sandy. Wet. Sunburned.
But together.
That is the legacy she left for us. And that is what I intend to carry on.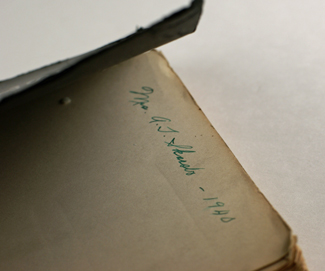 I dedicated my next cookbook to her.  And only wish she was here to read it.  I was in the middle of working on the Breakfast and Lunch Cookbook and testing recipes when she passed away.
A few weeks later, my mom asked us all several times if there was anything of hers that we'd like to have. A special figurine that we remember from her home growing up, a blanket, any furniture, anything.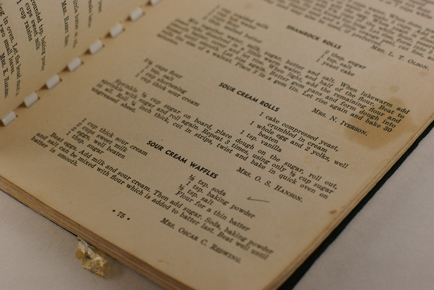 I had one request. I just wanted one of her cookbooks. I wanted to have them to use and carry on her legacy and love for cooking and feeding her family.
My wish was granted.  Recently, my mom sent along a few of her cookbooks. And her cookie jar…that now sits on my counter…and will be the joy and delight of my boys…just as it was the joy for all of her grandchildren growing up. Why? Because it was a bottomless pit of Oreos.  (I still can't figure out when she restocked that thing…it was always full.  And there were always grandchildren around, trying to get their grubby, sandy little hands in there.)
So all that to say, we'll be having a Vintage Recipe Week in October!
A few recipes that I'll be trying and batch cooking during Vintage Recipe Week, mainly coming from the cookbook pictured above…with her signature from 1940!!!

Chicken Croquettes – page 10
Smothered Pork Chops – page 17
Shipwreck Stew – page 34
Breakfast: German Coffee Cake – page 71
Dessert: Apricot Upside Down Cake – page 52
Norwegian Fattigmann – page 150 (Only because it sounds interesting, will be a challenge, and will be a

good

bad source of calories…considering all the running I've been doing lately!)
Swedish  Tea Rolls – page 157

And yes, I'll be sharing as many of these recipes as I can that week…if they turn out, that is!
What are some of your grandma's favorite recipes?! Or what do you make of your grandmother's that everyone loves?!
Feel free to leave a link in the comments or in the Linky!