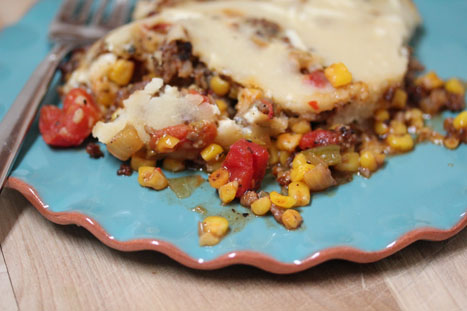 So we're just going to jump right into this one.
So I can show you were we went from vintage to modern!
But first….
The Alternate Title: Upside Down Cast Iron Skillet Pizza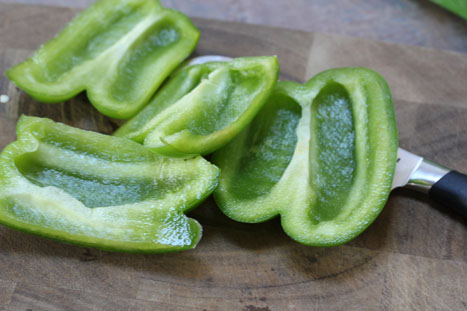 Chop the green peppers.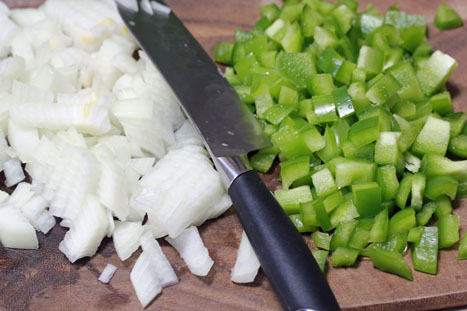 Do the same to the onions.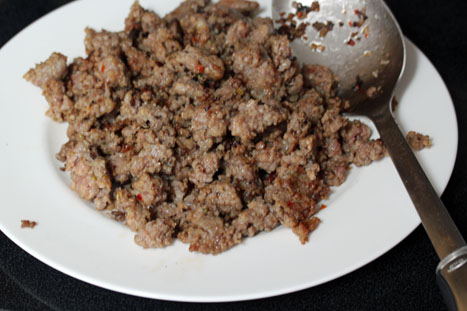 Brown a pound of sausage in a cast iron skillet. Set aside on a plate.
(Drain off any juices if you like.)
(But keep a few, because you'll want some to saute the peppers and onions.)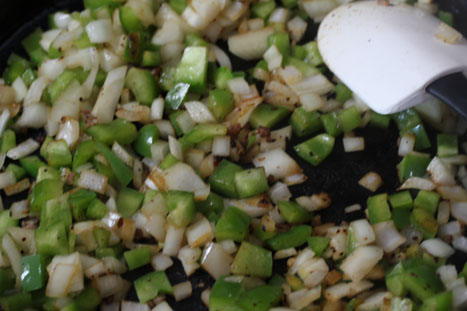 Add the diced peppers and chopped onions. Saute for 4-5 minutes, or until they begin to brown.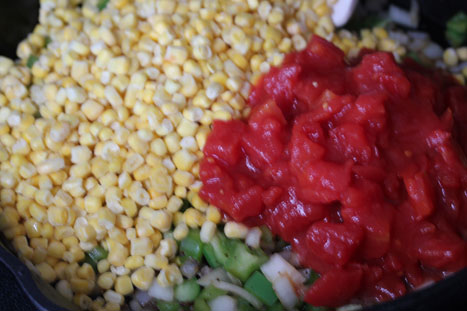 Stir in the frozen corn and undrained can of diced tomatoes.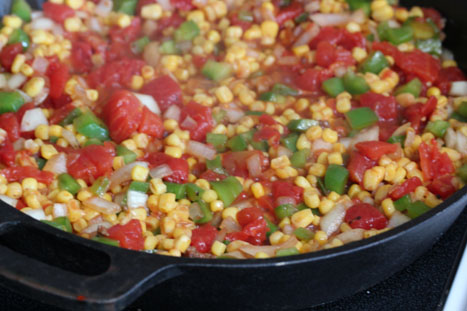 Stir together and let simmer 10-15 minutes, or until juices cook off.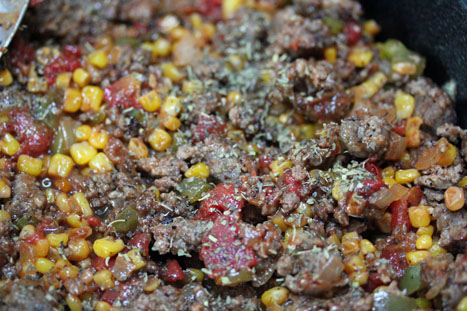 Add the sausage back in with the veggies. Add a little Italian seasonings.
WARNING. WARNING.
Now entering "modernized recipe zone."
Here's where I got stuck.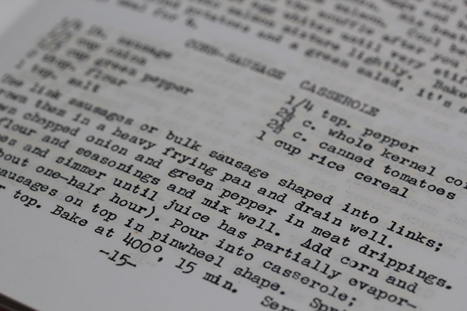 "1 cup rice cereal"
At this point, according to the vintage recipe, you are to top with rice cereal and bake for a bit. 15 minutes, a bit.
Rice cereal.
As in "the stuff that I have leftover from the 3 days that Tyler actually ate rice cereal" rice cereal.
I didn't get it. I still don't get it.
I couldn't do it. Didn't even want to try it.
The recipe must be referring to some other "rice cereal" product?!?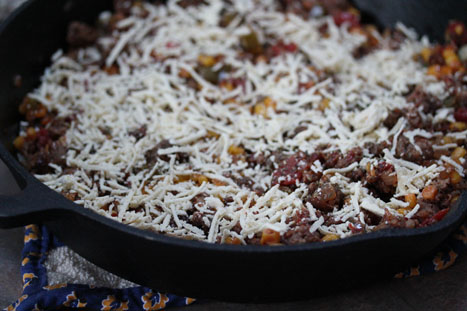 So I topped with some dairy-free, soy-free shredded mozzarella cheese. About 1 cup.
(Which is more expensive…but I will include the regular price for shredded cheese below.)
(This is where I would have added some Parmesan cheese too. About 1/2 cup.)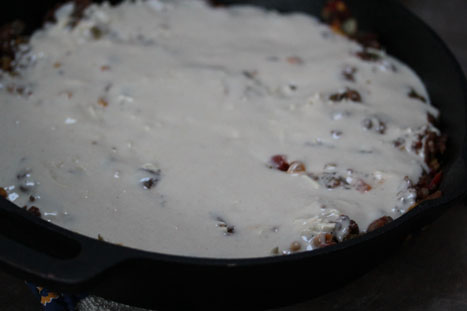 Mix up the dough ingredients in a bowl and pour over the top.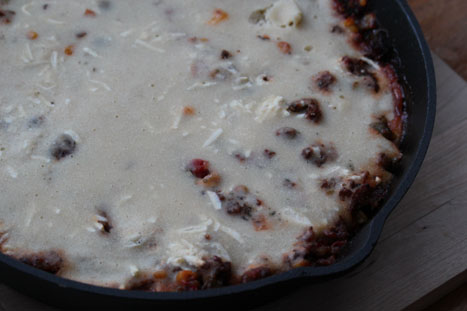 Bake.
Cut.
Polish off the entire skillet.
A delightful skillet meal!
Ingredients
1

lb.

Italian sausage

1

green pepper

1

small

yellow or white onion

1

bag

frozen corn

1

15 oz can diced tomatoes

1

tsp

Italian seasonings

1

cup

shredded mozzarella chees

1/2

cup

grated Parmesan cheese

1

cup

milk

3

Tbsp

oil

1

egg

1

cup

flour

1/2

tsp

salt
Instructions
Brown the Italian sausage in a cast iron skillet and set aside on a plate once browned. Drain off most of the drippings.

Saute the chopped green pepper and chopped onion in the skillet. Add the frozen corn (no need to thaw), and the undrained can of diced tomatoes. Let simmer for about 10 minutes.

Add the browned sausage in with the veggies and stir in the Italian seasonings. Sprinkle the mozzarella cheese and Parmesan cheese of the sausage and veggies.

In a mixing bowl, whisk together the milk, oil, egg, flour and salt. Pour over top the cheese. (What I did not do, but what you could do at this point is sprinkle some yellow cornmeal over the batter. Give it that extra pizza taste.)

Bake at 400 for 15-20 minutes, or until begins to turn golden on top.

Serve Upside Down Cast Iron Skillet Pizza, as is...or with a side of carrot sticks or sliced fruit.