I don't make too many salads because they are generally a more expensive veggie side. Since I found a bag of lettuce at the store for just $.50, I thought I'd try to pull it off!
Oh yeah, I updated the "About Me" tab on the site. If you are reading in a reader or by email, click on
the site
and click on "About Me" to learn more about me and how $5 Dinners.com came to be!
Double baked for double delicious-ness!
Ingredients
5

large potatoes

3

Tbsp

butter

1/2

cup

sour cream

1/2

cup

milk

Salt and pepper

to taste

1/4

tsp

garlic powder

1

cup

shredded cheddar cheese

Dole salad bag

1/2

green pepper

diced

1/2

cucumber

1

slice

swiss cheese

cut into tiny squares

Homemade Salad Dressing

1/2

cup

frozen green beans for the boys
Instructions
Preheat oven to 400.

Scrub and pat dry potatoes. Slit potatoes lengthwise. Place them directly onto oven rack. Bake for 50-60 minutes, until soft. (Larger potatoes may take longer to cook through.)

When potatoes are cooked, remove from oven and let cool about 10 minutes. Open them up and scoop out the insides. Set the "shells" aside for refilling later.

In a large mixing bowl, mash the potatoes and add butter, milk and sour cream. Mix with spoon or blend with hand mixer. Add spices and stir through. Other mix-in ideas would be chopped bacon pieces, chopped chives, chopped green onions or diced ham.

Scoop "mashed" potatoes back into the "shells". Sprinkle each potato with shredded cheese.

Bake the potatoes again at 350 for 20-25 minutes.

Make dressing . Prepare salad. You whatever toppings you have! The green pepper, cucumber and swiss cheese were what I happened to have in the fridge.

Serve twice baked potato with a side salad.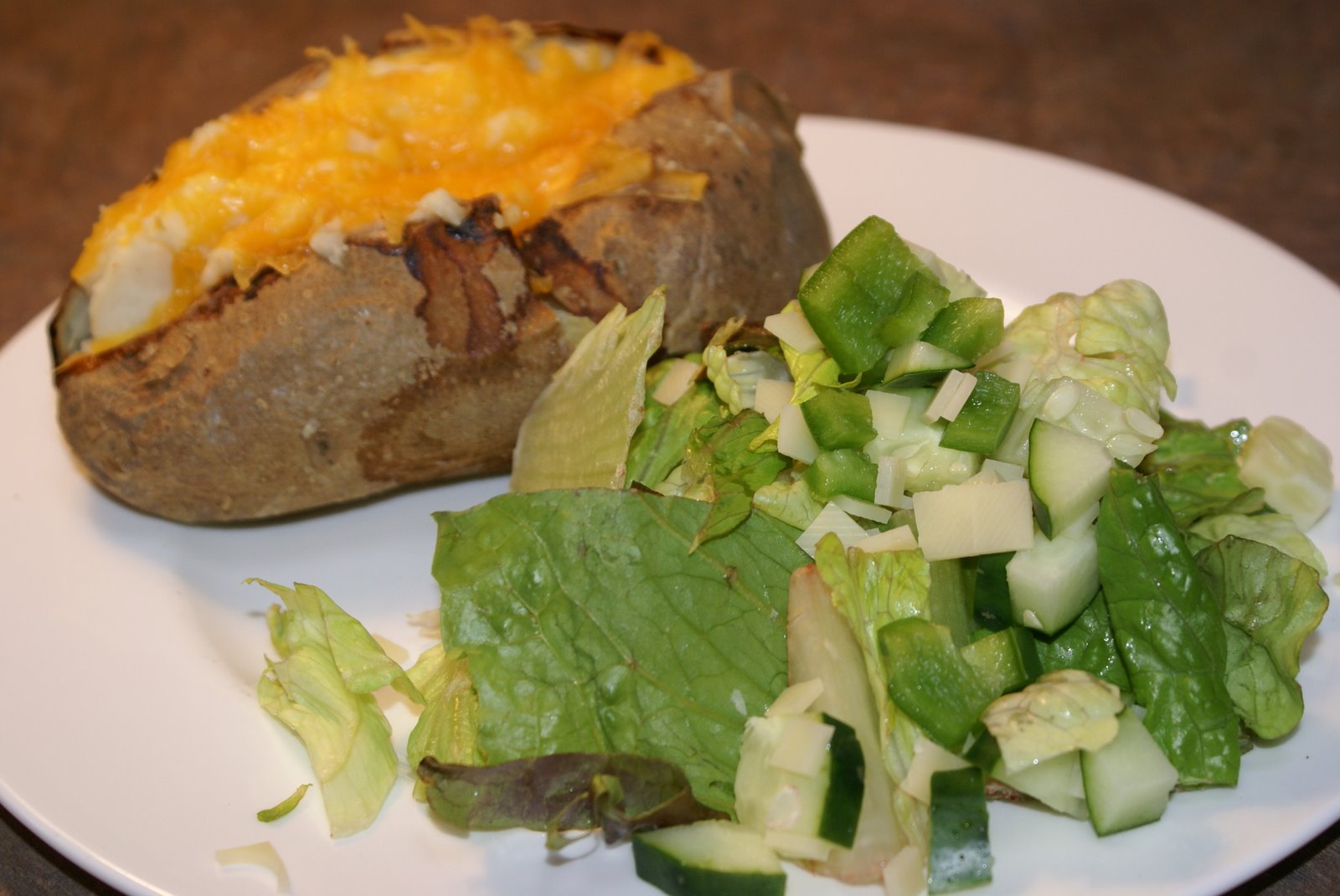 Click here for the GFCFSF variety of Twice Baked Potato! This is my new site! It's not really ready for its introduction, but you've got to start somewhere! If you are on a GFCFSF diet or know someone who is comptemplating the diet, this is the blog that will help out!