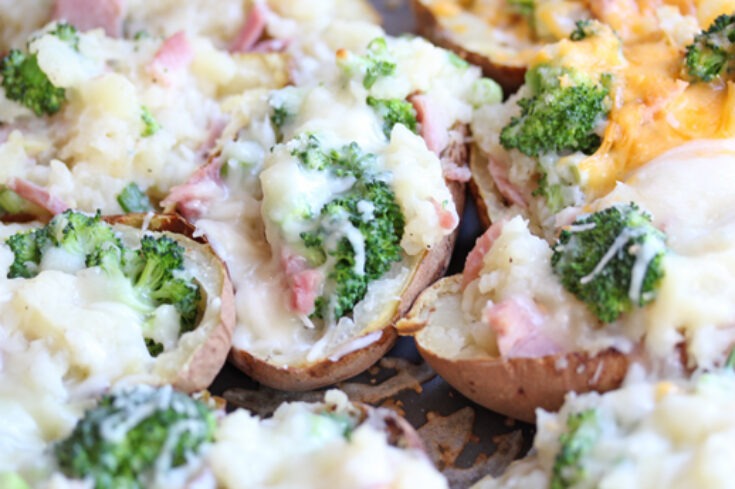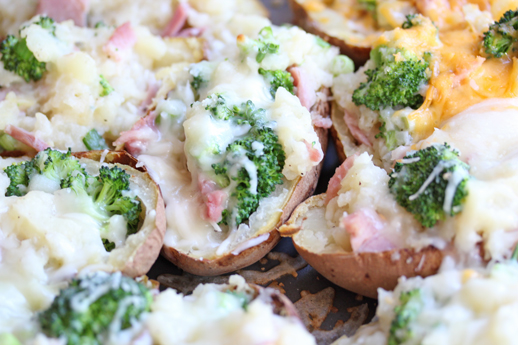 Tonight's $5 Dinner Challenge…Twice baked potatoes – as a one-dish dinner. Plus, I'm sharing my twice baked potatoes piercing trick too!
Duffy T, a long time friend of $5 Dinners, sent my a note about the way they do twice baked potatoes. They turn them into an entire meal by adding either chicken or ham and broccoli and cheese to the mixture.
I couldn't resist.
I loaded up the mashed potatoes with leftover ham from the freezer, broccoli florets, some green onions.
I made these just before leaving town for Smuckers earlier in the week. I had two as I ran out the door -leaving the rest of the meal behind for my husband and boys to enjoy.
While on the drive up to Orrville, something monumental happened.
Back story – several months ago my husband decided to switch his cell phone service to a "pay as you go" plan. He's not much of a phone talker, not much of a texter and decided it would be worth the savings to drop him from the monthly plan and go to a pay as you go plan. The texts on his plan cost $$$. Nothing ridiculous, but enough that he chooses not to text often.
So I'm riding along towards northeast OH when I get a monumental text from my husband.
Thank you. Dinner was AMAZING!
I smiled – and didn't text back. Because that would cost money. I waited until we talked when I got to my hotel – and he kept raving and raving!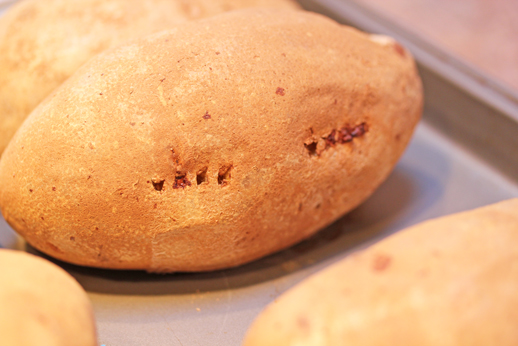 Twice Baked Potatoes Tip: Poke 2 fork-holes in the side of your potatoes when making twice baked potatoes. Place them on a baking sheet while cooking so any juices don't drip to the bottom of the oven. Then they will slice perfectly down the length, and there will be no holes in the bottom of your shells.
Twice baked potatoes - as a one-dish dinner. Plus, I'm sharing my twice baked potatoes piercing trick too!
Ingredients
8

large

baking potatoes

1/2

cup

milk, plus

1/4

cup

butter

Salt and pepper

2

cups

diced ham

2

broccoli heads

cut into florets

1

bunch

green onions

sliced

2

cups

cheddar or mozzarella shredded cheese

Fresh fruit

as side dish
Instructions
Poke the sides of the potatoes with a fork, place on baking sheet and bake at 400F for an hour, or until soft in the middle. May take longer for larger potatoes. Reduce heat to 350F.

Remove from oven, slit lengthwise and scoop out cooked potato flesh into mixing bowl.

Stir in milk, butter, salt and pepper as you would for mashed potatoes. You may need more than 1/2 cup of milk and 1/4 cup of butter, just make mashed potatoes as you would normally.

Mix in ham, broccoli florets and green onions.

Spoon the mixture back into the shells.

Top with shredded cheese.

Bake at 350F for 10 to 15 minutes, or until cheese has melted.

Prepare fresh fruit for side dish.

Serve Twice Baked One-Dish Potatoes, hot out of the oven with fresh fruit.