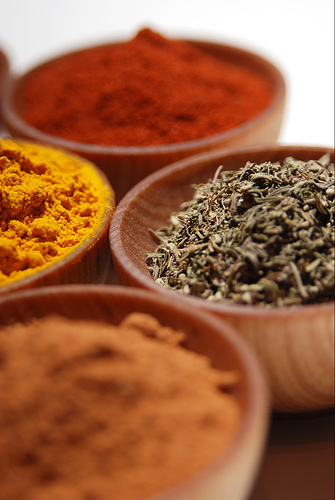 Lynn from Mavin of Savin is doing a spice clear out in her pantry and needs to start afresh and anew!  Before she goes at buys out the entire spice rack at the store, she wanted to know…
What are the top 10 spices you MUST HAVE in your cupboard?
Great question Lynn!  And very smart of you to not just go grab a whole bunch at once!  I'd get the ones listed below, then slowly add some of the more exotic spices as you can fit them into your budget. These are most commonly used in budget cooking and ones I can't live without!
Spices for Homemade  Taco Seasoning – chili powder, onion powder, ground cumin, garlic powder, cayenne pepper (enough to mix up some taco seasoning, and keep some separate)
Italian seasonings – either mixed, or individually – Basil, Oregano, Thyme, Rosemary, Parsley
Curry powder
Dill
Lemon pepper or seafood seasoning blend
Poultry seasoning
Cinnamon
Pie spices – ginger, allspice, cloves, nutmeg
Grilling blends – for making homemade marinades, or for seasoning meat before grilling
So that's way more than 10…but it'll get you started!!!
What are the must have spices in your pantry?!