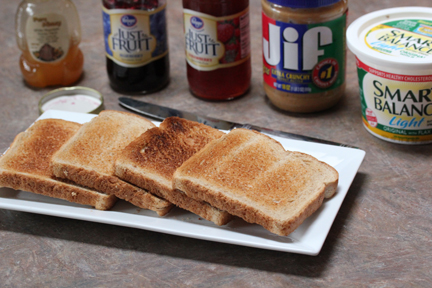 I always give cold cereal such a hard time.  It doesn't really deserve, in some ways.  But in other ways, it does.  Because it does get old, and every now and again the morning routine needs a little CPR.
But I have a suggestion that requires not one ounce of brain power.  Not a single ounce!
How's this for resuscitating breakfast and not having to think about it…
A TOAST BAR.
That's right.  You toast the bread. Set out any and every possible item that could be spread or sprinkled on top and let the kids (and by kids, that also includes the spouse!) decide what they'd like to have on their toast.
English muffins and bagels would totally work too!
Serve with some fruit or a smoothie and you're set for the morning!
What's your favorite "toast topping"?!?  Think you might try the "toast bar" to give your morning routine a little switcharoo?!