We all know that meal planning is important, it's how you save money, waste less food, and stay on budget.
But it takes so much time.
Even if you enjoy planning each week, wouldn't you rather spend it with your family? Or doing something you truly enjoy?
If so, then I'm really excited to talk to you about something special I've been working on – $5 Meal Plan.
Get a weekly meal plan and shopping list filled with simple, tasty, inexpensive meals that your family will love.
Try it for FREE for 14-days, 100% risk free with no commitment upfront.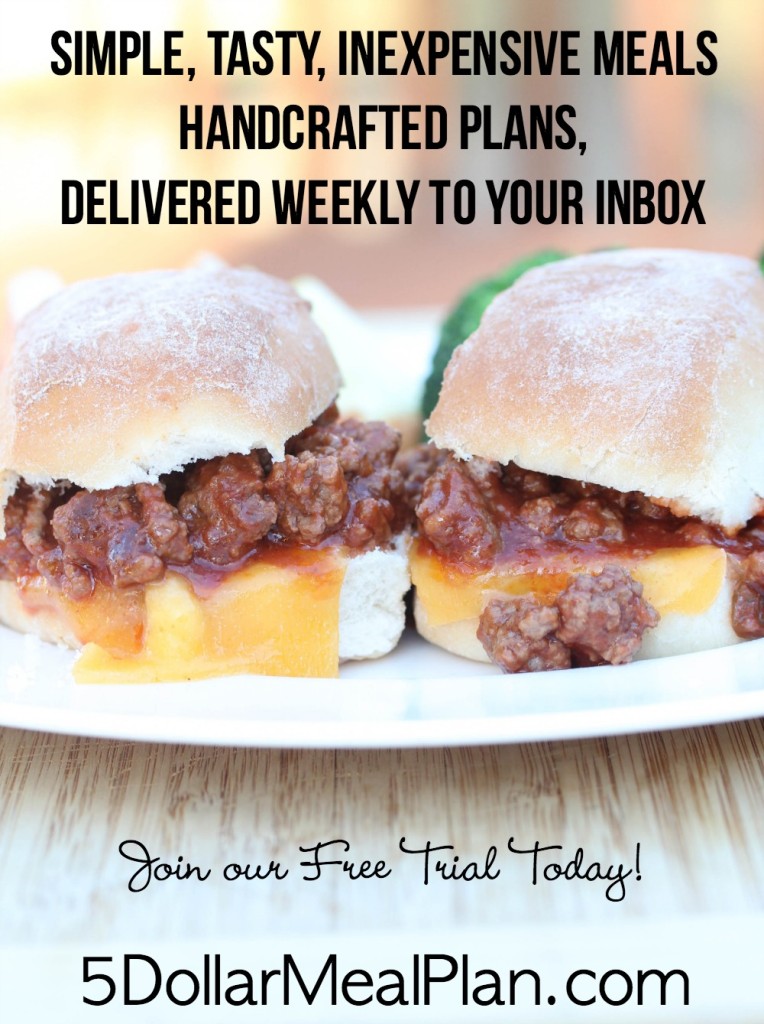 How much does the service cost?
A subscription is just $5 a month after your free 14-day trial period. We offer annual and semi-annual plans as well where the cost drops to just $4 a month. Each meal plan costs less than a slice of pizza!
How do I know the plans will be worth the $5 a month investment?
We offer a free trial so you can decide for yourself, risk free. We also offer a 100% satisfaction guarantee so that if at any time you are unhappy, we'll refund your membership fee.
Let me also put it this way… meal planning does a fantastic job of keeping you out of the drive through lane or from grabbing take-out. If these plans can help save you $20-$30 from one night of dining out, I'd say the 5 bucks is worth it!
How much do the meals cost?
It will vary based on where you live but we aim to have the meals cost less than $2-3 per person and they often cost much less.
I have been able to make all of these meals for under or very close to $5 for our entire family! The total cost for the meals for your family will depend on a variety of factors, but you can rest assured that the meal are budget friendly and '$5 Dinner Mom Approved'!
Also, we have a secret Facebook group where our users discuss how much they spend on the ingredients in the plan each week!
Where do I sign up?


Click to Start Your Trial