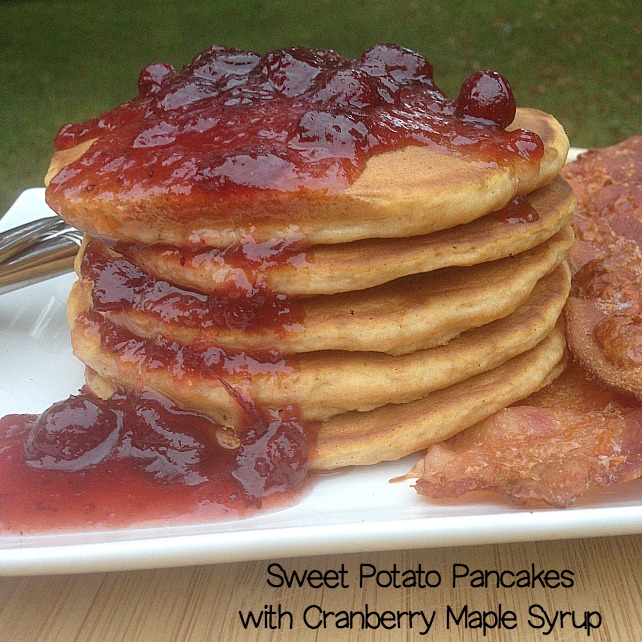 Got leftover sweet potatoes? And cranberry sauce?
Look no further than this recipe for sweet potato pancakes with cranberry syrup…this is your perfect Friday breakfast/brunch/lunch/dinner recipe!!!
Seriously, fluffy and delicious. And I'm sure you're wondering how dense sweet potatoes can turn into fluffy pancakes. Couple reasons why they do…first, the sweet potatoes were already pretty whipped and fluffy from the feast. Second, I upped the 'lifters' in this recipe. This has more egg and baking powder than my normal pancake recipe…to keep them in the fluffy category.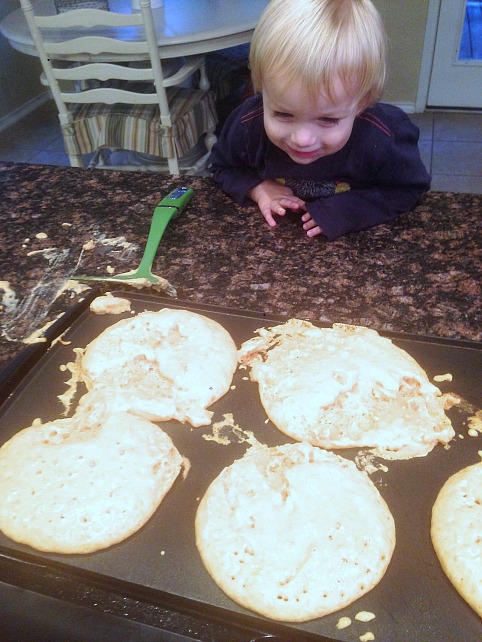 A certain someone decided that he wanted to give the pancake flipping a try…it didn't go so well. But at least he had good intentions!
And yes, you can make these with just regular whole cranberry sauce and some sweet potatoes…more on that below…
Happy Leftover Eating my friend!
Perfect recipe to use up holiday leftovers!
Ingredients
2

cups

leftover mashed sweet potatoes

3

eggs

1/4

cup

oil

3

cups

milk

2 1/2

cups

white flour

1

Tbsp

baking powder

1

Tbsp

baking soda

1

tsp

salt

Syrup

2

cups

leftover cranberry sauce

1/3

cup

maple syrup

Bacon or sausage, as side dish.
Instructions
(If need be, steam bake 2 small sweet potatoes. Once they are cooked, mash them and mix in brown sugar, butter, cinnamon, nutmeg, ginger and ground cloves. They are then ready for the pancakes.)

In a large mixing bowl, add the mashed sweet potatoes, eggs, oil, and milk and whisk together. Mix the flour, baking powder, baking soda and salt into a smooth batter. Add a little more milk if you want thinner pancakes. Make 3" pancakes on a electric or stovetop griddle.

While pancakes are being made and flipped, add the cranberry sauce and maple syrup in a saucepan and mix together. Cook over low heat for 10 minutes, to thin out the sauce and make it more syrup like.

Spoon Cranberry-Maple Syrup over the Sweet Potato Pancakes and serve with side of bacon or sausage.