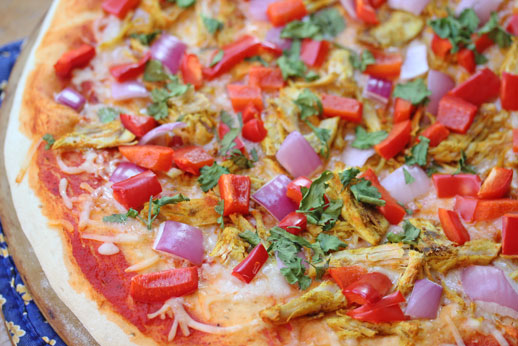 Evening y'all!
I had all kinds of grand intentions of getting this recipe posted on Friday…but that just didn't happen! After getting home from the Atlanta Savings Nation class (which was AMAZING folks!…you have got to go to one if it comes to your area!), I took the boys down to Cincinnati to the Lego Kidsfest on Friday night. Let's just say that they were in little boy heaven. The tickets were a little pricey for my taste, but after being there and seeing the glee and joy on their little faces I've decided that it was worth every penny!
And when I asked Charlie what he'd like to do for his birthday party in a few weeks…what does he want? A Lego party!
Go figure.
So I was able to finally make this Thai Chicken pizza this weekend…great bold flavors on a soft, homemade pizza crust. Perfect for a Saturday dinner at home!
Hope you enjoy it!
Ingredients
1 homemade pizza crust recipe ($.96)

2

cups

shredded chicken breast ($1.50)

1 tsp olive oil ($.01)

1 tsp curry powder ($.10)

1/2

cup

pizza sauce ($.50)

2

cups

shredded mozzarella cheese ($1.25)

1/2 red pepper, diced ($.67) On sale last week for $1.25 each

1

small

red onion, diced ($.40)

3 cilantro bunches, chopped ($.25)

Baby carrots or other fresh fruit or veggies ($.75)
Instructions
Prepare homemade pizza crust.

In a small bowl, toss the shredded chicken with the olive oil and curry powder.

Preheat oven to 400.

Roll out the pizza dough, top with sauce and shredded cheese. Then add the curried chicken, red pepper and red onion. Then sprinkle the cilantro leaves over the top.

Bake in the preheated oven for 12 to 15 minutes, or until crust is done in the center.

Prep veggies or fruit.

Serve Thai Chicken Pizza with fruit and veggies.