The timing was perfect, the sales were perfect…and the ingredients in my pantry seemed to leap out at me as I was working up meal ideas and plans for this month. I remember Alea's Cabbage Rolls from last year, and I'd be wanting to try something similar. Cabbage rolls (and lettuce wraps) work wonderfully for those with gluten and/or corn allergies/intolerances. For those who can't enjoy tortillas. (Because I can't imagine gluten free or corn free tortillas working so well…maybe I'm wrong.)
I had all the right ingredients (purchased at great prices) to make a Thai variation of Alea's Cabbage Rolls! And this is how it went down…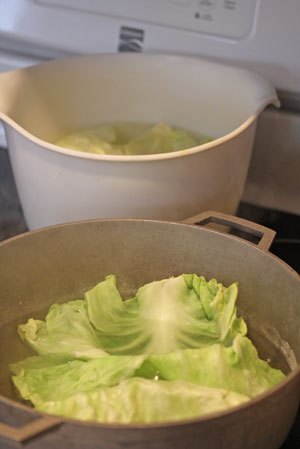 Blanche the cabbage leaves. Boil for 2-3 minutes, then plunge into bowl of cold water.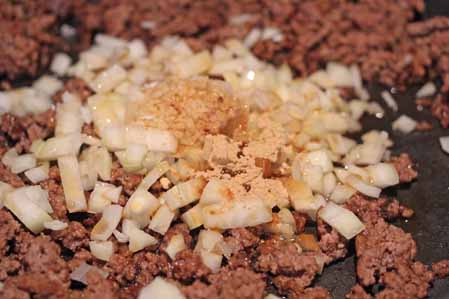 Meanwhile, combine the ground beef (I was using beef I'd already browned…you could certainly brown with the onions and spices.)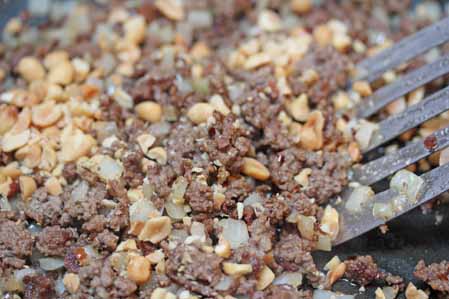 Once meat mixture flavors have mingled, remove from heat and toss in chopped peanuts.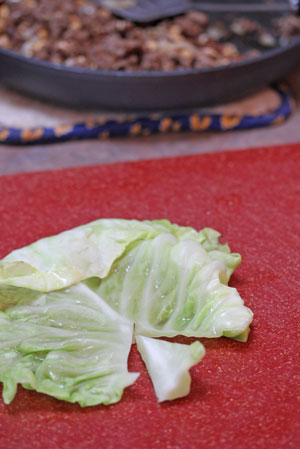 Dry the leaves and cut out the tough stem portion.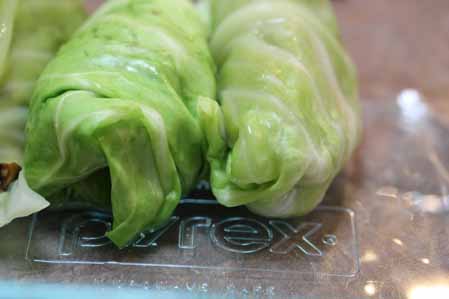 Fill cabbage leaves with meat-peanut mixture, roll and place in baking dish, seam side down.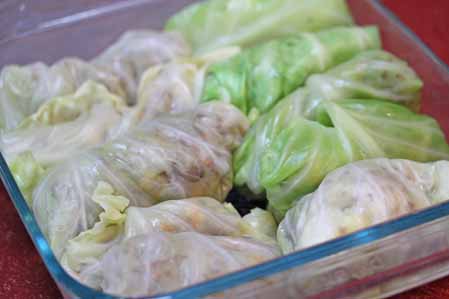 Cozy and snug.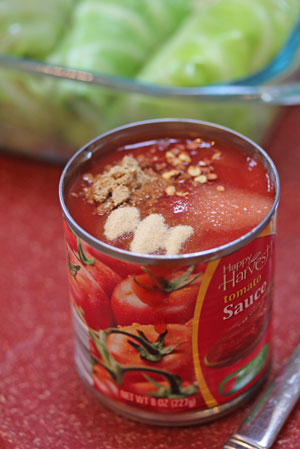 Because I'm lazy…
I just added the spices to the sauce in the jar, give a little stir and pour over the top.
No sense in dirtying another dish, right?
Scumptious Thai flavors in these adorable cabbage rolls!
Ingredients
2

tsp

sesame oil

1

tsp

garlic cloves, minced

1

onion, chopped

3/4

lb

ground beef, browned

2

tsp

ground ginger

1

Tbsp

brown sugar

3

Tbsp

lime juice

up to 1/2 tsp crushed red pepper (depending on how spicy you like things!)

1/4

cup

peanuts, chopped

1

small

cabbage, 12 large leaves gently removed

8

oz

tomato sauce

1

tsp

ground ginger, garlic powder, each

1/2

tsp

1/2 tsp salt

Crushed red pepper, optional

Bread or brown rice
Instructions
Blanche the cabbage leaves. Place 2 or 3 leaves at a time in a pot of boiling water for 2 minutes. Then remove carefully with tongs and plunge into cold water.

In a large skillet, add the sesame oil with the garlic, onions, ground beef, ground ginger, brown sugar, lime juice and crushed red pepper. Saute for 5 to 7 minutes, to allow flavors to mingle. (Or cook until meat has browned, if starting with raw beef.)

Stir in the chopped peanuts.

Preheat oven to 350.

To make the rolls, pat dry the cabbage leaves and cut out the hard stem. Spoon the meat mixture into the cabbage leaf and roll up. Place seam side down in a glass baking dish. (I made 12 rolls in 2 small baking dishes...I could have/should have made them into 1 9x13 baking dish.)

Make up all the rolls. Then mix together tomato sauce with the ginger, garlic powder, salt and crushed red pepper. Pour it over all the rolls.

Bake in the preheated oven for 15 to 20 minutes.

Serve Thai Beef Cabbage Rolls with bread or brown rice.