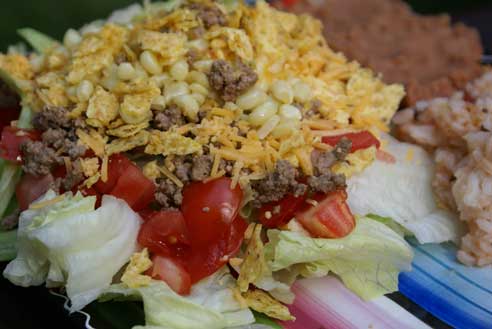 So if I were to make pan roasted corn 2 days in a row, does that make me obsessed??? I pan roasted some fresh corn kernals (just like last night) to put on tonight's taco salad! They just taste that good!
Ingredients
1

cup

rice ($.20)

1/4

cup

store bought salsa ($.25)

About 3/4 iceberg lettuce head ($.58)

4

small

tomatoes (from the garden)

Kernels from 2 corn cobs ($.38)

1 tsp olive oil ($.05)

Salt and Pepper

3/4

lb.

cooked ground beef ($1.07) Used up the rest of the package from this meal

1 tsp ground cumin ($.05)

1 tsp garlic powder ($.05)

1 tsp chili powder ($.05)

1

Tbsp

store bought salsa ($.05)

Handful of corn tortilla chips, crushed ($.25)

Pinchful of shredded cheddar cheese for each salad ($.25)

1 can vegetarian refried beans ($.69) (Or make your own refried beans in the slow cooker here.)

3

Tbsp

canola oil ($.10)

2

Tbsp

white vinegar ($.05)

1

Tbsp

store bought salsa ($.05)

Salt and Pepper, to taste
Instructions
In small saucepan, cook 1 cup white rice with 2 1/4 cup of water. Bring water to boil, add rice and stir. Once it returns to a boil, reduce heat, cover and let simmer for 20 minutes. Once cooked, add 1/4 cup store bought salsa.

Wash and cut lettuce with plastic lettuce knife. Wash and dice tomatoes.

Cut kernels from corn cobs and then add to skillet with olive oil, salt and pepper. Cook for 7-10 minutes over medium high heat, or until corn starts to brown.

Combine cooked ground beef with ground cumin, garlic powder, chili powder and store bought salsa and reheat in the microwave.

Assemble salad with lettuce, tomatoes, pan roasted corn, taco beef, crushed tortilla chips, and shredded cheese. To make salsa vinaigrette, whisk canola oil, vinegar, salsa and salt and pepper in small bowl. Pour over the salad. (It doesn't take much dressing, as there is already lots of flavor in just the salad!)

Heat refried beans.

Serve Taco Salad with Salsa Rice and Refried Beans.