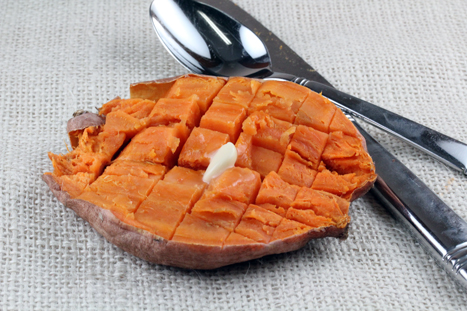 Tyler loves sweet potatoes.  He would eat them at every meal if I let him. He went through a beans phase, and now it's sweet potatoes.  I'd prefer to "steam bake" them, but I often don't remember in time, so I just microwave them for a few minutes after slitting them.  I intentionally choose longer, skinnier ones that will cook faster and feed him for two meals.
I also add a dairy-free and soy-free margarine on them to give him a few extra calories.  (Quick update…he had a weight check on Friday and he only gained 1/2 pound from his 12 month appointment in November, and lost several ounces from his check in January.  Not the 1 lb/month gain we were hoping for, but he did gain some…and is growing in height, so the ped is not terribly concerned. We press on…)
To prep the sweet potato…
Slit. Microwave or steam bake.
Slice crosswise.
Slice lengthwise.
Slather on a little butter or margarine (if you need the extra calories.)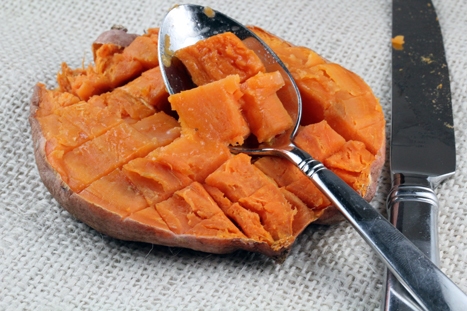 Scoop.
And set in front of the little fingers.
(But be prepared to pick up a few pieces from the floor!)
A simple, frugal, toddler friendly snack or side dish to a finger food meal!
(And please do not feed these to a baby that is not ready for bite size foods.)