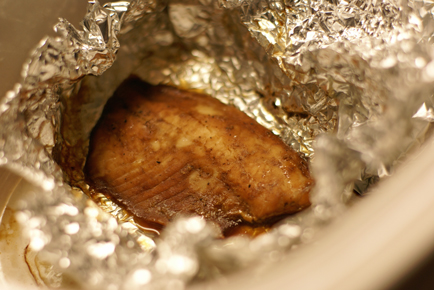 Love. Love. I'm in love.
For several reasons.
Fish…wanting to add more fish into our diet.
Made these in the slow cooker.
Super easy clean up.
Kids ate every bit of the fish…and wanted more. (Yes, I let them dip it in ketchup. Gotta do what you gotta do.)
It only takes 2-3 hours to make so you can start it just after lunch…those of you who are at home.
Delicious.
Flaky, tasty, sweet goodness.
It didn't taste like fish.
The kids loved it. (Wait, I already said that!)
The kids loved it. (Ok…sorry, but this is super important. To get your kids to not only eat fish, but to LIKE the fish is a huge deal to this mama.)
So that's why I (and a few others) love this meal.
Ingredients
1

Tbsp

balsamic vinegar ($.05)

1 tsp brown sugar ($.01)

Salt and pepper

4 frozen tilapia fillets ($2.99)

1 1/2 cup brown rice ($.60)

1 acorn squash ($.99)

1/4

cup

butter or margarine, softened ($.40)

1/4

cup

honey ($.40)

Dash of cinnamon and ginger ($.05)
Instructions
In a small bowl, whisk or stir the balsamic vinegar, brown sugar with a few dashes of salt and pepper.

Place the thawed fish fillets onto a piece of foil that is large enough to wrap completely around the fish. Pour the sweet balsamic sauce evenly over the fish fillets and then wrap the foil tightly around fish.

Place the foil packets in the base of the slow cooker and set on low and cook for 2-4 hours. Fish will be white and flaky when it is cooked.

Cook the rice as directed on the package.

Make Honey Roasted Acorn Squash.

Serve Sweet Balsamic Tilapia with Brown Rice and Honey Roasted Acorn Squash.