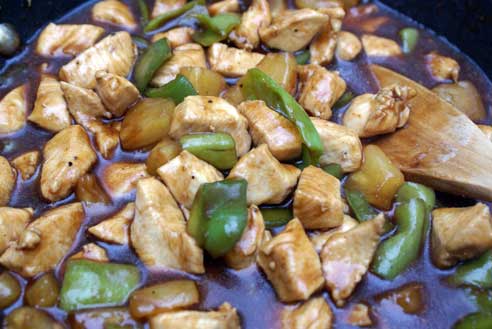 I had every intention of serving this over brown rice. But I got a little distracted by the Balloon Boy story this afternoon (so glad he was found…but boy I wasted a bunch of "what if that was my kid" emotional energy because of the whole ordeal). By the time I realized that the dinner hour was fast approaching, it was too late to get the brown rice going! So white rice it is.
I also had good intentions of doubling it to freeze, but since we are still without a deep freezer, I opted to not double this meal up.
Tonight's meal comes from Carrie over at Carrie's Cooking. I also made her Pumpkin Soft Pretzels this afternoon…perfect after school snack!
Ingredients
1.38lb chicken breast, diced ($2.06) On sale this week at Dots for $1.49/lb!

2Tbsp vegetable or canolaoil ($.10)

1/2

cup

diced green bell pepper (free from the garden...this was the last of my peppers from the garden!)

1 clove garlic, minced ($.05)

1 tablespoon corn starch ($.05)

1/4

cup

soy sauce ($.25) (GF meal if soy sauce is GF!)

1 (8 ounce) can pineapple chunks, with juice ($.79)

1

Tbsp

vinegar ($.05)

1Tbsp brown sugar ($.05)

1/2tsp ground ginger ($.05)

1

cup

rice ($.20)

1 12 oz. bag frozen corn ($.49) On sale this week, plus promotion and used $1 coupon!
Instructions
In large skillet over medium high heat, brown the diced chicken pieces in oil.

Add diced green bell pepper and garlic and stir-fry for 1 to 2 minutes.

In small bowl, whisk together corn starch and soy sauce, then pour the mixture into skillet along with the pineapple chunks, pineapple juice, vinegar, brown sugar, and ginger. Stir together and bring just to a boil. Reduce heat and simmer 5-10 minutes, or until sauce reaches desired consistency/thickness.

In medium saucepan, cook 1 cup of rice with 2 1/2 cups of water. Bring water to a boil. Add rice, stir and return to boil.

Cover and reduce heat to medium. Cook for 20 minutes. Fluff the rice with fork before serving.

Cook frozen corn as directed on package instructions.

Serve Sweet and Sour Chicken over Rice with Corn.
Cost $4.14