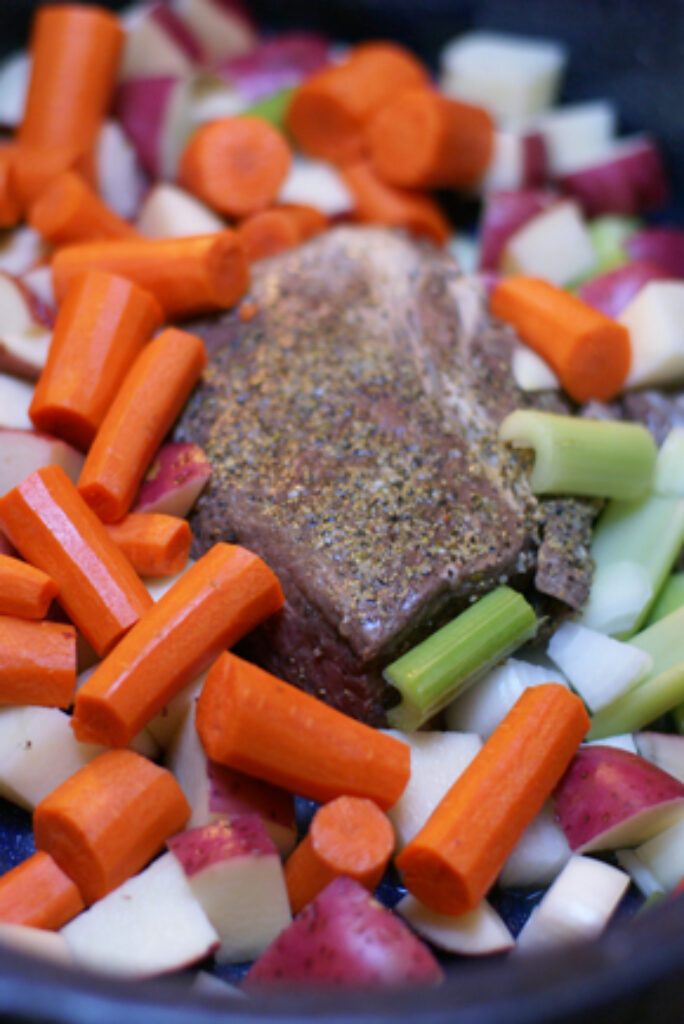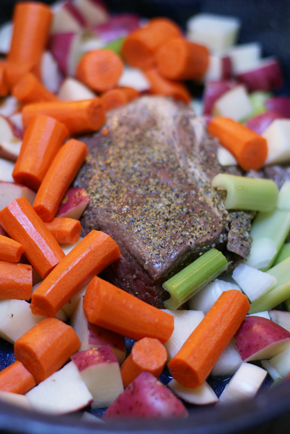 A simple Sunday Beef Roast.
I bought a chuck roast last week. I cut part of it into cubes for Beef, Mushroom and Barley Soup. And I seasoned the rest with lemon pepper and lemon juice, to roast in the oven.  I was a bit anxious about the lemon flavor with the beef roast and vegetables, but it totally worked.  Gave it some flavor flare, but not so lemony that it was a turn-off.
I also added some water to the roasting pan so the veggies would be nice and steamy-soft after roasting with the beef juices.
Simple, but oh so tasty!
Sunday Beef Roast

Ingredients

1 1.5 lb. chuck roast ($3.73)
Lemon pepper (free) Used $1 coupon with $1 sale price
3 Tbsp lemon juice ($.05)
Salt and pepper
4 medium red potatoes, washed and quartered ($.80)
4 carrots, peeled and quartered ($.40)
3 celery stalks, cut into 2 inch pieces ($.30)
1/2 yellow onion, diced ($.15)
2 cups hot water

Directions

Marinate the chuck roast in the lemon juice, sprinkled with lemon pepper and a bit of salt and pepper.
Place into a roasting pan and add the red potatoes, carrot pieces, celery pieces, diced onion and some hot water (enough to cover the bottom of the pan.)
Cover with roasting pan lid and roast for 2 hours, or until internal temperature reaches 160.
Slow Cooker Alternative: Place the marinated beef roast in the base of the slow cooker.  Add all the veggies, and water if you want to thin out and save the beef broth. Set on low and cook for 8 hours.  Serve. Save the broth, let it cool and then freeze it in 2 cup portions.
Serve the Beef Roast with all the veggies. Yum.

Cost $5.43