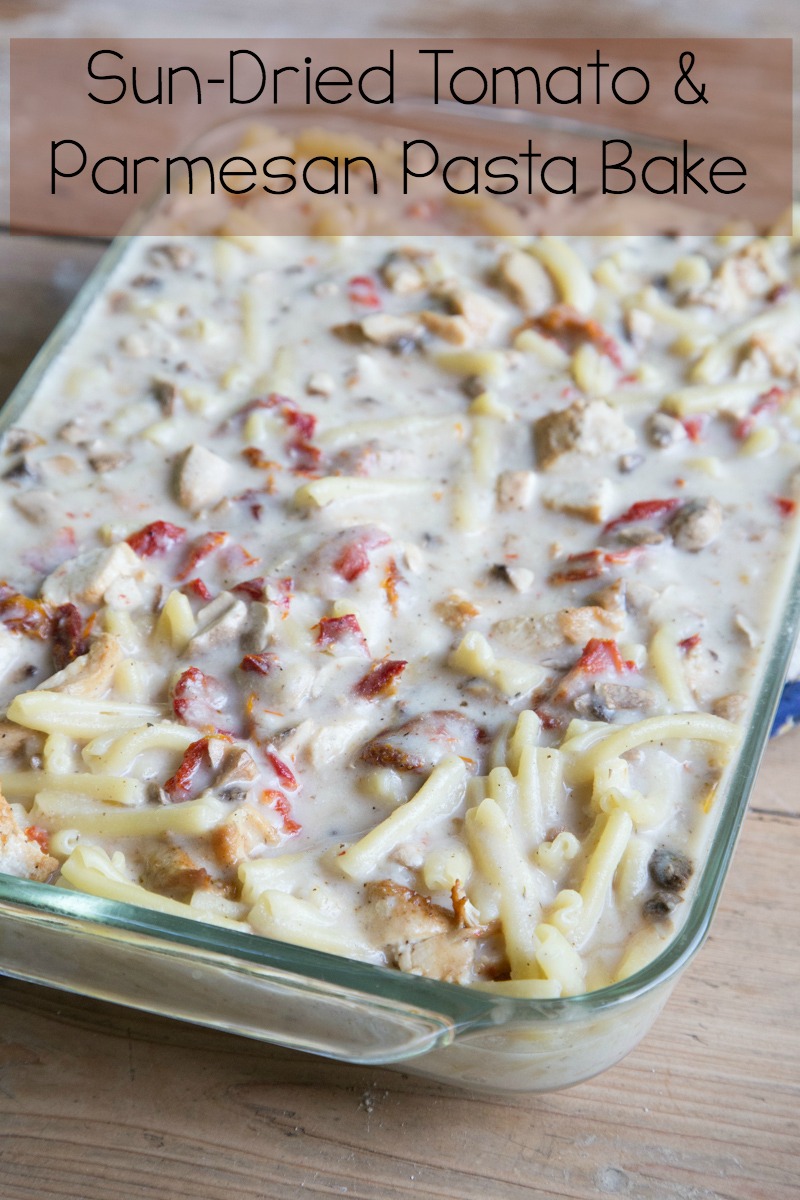 Let me tell you where this meal comes from. It comes from the fact that I absolutely adore this skillet recipe (and thought it needed an oven-version!)…AND…the fact that I have a jar of sun-dried tomatoes leftover from the recent 20 Meals for $150 meal plan!
I love sun-dried tomatoes and the flavor that they add to a meal, especially pasta.
This pasta bake calls for chicken, pasta, sun-dried tomatoes, mushrooms (not necessary, but I had some so I used them!) and a ridiculously delicious homemade cheese sauce that you literally pour over it all before baking. Before we get to the recipe, I wanted to leave you with a couple of notes:
Chicken and/or mushrooms are completely omittable
The sun-dried tomatoes and parmesan are not omittable (I had to include this, just because I like using non-words, like omittable!)
If you're tempted to lick the pan that you used to make the homemade cheesy sauce, that's totally cool. Because I totally did. You'll be in good company. (hehe)
If you have bread crumbs on hand, sprinkle some of those on top before baking. Or add them just before serving and run the dish under the broiler. If you want that extra crunch factor.
This makes A.W.E.S.O.M.E. leftovers. In fact, I might have cried a little when I had the last bite of the pan. (And I might have made this strategically last week when my husband was out of town, so I'd get the leftovers all to myself. Shhhh, don't tell him!)
Lastly, although I generally make my own white sauces to be dairy-free, I did not with this sauce…because I wanted it cheesy-cheesy. Here's an option if you did want to make it dairy-free: use dairy-free margarine, plain rice milk and some salt and Italian seasonings in place of the Parmesan cheese.
Alrighty, that's what I know…now it's your turn to get this in the oven and onto the dinner table!
I love sun-dried tomatoes and the flavor that they add to a meal, especially pasta.
Ingredients
2

large

boneless skinless chicken breasts

cut into bite size pieces

2

Tbsp

olive oil

Salt and pepper, dashes

1

lb.

penne or other small shell pasta

6

Tbsp

butter

6

Tbsp

flour

6

cups

milk

2

tsp

garlic powder

1

cup

Parmesan cheese

1

cup

shredded mozzarella cheese

4

oz.

white mushrooms, chopped

1 1/2

cups

sun-dried tomatoes, chopped

Salt and pepper, to taste

Fresh veggies

side dish
Instructions
In a small skillet, add the olive oil and chicken pieces and saute for 5 to 7 minutes, or until cooked through. Season with a little salt and pepper.

Cook the pasta to al dente. (It will take on a little more liquid as it bakes, so don't over-boil it!)

While the pasta is cooking, prepare the homemade creamy-cheesy sauce in a large skillet or saucepan. Melt the butter, whisk in the flour and quickly whisk in the milk to prevent from clumping. Bring to bubbling over medium-low heat, stirring often. Once it begins to thicken, stir in the garlic powder, Parmesan cheese and shredded mozzarella cheese. Then add the mushrooms and sun-dried tomatoes. Let simmer for 3 to 4 minutes, then season to taste.

Preheat the oven to 350 degrees. Lightly spray a 9x13-inch glass baking dish with non-stick cooking spray. Add the cooked pasta and cooked chicken to the baking dish, then pour the cheesy sauce over the top. Gently mix it in and let the sauce fill in around the pasta and chicken.

Bake in the preheated oven for 20 minutes.

Prepare veggies.

Serve Sun-Dried Tomato and Parmesan Bake with side of veggies.