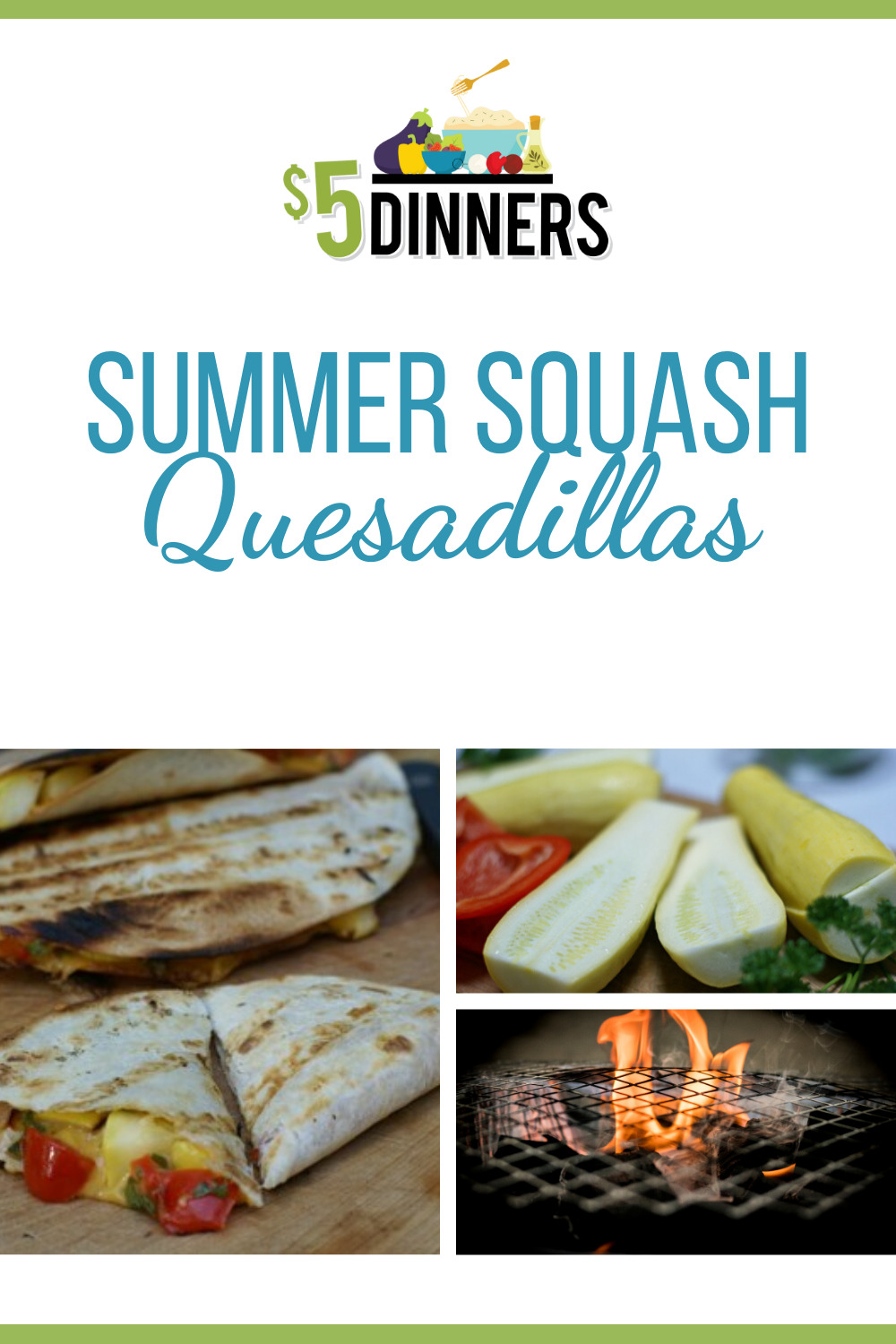 ***These would make a great appetizer for your July 4th BBQ!***
Just sayin'.
(Okay, just had to get that out of the way.)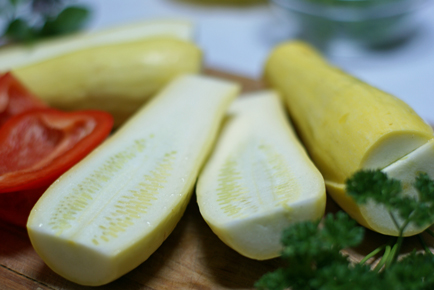 So for the second time, I've had to pick up the veggies from the market to make my meal for Grow. Eat. $ave. I remember looking through last year's garden posts, and by this time in June 2009 my squash plants were producing a new squash every other day and I was struggling to keep up with them!
I must have planted the seeds later this year…I dunno!
Let's talk quesadillas…in my head, quesadillas have always been a Tex-Mex thing…needed some chicken or beans, cheese, some cilantro, or salsa mixed in…served with sour cream, or guacamole. That's just what I thought about Quesadillas.
One of the things that I love about this little here website of mine is that it makes me think outside my cooking box…so for this week's Grow. Eat. $ave. I thought I'd do a quesadilla with an Italian flavor.
Once I had the summer squash in hand and the idea to use it in a quesadilla, it was time to go foraging. I started in the garden…fresh basil and curled parsley from the garden, (what should be fresh from the garden) yellow summer squash…
Then I raided the refrigerator and found a red pepper in the produce drawer in the fridge, some cheese that my mom has been using this week for her breakfasts, as well as some cherry tomatoes (that I couldn't help snack on while I was quartering them).
Here's what happened after that.
But first, the final results.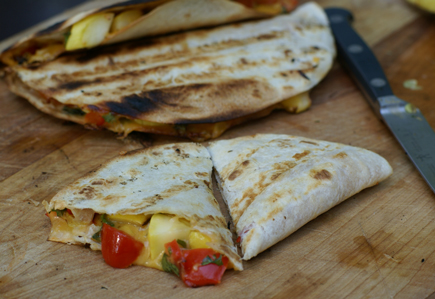 Y-to-the-YUM!!!
(My new favorite phrase I stole from Becky!)
Warm quesadilla packed with freshly grilled veggies!
Ingredients
2

cups

shredded cheddar cheese

1/4

cup

shredded Parmesan cheese

Handful fresh basil leaves

Handful fresh curled parsley

2

garlic cloves, crushed

Large handful cherry tomatoes, quartered

1

red pepper, grilled, then diced

1

large

summer squash, grilled, then diced

8

soft taco size tortillas
Instructions
Place the cheeses, the chopped basil and parsley and the crushed garlic into a large mixing bowl.(I think these would be really good with mozzarella, but I was all out.)

Quarter the cherry tomatoes and toss into the mixing bowl with the cheese. Mix her up.

Meanwhile…fire up the grill and grill the red pepper slices and the squash slices. Then dice.

Toss the diced grilled squash and diced grilled red pepper in with the cheese mixture.

Spoon the mixture into the the tortillas. Fold over, or cover 1 tortilla with the mixture and top with another tortilla.

However you like…in the end, it won't matter how you use the mixture in the tortilla. It's really about the ooey-gooey goodness that will result from grilling the quesadilla.

Place the tortillas on the grill for a few minutes on each side, or until the cheese is oozing out the sides of the tortillas…as sure sign they are ready for consumption.

Let cool and cut grilled quesadillas into little triangles.

Serve Summer Squash Quesadillas as an appetizer or main meal.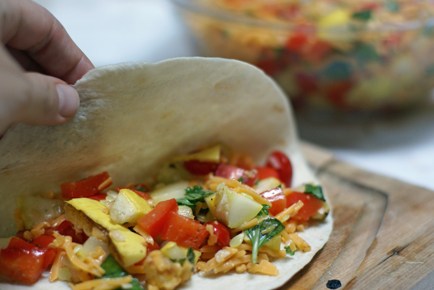 Favorite Yellow Squash Recipes from Last Year's Garden Harvest:
And here are the rest of the yellow squash $5 Dinners recipes!
COMING UP IN 2 WEEKS on Grow. Eat. $ave. – Lettuces and Greens
If you'd like to learn more about Square Foot Gardening, please check out the Square Foot Gardening books by Mel Bartholemew.
We'd love to check our your favorite yellow squash recipes! Please leave a link below or in the comments!