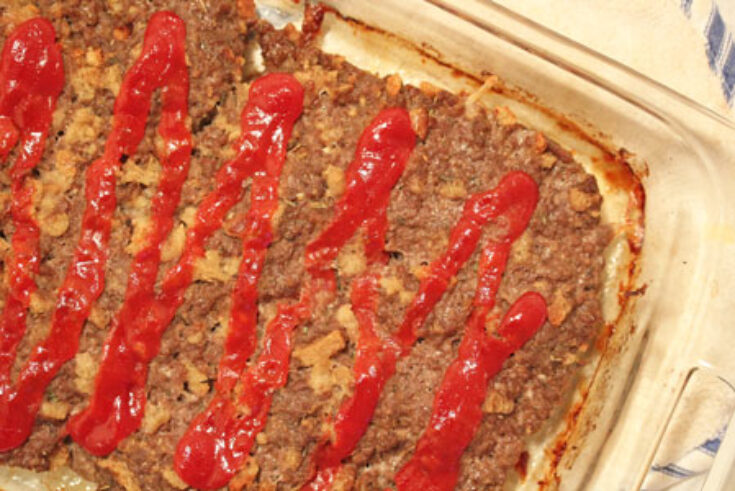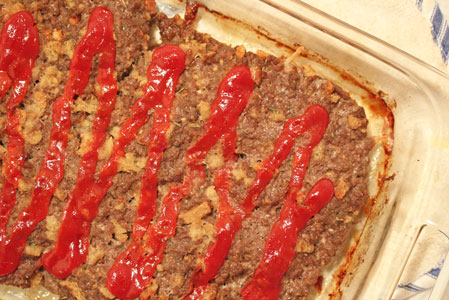 In my clear out the pantry, cupboards and freezer efforts, I ran across a half used bag of herb seasoned stuffing. Must have been leftover from the holidays.
(Side note – I highly recommend spending 4-6 weeks each year, doing a "pretend like you are moving" clean out of your pantry and freezer. Highly. Recommend.)
Every so often this bag of half used stuffing would give me a gentle reminder that it needed to be used. Once it almost fell off the shelf, which would have been a terrible mess! I've brushed past it a number of times and it kept saying…"I want you to eat me. Soon."
Well, soon is now.
I decided to use it in place of bread crumbs in meatloaf. I had the perfect package of ground chuck, bought on Manager's Special.
(Note: I ended up cooking this in 9×13 glass baking dish, because I ran out of time. It cooks faster in a flat baking dish (45 min)…you could certainly make this into 2 9×5 loaf pans…just up the time by 25-30 minutes to be sure it cooks all the way through.)
A great way to use up leftover stuffing from the holidays.
Ingredients
2

cups

stuffing

2

lbs.

about 2 lbs. ground chuck

2

eggs

2 eggs

1

Tbsp

balsamic vinegar

1

tsp

Italian seasoning

1

tsp

salt

1/2

tsp

pepper

ketchup

drizzled on top

bread and veggies

side dish
Instructions
Preheat oven to 350.

In a large mixing bowl, crush the stuffing using potato masher. (You could grind in a food processor or blender. I didn't because I didn't want to dirty another dish.)

Add the ground beef, eggs, balsamic vinegar, Italian seasoning, salt and pepper. Combine well.

Press the meat mixture into a 9x13 glass baking dish.

Bake in the preheated oven for 45 -50 minutes, or until cooked through.

Serve Stuffing Meatloaf with bread and butter, and favorite veggie.