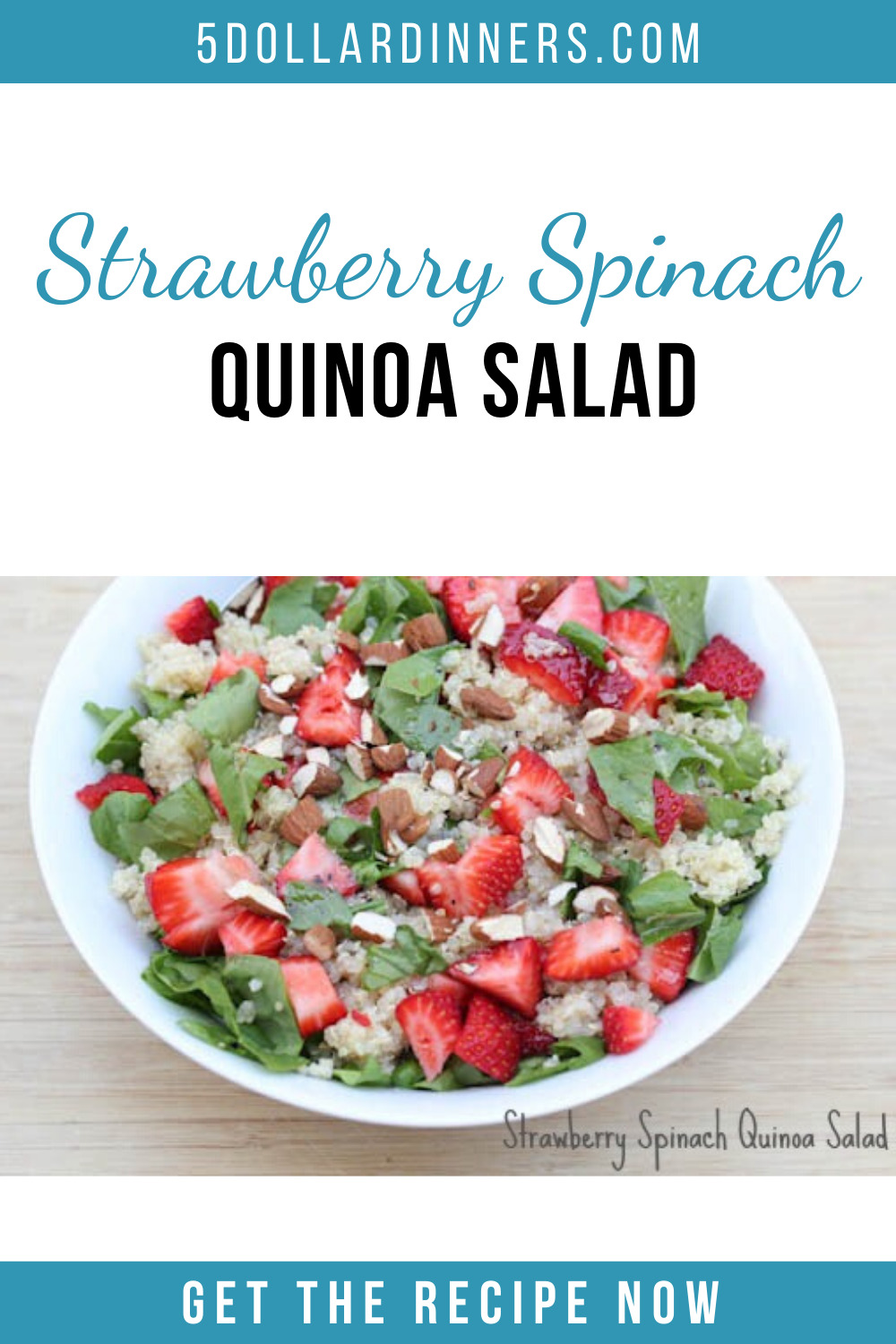 Hello lovely.
Yes, this is a lovely, lovely salad. It's lovely because it combines a few of my favorite flavors (strawberry, spinach and almonds). It's lovely because it tasted light, but the quinoa made the me feel full. And it's even lovelier because it is made of "ingredients I had on hand." Otherwise known as "popular ingredients that most people have"…because I don't buy too many crazy, off the wall or expensive ingredients…so chances are you have these ingredients too! And as you can see from the photo, I chopped up whole almonds…using what I have on hand. It would have been easier to use slivered or chopped almonds (or pecans!), but I didn't have those, so we made do. I'm all about improvising, and making do with what I can find in the pantry!
Variation: If I'd had poppyseed dressing on hand, I would have used that…but I used a sweeter red wine vinaigrette that I found in the fridge. A balsamic vinaigrette would be lovely too. Use what you've got!
My favorite salad that I eat for lunch several times a week is topped with diced mango, diced avocado and a tangy vinaigrette. So that combo is next on my list for a quinoa summer salad! Nom-nom!
(Price breakdown: 1 lb. strawberry boxes for $1.98 this week! More info on quinoa prices here. Baby spinach pulled from the big box of spring mix I buy every week.)
Tastes light, but fills you up!
Ingredients
2

cups

white quinoa

6

large

strawberries, hulled and chopped

2

handfuls fresh baby spinach, chopped

1/3

cup

chopped or slivered almonds

Dressing drizzles - balsamic, poppyseed, or other sweet vinaigrette
Instructions
Rinse the quinoa with cold water.

Cook the quinoa according to package directions. Cool for at least 2 hours in the fridge.

When ready to serve, mix together the chilled quinoa, strawberries, chopped spinach and almonds. Drizzle the dressing over the top.

Serve chilled as main dish, or side dish. Perfect for lunch too!