What to Do When the Mess is So Overwhelming and Seemingly Too Big To Tackle
Sometimes life just gets in the way and the mess just gets out of control. And then you don't know where to start, so the messy cycle continues.
Below is a step-by-step guide and framework that will help you clean up anything, no matter how big the mess.
Within the framework, I'm sharing 2 different examples of messes and how the framework applies in each of these common scenarios.
The "crisis mess" – when a glass jar of vanilla crashes and breaks on the countertop, sending vanilla into all the nooks and crannies of your drawers and cabinets.
The "accumulation mess" – the playroom or family room that is drowning in the day to day messes of life and play.
While these are 2 different types of messes, the same clean up steps and framework can be used for both. I will share specifics under each step below.
Also, stayed tuned for an amazing GIVEAWAY from Art of Green® – the details are below!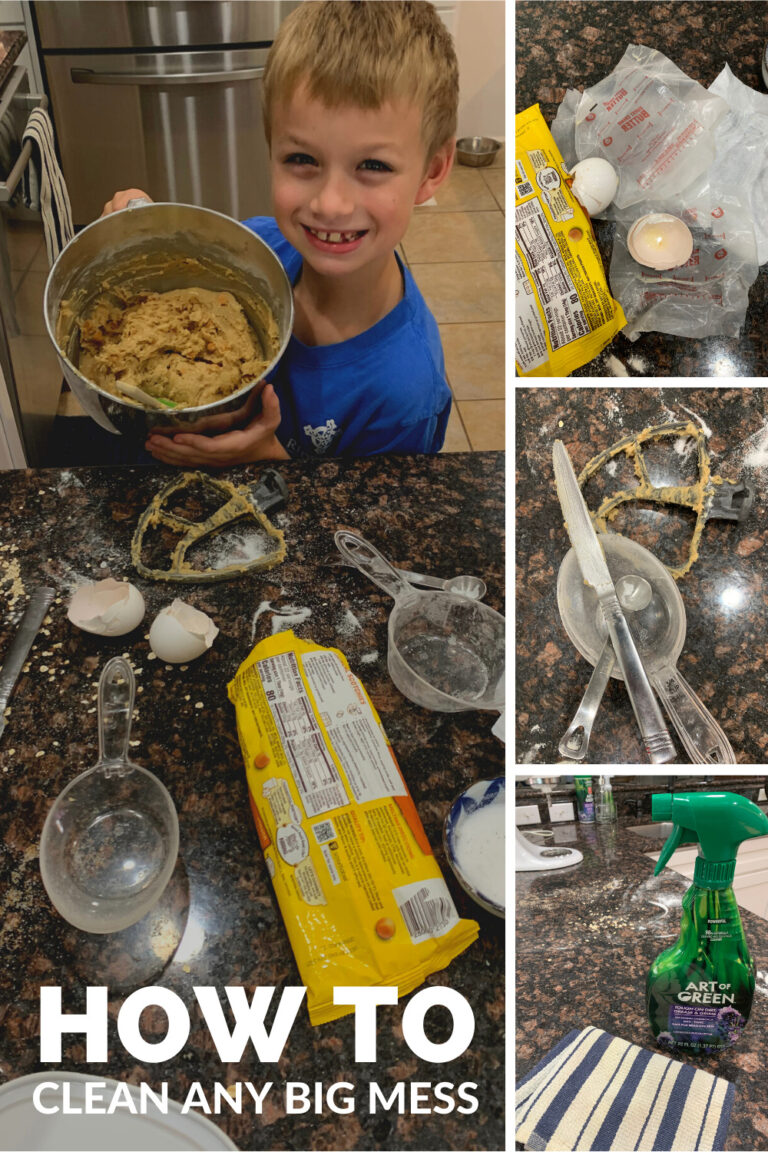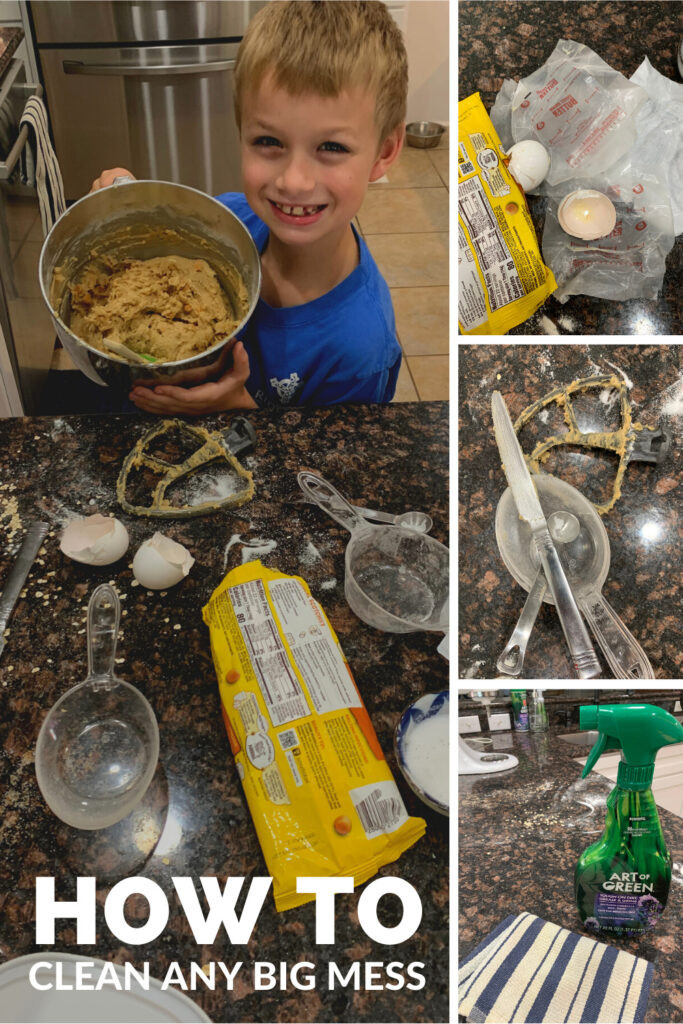 Part of the reason that we feel overwhelmed is because we don't know how long it's going to take to complete a task (in this case, clean up a big mess) or because we don't know where to start.
My hope is that this framework will give you the starting place you need to get going…and as you move along through the mess, you'll be pleasantly surprised that it didn't take quite as long to clean up as you thought.
When you see a big mess in front of you, it feels daunting, overwhelming, and never-ending. In the past year, I've dealt with an entire house worth of mess…as our house flooded and there were messes and belongings that had to be dealt with in the entire house.
In the course of a week, I had to touch every single item that we owned. Literally everything had to be moved somewhere – to our rental house, into boxes in storage, or into 1 room in our home that we used as storage.
I quickly moved into this framework below, and while the speed of having to move out so quickly made the work exhausting, this framework kept me on track and focused on getting through it all.
Because you likely won't be dealing with a monstrous mess like that ever, I'll share 2 less dramatic, everyday type messes that we often face.
The goal with this framework is to help you get through to the end faster and with more clarity, so that when the mess is cleaned up you feel empowered, relieved, organized, and satisfied!
How to Clean Up a Mess, No Matter How Big It Is
I want you to be thinking about the everyday messes and the bigger messes that happen in our homes – the vanilla bottle spill, a floury mess from a cookie baking spree, the garage being "trashed" by your toddler tornados during outside playtime, or a your family room being the dumping ground during a teenager movie marathon. The messes never end, the messes are real, and they need to be cleaned up quickly.
This is also a great framework to teach your kids, as they are helping you clean up the messes they help create!
With each step below, I will share in the a little more context of each step in this framework, with the examples of my vanilla and glass mess and a room mess.
Step 1. Trash
In the first step, you deal with the trash in the room. Grab a trash bag, trash can, grocery bag, or whatever you'll need to collect the trash in the space or area that you are cleaning.
Vanilla Spill: When the vanilla spilled, I immediately grabbed the trash can and started wiping the excess vanilla and glass chards carefully into the trash. What could not be saved, had to be thrown away.
Family Room: Inevitably there is trash that needs to be dealt with an any room where the mess grows. Start in your space by getting rid of the obvious trash like food wrappers, half used papers, empty water bottles, etc.
Note that there might be more items thrown away in Step 3. Step 1 is the quick, obvious trash.
Getting the trash out of the way is the perfect place to start and to get you moving and grooving onto Step 2.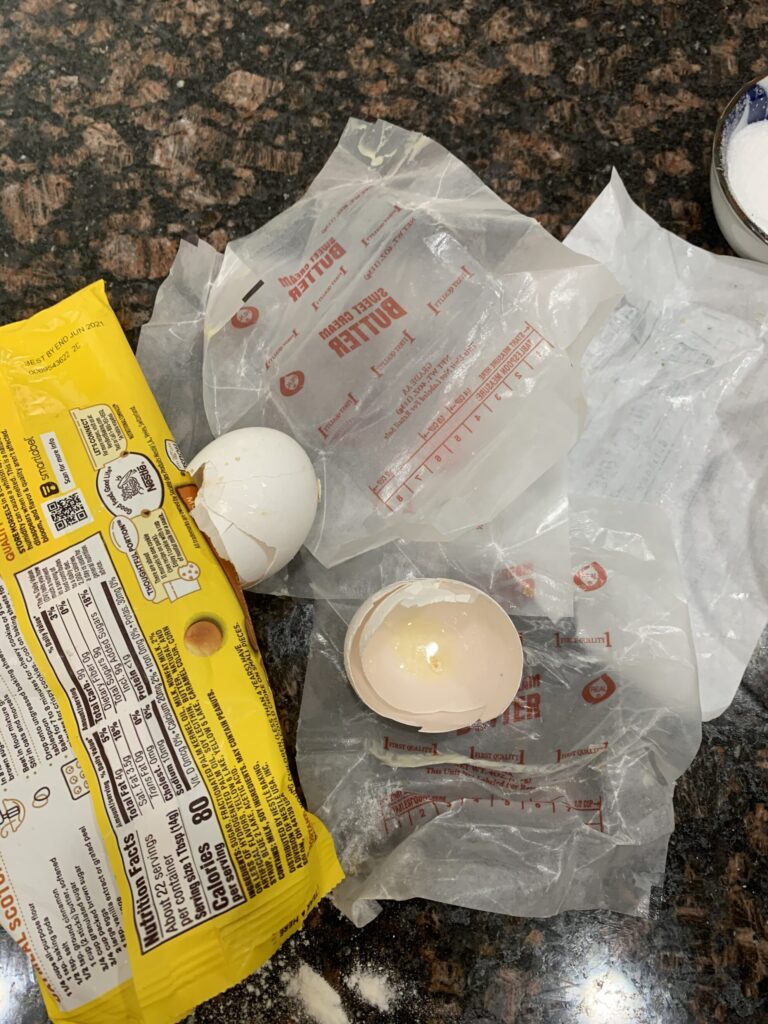 Step 2. Unload
The next step in the process is to unload the space. Part of this unloading will be to help re-home in step 4 and to better organize the space, but it's also necessary so that you can clean in areas that you don't typically clean.
Vanilla Spill: During this step, I had to unload any and all ingredients and cookware that had to be moved in order to clean around all the nooks and crannies that the vanilla found it's way into. With this crisis mess, I only unloaded the areas affected by the spill.
Family Room: It's time to unload any bookshelves, toy bins or baskets, drawers, and other spaces. Also, you'll want to set aside couch pillows and throw blankets to fluff, shake or wash.
Yes – it all needs to be removed and set aside so that you can carry on with Steps 3 and 4.
If you don't think you don't need to unload it, do it anyways…because you never know what's lurking in and around that shelf you don't want to fuss with. Even if it's just a thick layer of dust, it needs to be cleaned!
So….unload it all!
Step 3. The 4D Sort – Delete, Do, Delegate, Defer
I want to teach you my 4D Sort strategy. I've used this for my inbox for over a decade, and when the house flooded, this methodology bubbled up while I was working through all of our belongings.
What to keep? What to ditch? What to deal with later? What to get help with?
The 4D Sort is DELETE – DELEGATE – DEFER – DO.
This can be used in your inbox, with your mail, as you declutter, organize and clean the areas in your home. And it's PERFECT for dealing with the big messes.
As you work with each of the objects that you've unloaded – ask yourself:
Does this item get deleted? Delegated? Deferred? or Done?
Delete – item no longer needed or used and can be thrown away or donated

Delegated – help needed from family member to help with this part of the cleanup

Deferred – belonging needs some care but will have to happen at a later time so that you can focus on finishing the cleanup

Done – belonging or item requires some kind of quick action that you complete during the cleanup process, i.e. dust off train tracks, re-organize lego bin, vacuum up the glass on the floor
Here is a little more context on the 4D Sort, as it applies to our example messes.
Vanilla Spill: With this spill, it was mostly a delete situation as the product had to be moved into the trash can. I did do some quick delegating by asking for help in getting larger towels and the vacuum to clean up any glass that made it's way to the floor. There were a few items that were deleted from the cabinet (because they had expired!), and in this case nothing was deferred until later.
Family Room: In the larger space, it's time to decide what can be thrown out or donated (delete), what needs to be saved for later (defer), what you need help to accomplish (delegate) and what you need to clean before you re-home (do). This is a great time to wipe down empty book shelves, tops of dressers, etc. I highly recommended using the Art of Green spray or wipes for any tough messes, as it is tough on grease, grime and grit!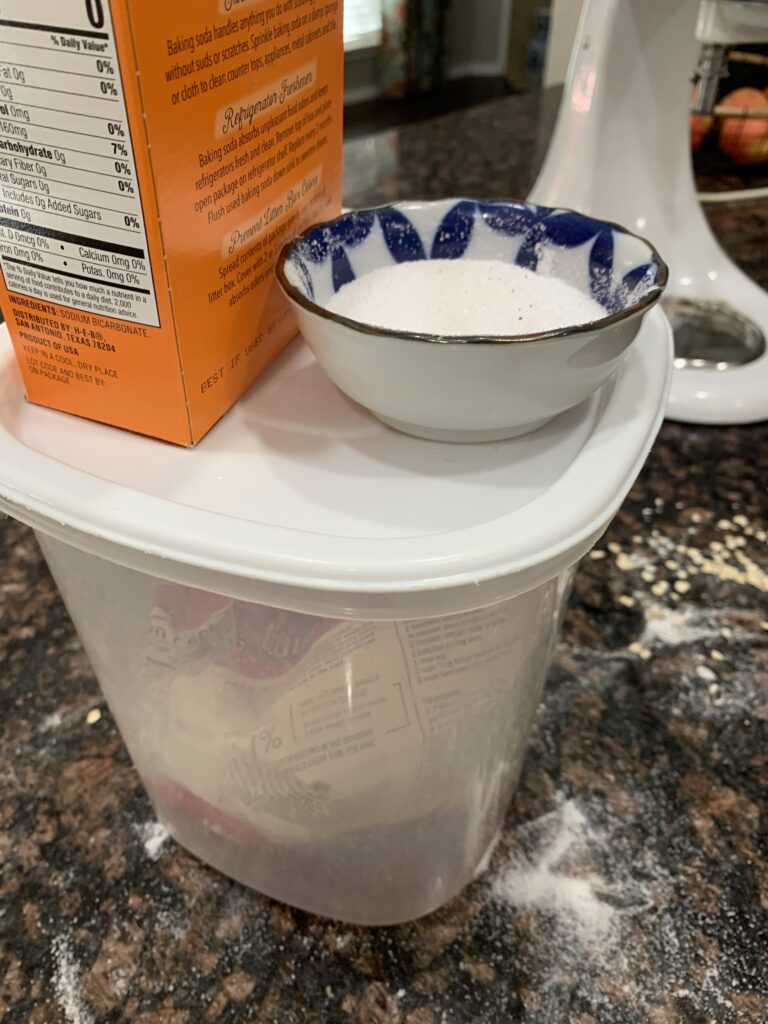 Step 4. Re-home
Next up is putting everything back into place. Some items will be returned to their original home and other items will be placed into a new home. Either way, you're going to have to give each item a home.
Vanilla Spill: In this case of the vanilla spill, I did a little moving around of other ingredients in the baking shelf in order to prevent this from happening to the other vanilla-glass container that I had. The vanilla was "re-homed" to it's new location and space on the baking shelf. A few other items and ingredients were also moved around to accommodate the new arrangement in the cabinet and drawers.
SPACE
Family Room: In the family room, books will be put back onto shelves, trinkets and items placed back onto desks or dressers, toy baskets placed back where they belong, etc.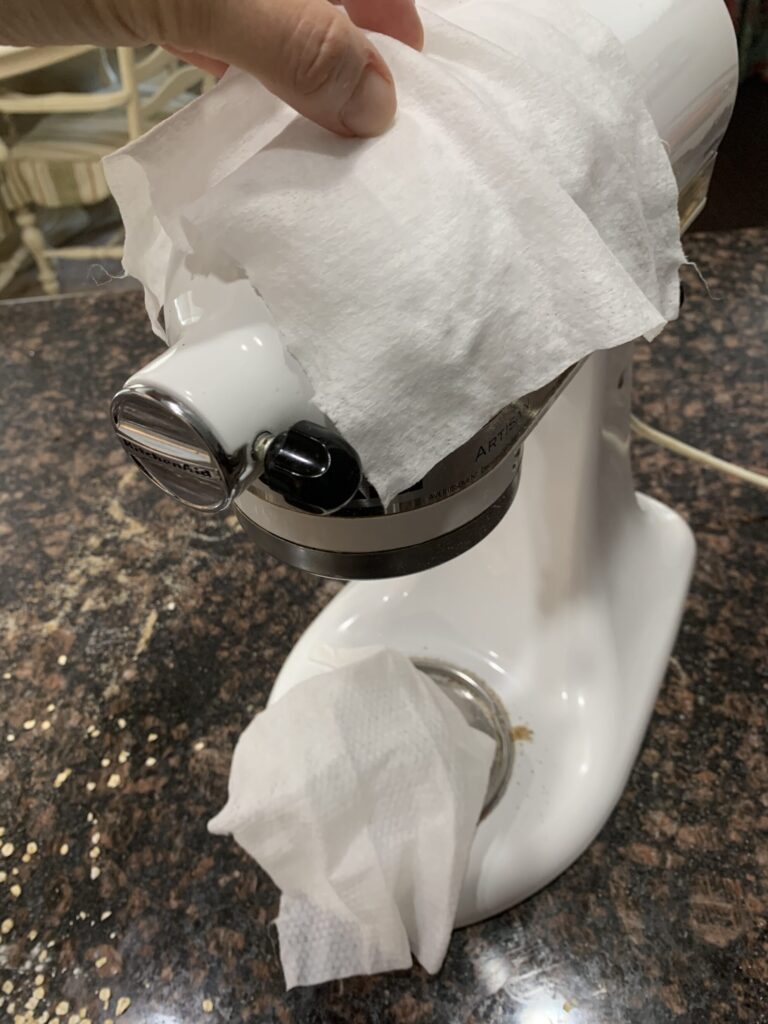 Step 5. Wipe and Clean
Now that the space is cleared and items are put back, it's time to clean and wipe down all the surfaces.
Vanilla Spill: In the final step of the process, I sprayed and cleaned the countertops, as well as all the nooks and crannies of the cabinet and drawers below the spill with my Lavender Eucalyptus Art of Green spray. I also used an Art of Green wipe and a kebab skewer together to help soak up the vanilla from the tiny corners and an edge of the drawer that took in the most vanilla after the spill. I was left with a lovely lavender, eucalyptus, vanilla scent lingering in my kitchen for a few days after this spill!
SPACE
Family Room: In the larger space, it's time to dust any wood surfaces, spray clean any other surfaces with Art of Green, and sweep, dust mop or vacuum the floors.
FINALLY IT'S ALL CLEAN!!!!
And you can now revel in your work and enjoy the fruits of your cleaning labors!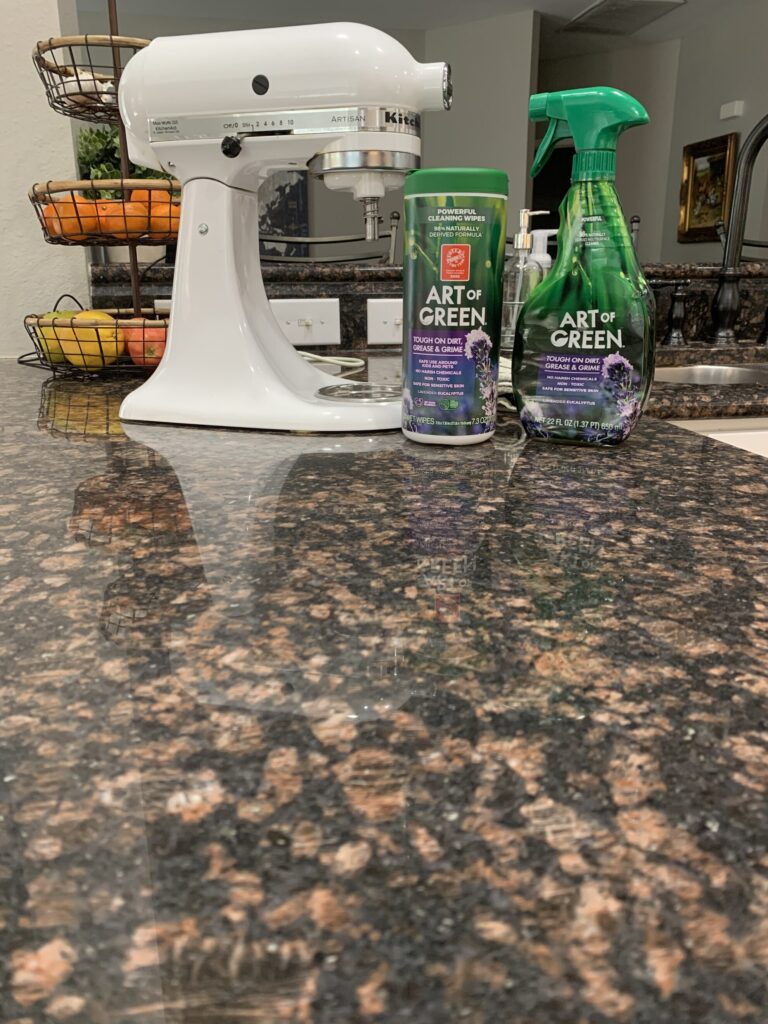 #themessisreal Visa Gift Card Giveaway!
My friends at Art of Green are hosting a monster giveaway that you do NOT WANT TO MISS. There are 7 Visa gift cards up for grabs here my friend.
5 – $200 gift cards will be given away weekly, plus there will be 2 – $500 grand prize Visa gift cards!
There are several ways to enter this amazing giveaway, and you can choose all the ways you want to enter. And…if you upload a photo of your real mess, you get 5 bonus entries!!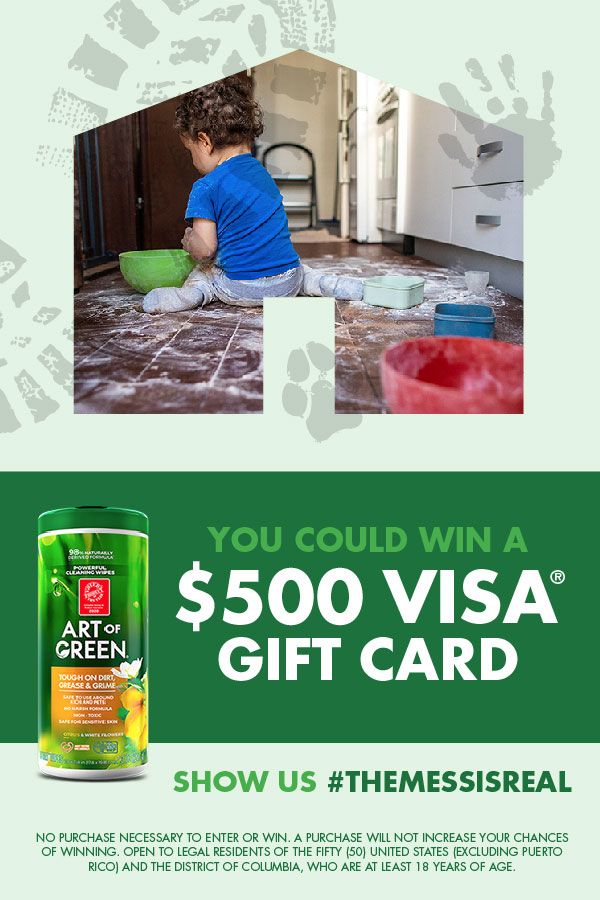 Sweepstakes Info: NO PURCHASE NECESSARY TO ENTER OR WIN. A PURCHASE WILL NOT INCREASE YOUR CHANCES OF WINNING. OPEN TO LEGAL RESIDENTS OF THE FIFTY (50) UNITED STATES (EXCLUDING PUERTO RICO) AND THE DISTRICT OF COLUMBIA, WHO ARE AT LEAST 18 YEARS OF AGE.
Disclaimer: This post is sponsored by Art of Green. Opinion, review and ideas are my own.