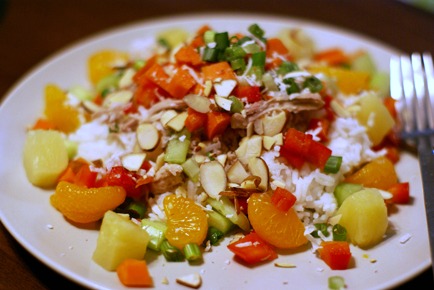 Just before Thanksgiving, we had the pleasure of eating dinner with Christan, her husband and her 3 girls.
(It was so lovely being in a "hormonally balanced" place. 3 boys. 3 boys. All the estrogen and testosterone totally cancelled each other out. But really, it made for a loud and rambunctious evening.)
Christan shared this in an email before we headed over.  I was intrigued.
We're having Stack-E-Up-E's…It's basically rice, topped with shredded chicken, and whatever toppings one desires. I usually put out a variety of veggies, some fruit, and a few nuts. Top it all with soy sauce or teryaki. Everyone gets what they like.
Stack-E-What-Es?!?  I'd never heard of this concept before.
And once I walked into her kitchen as saw this…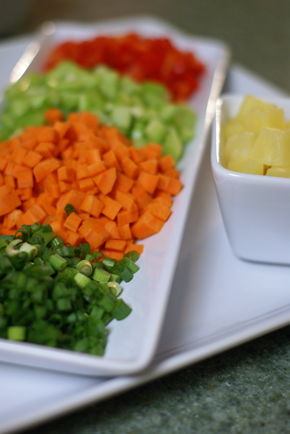 …on the counter, I was in love.
I didn't even need to taste it. Love at first sight.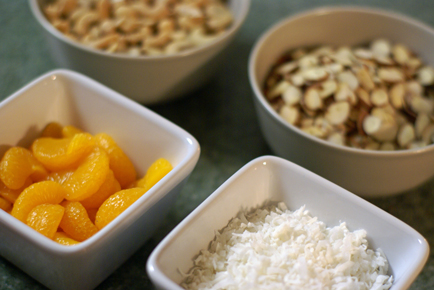 And then there were these.
Deeper and deeper I fell.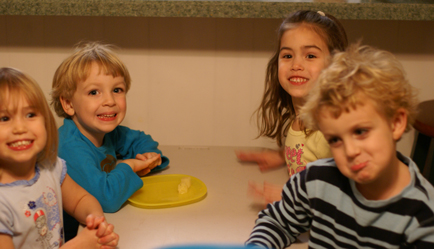 And then there was this. The double date.
If there is a bottom to falling in love, this is when I hit it. These little people of ours had a lovely first double date…and we're already planning their engagements and weddings!
(I kid.)
Maybe not.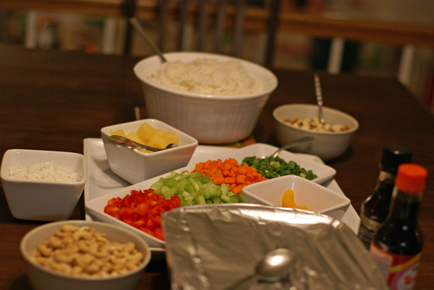 So, like Christan said…you get your plate, add some rice. Add some chicken (hiding under the foil). Then top with the fresh veggies, fruit, nuts, coconut. And drizzle with soy sauce of teriyaki sauce.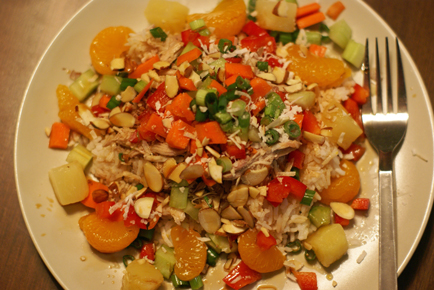 Polynesian Buffet. Stack-E-Up-Es. Whatever you want to call it, it was perfect. It had the perfect balance of flavors, colors and textures. It was all-natural, raw-ish ingredients, and left me feeling perfectly full and satisfied! It was gluten free, dairy free…great for those families with food allergies. Skip the parts you can't eat and add the parts you can. Perfection.
This is the BEST idea for "potluck" style dinner when families get together.
And Christan was right…"Everyone gets what they like."
And everyone loved it.
(I brought dessert. I will share that recipe tomorrow.)
Thank you Christan for hosting us, and for sharing this amazing concept with us all!!!