Learn Erin's must-follow strategy for your spring deep cleaning, and how to tackle your spring cleaning projects with ease and speed!
It's spring cleaning time and I'm ready to help you tackle the deep cleaning and take care of those "things you clean once a year" types of projects.
I want to help make your spring cleaning easy and FAST this year. And I'm going to share my "Deep Cleaning Top Priorities" plus my strategy for efficiency with my spring cleaning.
Let's take a quick tour of my spring cleaning caddy, and then we'll get into the strategy plus a cleaning tour of my house!
My cleaning caddies are loaded with the following:
Dusters
Sponges
Gloves
Microfiber cloths
Art of Green® wipes
Art of Green® spray
PINALEN® Original or Max spray
In addition to my caddy, I've also gathered up the following for the floors and baseboards:
Broom
Microfiber cloths
Rubber bands
Mop bucket
Mop
CLORALEN® Disinfectant Bleach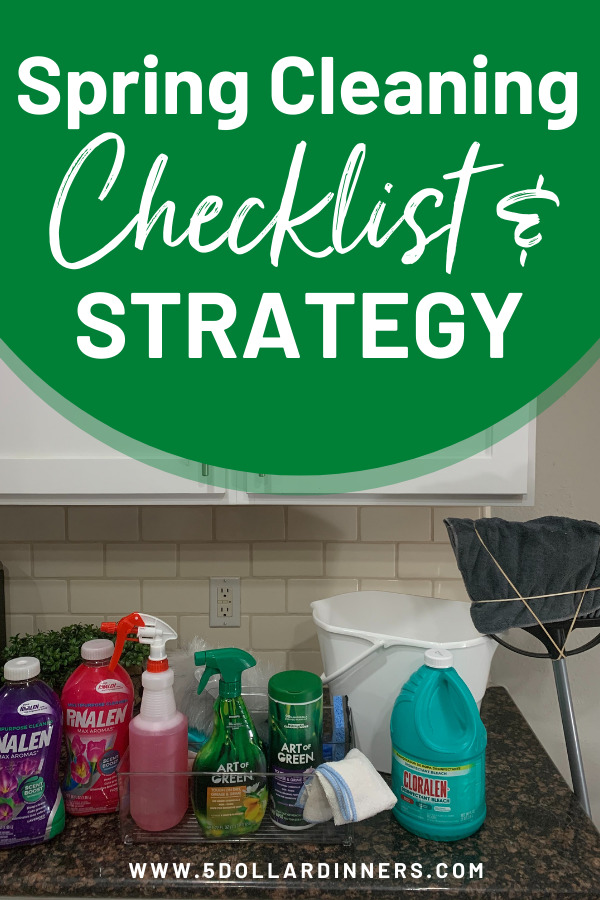 In an effort to simplify and make my spring cleaning more efficient, I'll be taking the ROOM BY ROOM APPROACH.
And of course, I'm using my "P.I.E" strategy as well.
P.I.E. = Plan – Implement – Evaluate.
First, we need to come up with a plan of attack.
Then, we start cleaning – one room at a time.
Finally, we marvel at our clean, clean, clean home.
Here's how that looks…
STEP 1 – The Regular + Deep Cleaning PLAN
First, we need to write up a plan. Make a list of the rooms you need to tackle.
In addition to the "regular" dusting, vacuuming, wiping, etc. each room needs a "larger deep clean" project.
You will want to plan that out ahead of time, so you're ready to tackle that bigger project while you are in that room.
For example, here's a quick look at my plan (what is in bold is the "deep clean" portion of my spring cleaning plan. More on these below.)
Bedrooms – declutter, floors, bedding and windows/windowsills
Living/Dining/Office – baseboards and floors
Bathrooms – sanitize floors, deodorize trash cans and toilet brush holders, scrub tub and shower tile
Kitchen – counters, floors, baseboards, microwave/vent hood
The last part of Step 1 is to schedule your deep cleaning sessions. Yes, write them on your planner/calendar.
Step 2 – The "Let's goooooo" IMPLEMENTATION Rule
Set up your cleaning caddy with cleaning products and tools.
Get your plan and checklist (below) and GET TO WORK!
Crank up the tunes, turn on a podcast and let the cleaning begin!
The rule here is to stay in the room until it's clean – complete the regular cleaning plus your deep cleaning project(s) for that room.
THEN..
Implement in NEXT ROOM.
Implement in ANOTHER ROOM.
Follow your room by room plan, and work through them all until your deep cleaning projects are completed!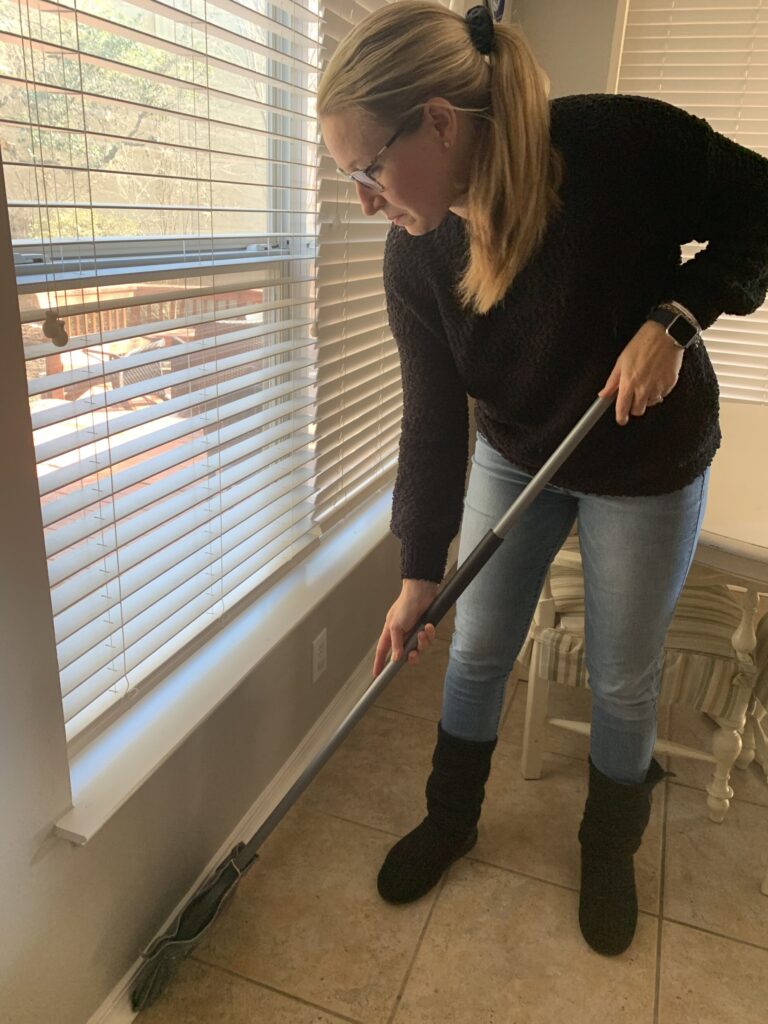 Step 3 – Evaluate and MARVEL!
Take a moment for a pat on the back, a congratulatory high five to yourself (and with anyone in your family who is helping you!)
Revel in the adrenaline rush of finally taking care of that "one thing" you've been avoiding for months….years?!
*high five*
Check out this video of my spring cleaning plan and what I'm cleaning around my home!
Top 5 Projects on Erin's Spring Cleaning
In addition to all the regular cleaning that happens in my home, I'll also be tackling the following this spring.
#1 Windows-windowsills
My plan with the windows and windowsills is:
First, I will dust and clean the windowsills and frames of the windows.
I will be using PINALEN spray to wipe the windowsills (hello, puppy slobber!) and to rub off any gunk from the windows.
I love the PINALEN cleaning power. Plus, it smells amazing too.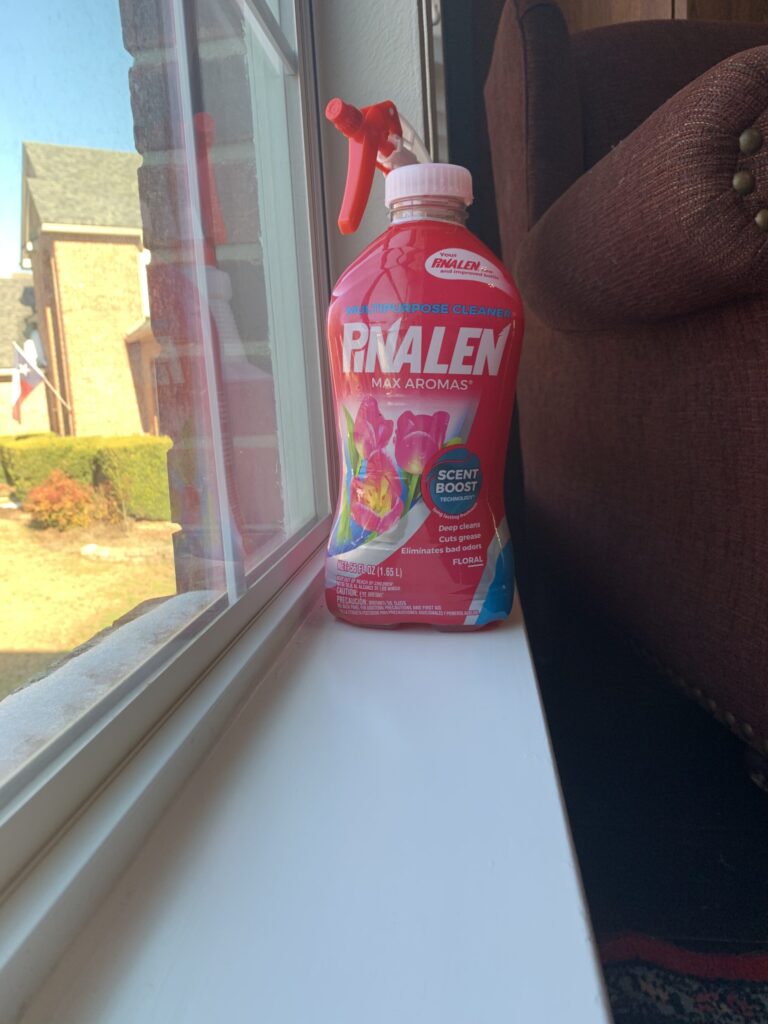 Next, I'll vacuum out the dust and dirt on the bottom of the frame.
Then, I'll clean the windows.
Finally, I will spray the screens with hose and let dry. (clean, dust, wipe)
#2 Wall washing
Our entire home was painted a few months ago as part of our flood renovation, but there are hand prints (and even footprints?!) on the walls.
For stubborn hand prints, dirt and marks on doors and walls, I'll be using the Art of Green spray or wipes on the marks.
The wipes will quickly rub away any dirty spots, or you can use the Art of Green spray and and wipe away with a sponge.
I'm using Art of Green because it is tough on dirt and grime.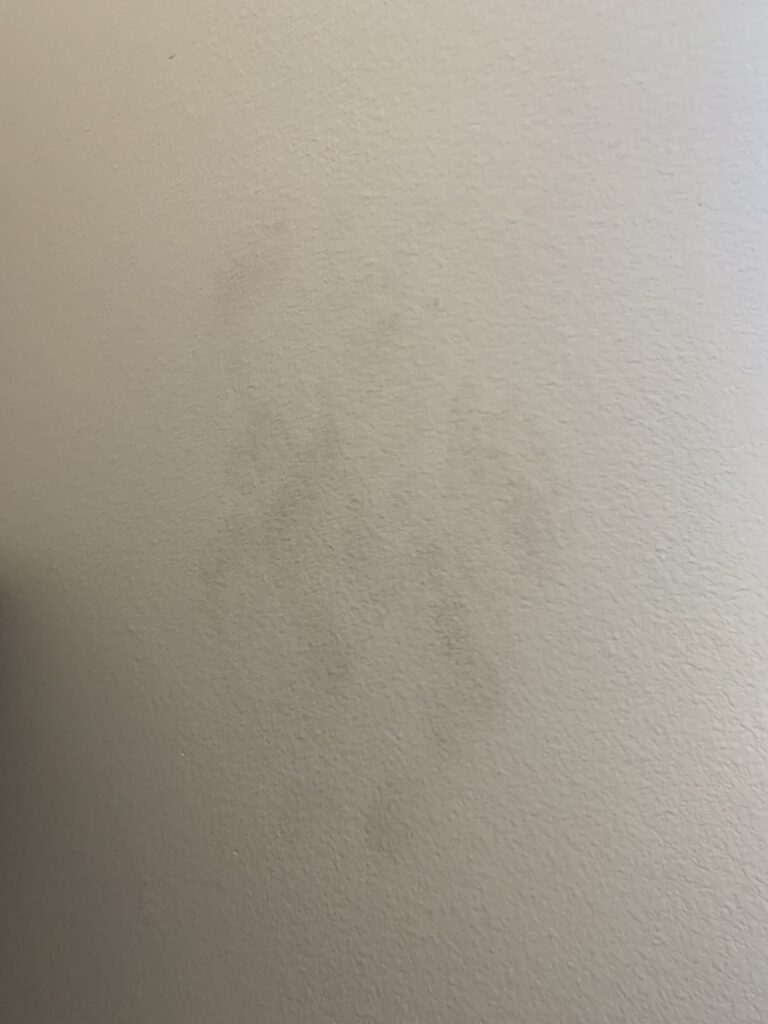 One of the little boys must have been laying on our bed with his feet up on the wall…and left behind some dirty "evidence." 😉
My Art of Green wipes took care of these in just a few swipes!
#3 Baseboards
I will also be using my Art of Green spray to handle the dirt and grime that the baseboards seem to attract.
I am not getting any younger and prefer not to be buzzing around on my hands and knees.
Instead, I'll be sweeping the baseboards with a broom and microfiber cloth.
Attach a microfiber cloth to broom with rubber bands.
Spray cloth with Art of Green.
Swipe along the baseboard in 3-4 foot sections.
Switch sides on the cloth, or replace the cloth as needed.
No aching back or knees for me!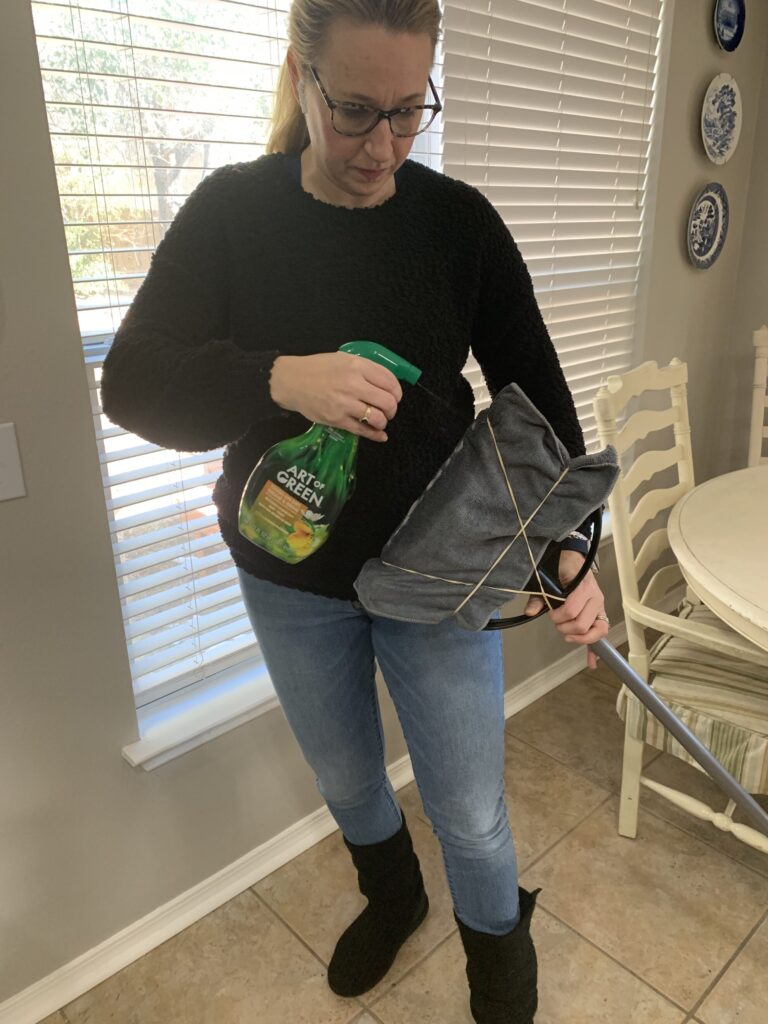 #4 Floors & Bathrooms
Once the baseboards are clean, then you can clean the floors.
To really deep clean non-porous floors, add a ½ cup of CLORALEN Disinfectant Bleach to 1.5 gallons of water in a mop bucket.
Then, mop and scrub any trouble spots. You'll be surprised what comes off and how much they'll sparkle!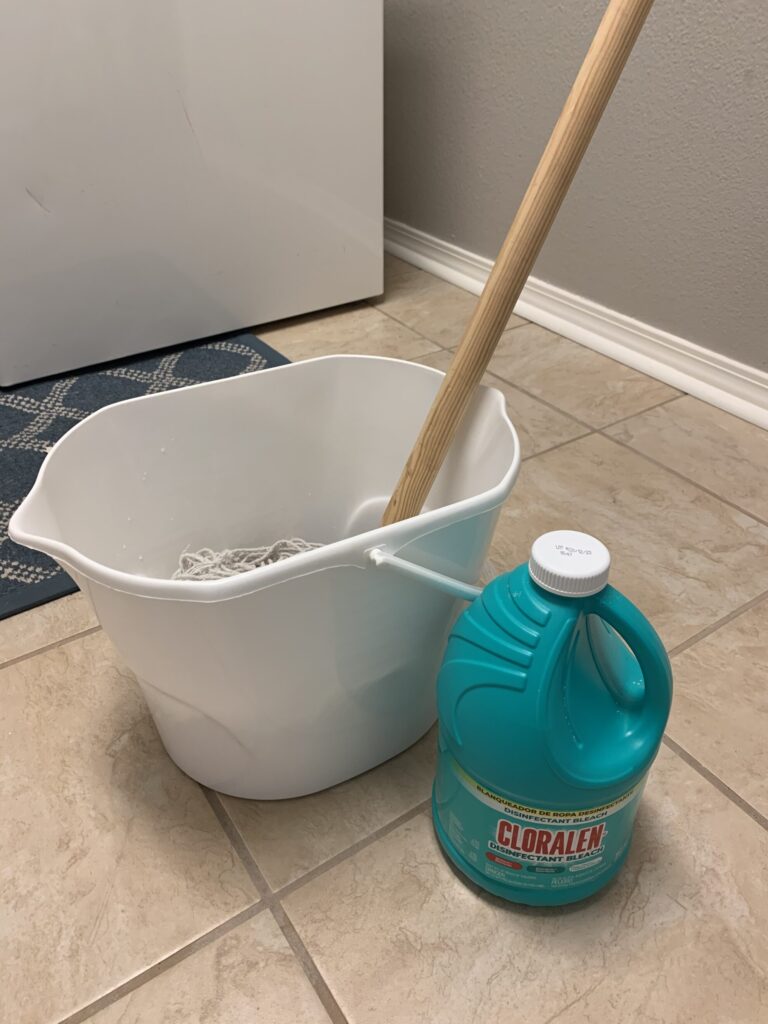 In my bathrooms, I'll be focused on keeping odors at bay.
Lined cans with grocery bags works well for this, but you want to know what works better?!
Place a few empty grocery bags in the bottom of cans, then line it with another grocery bag.
This will save you time in the future when you are taking out the bathroom trash.
I also like to add a cotton ball soaked in PINALEN (floral scent is my favorite!) in the bottom of the trash can to help deodorize it.
Finally, I will add a cap-full of PINALEN into the toilet brush holder to keep the brush fresh and clean, and the bathroom smelling great.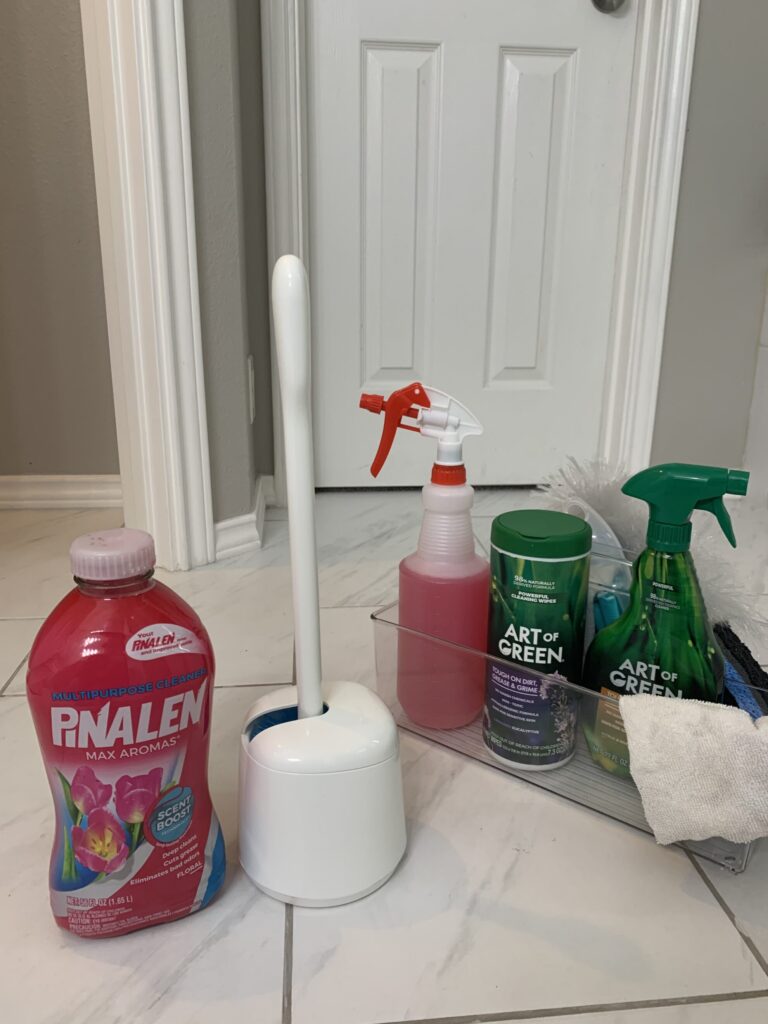 #5 Vent hood/above microwave in the kitchen
When it's time for my kitchen deep clean, I'll be focused on the nooks and crannies.
I'll take care of the baseboards, wiping off cabinets, cleaning drawer and door pulls, and giving the oven and stove a thorough clean.
The greasiest place in my kitchen is easily the stove top, microwave and cabinets above the microwave.
I will be using PINALEN Fresh Pine because it is a powerful degreaser and cleaner, thanks to the real pine oil.
Dilute 2 Tbsp PINALEN in 32 oz. spray bottle with water. Go over your vent hood, all around the microwave, and around your stove burners to cut through the grease and gunk quickly.
WHEW!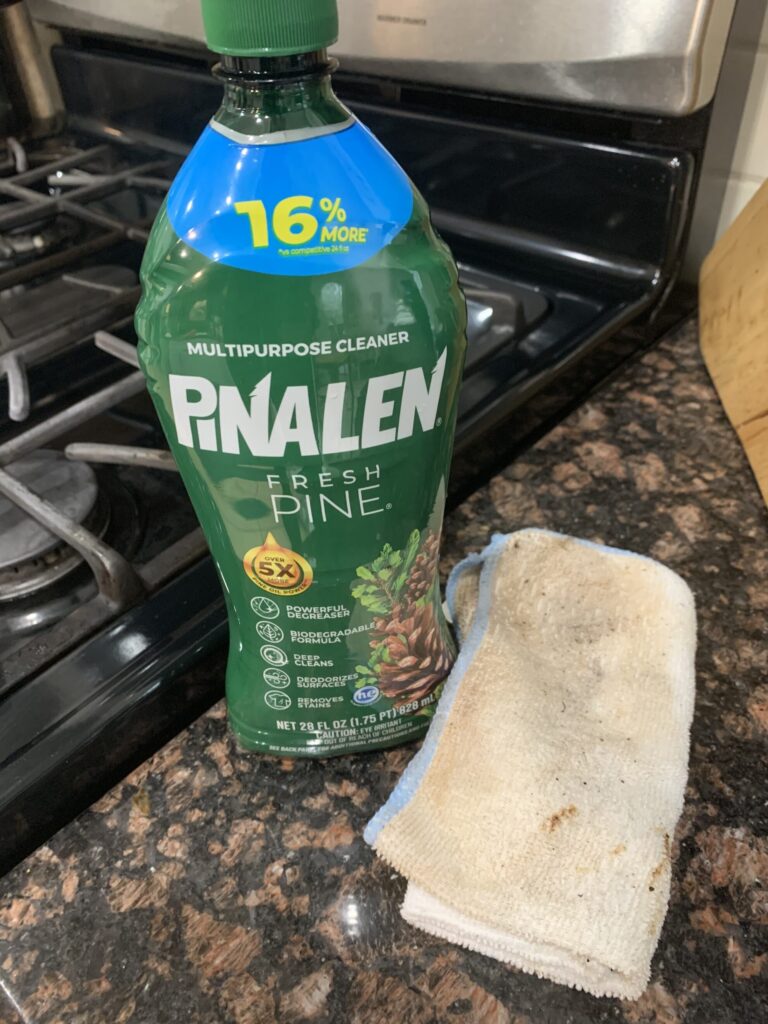 Room by Room Spring Cleaning Checklist – Free Download
I hope that sharing my spring deep cleaning plan for my home helps inspire and motivate you to do the same in your home.
Set up your cleaning caddy, then get to work going room by room. I've included some common "deep cleaning" tasks for each room on the checklist.
Download it and print it out to use as you work through your own spring cleaning this year.
Where to Buy Art of Green, PINALEN and CLORALEN Disinfecting Bleach
You definitely need to be using Art of Green, CLORALEN and PINALEN in your spring cleaning. Tap to find it in stores near you below…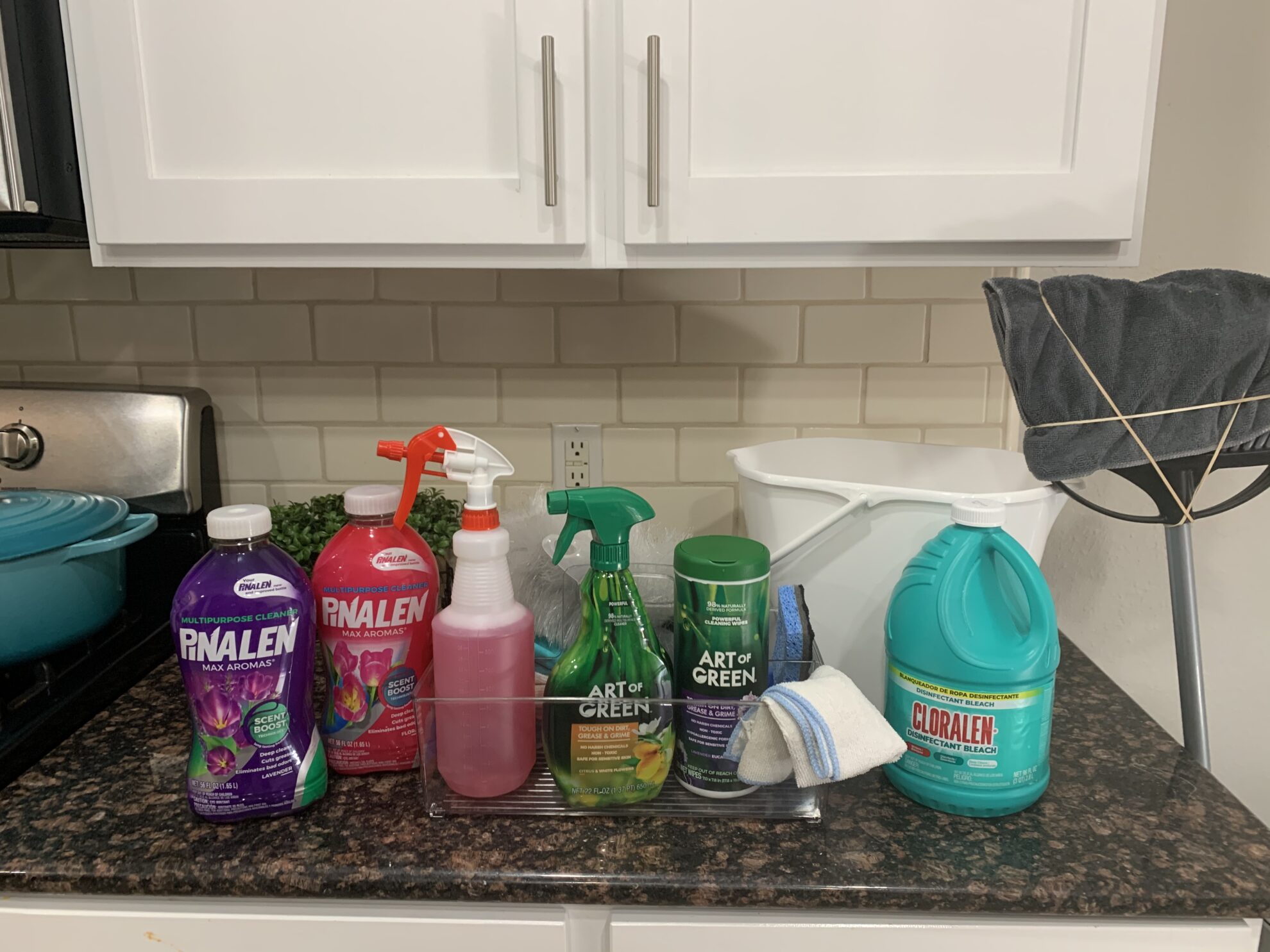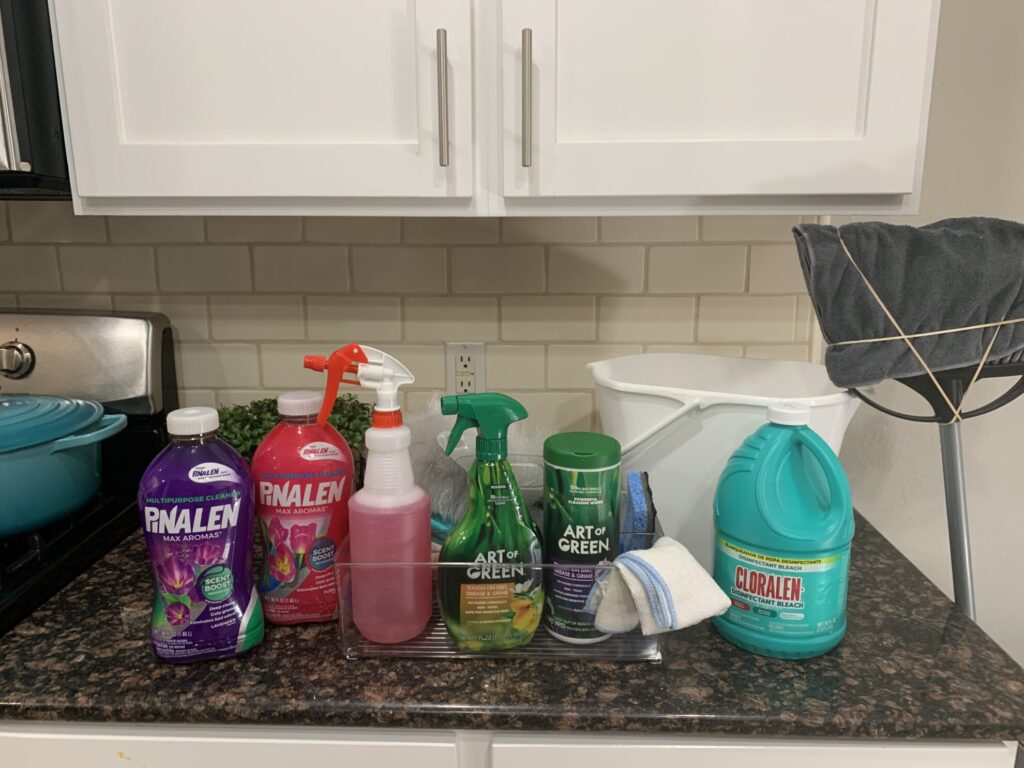 Disclaimer: This post is sponsored by AlEnUSA. Opinions and love of the product are my own.