Spinach and Tomato Stuffed Chicken is an easy weeknight dinner for your family!

Oh please. Please.
Please, for all that is good and right in this world. Please, make these.
When I asked for spinach recipes last week, I had this one in the back of my mind to try as I asked. Last summer when on vacation with my family, I made for them a similar recipe that used sun dried tomatoes, spinach pesto, mozzarella, stuffed/rolled in the same way.Very similar to this one from Kristia!
As I was writing up the "calling all spinach recipes" last week, I remembered the meal that I made for them and wondered if I could pull it off for $5. I went digging…found a tomato in the fridge (that Steve must have bought last week when I was out of town…as I don't recall buying one!) (I'll have to ask him about that one…as he rarely goes to the grocery store!)
I came close!
The How-To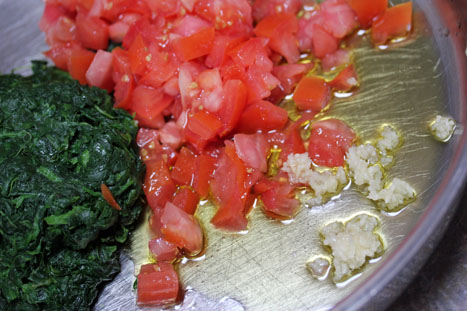 Cook and drain the spinach. Drain well. Press out the liquid. Squeeze out the liquid.
Or else you'll be having Runny Spinach and Tomato Stuffed Chicken Breasts.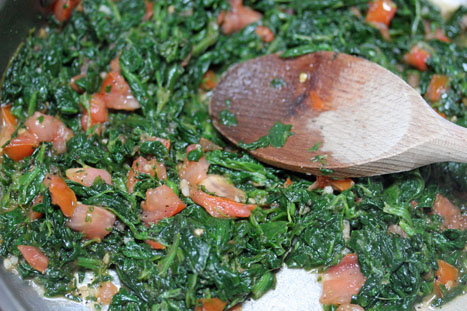 Saute. And cook off the liquid that the tomatoes release.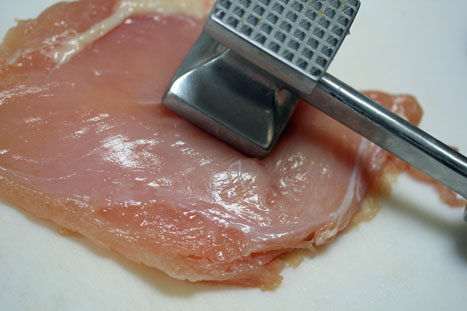 Meanwhile, pound out the chicken breasts.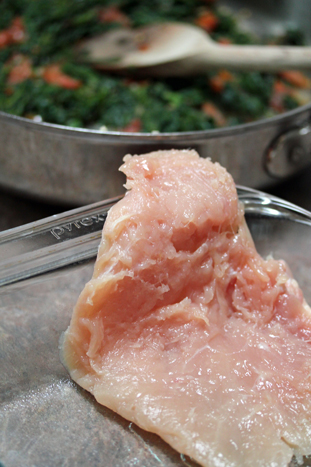 And lay into a baking dish that is small enough that the stuffed chicken breasts fit snugly.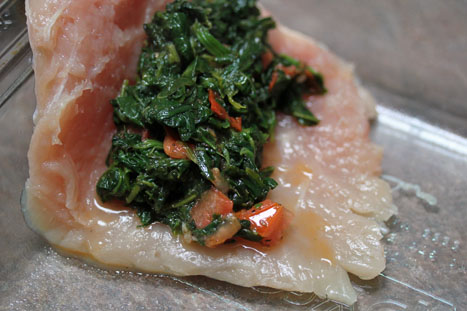 Spoon in the spinach tomato mixture. Use a slotted spoon.
Again, you don't want to have Runny Spinach and Tomato Stuffed Chicken Breasts.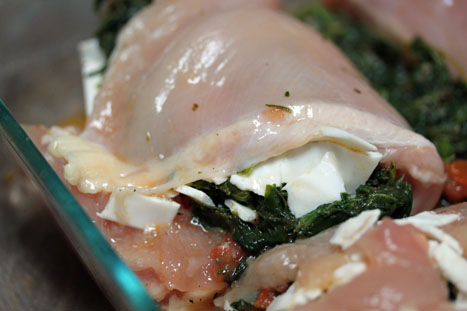 Add some shredded mozzarella cheese.
(I used dairy and soy free mozzarella slices. So the boys could enjoy this!)
(At the moment, Ryan, Charlie, Tyler and I are dairy free. And Tyler is soy free.)
Roll up the chicken, spoon any extra spinach tomato mixture around the stuffed chicken.
Bake.
Make tomato sauce for topping while baking. Spoon the tomato sauce over top.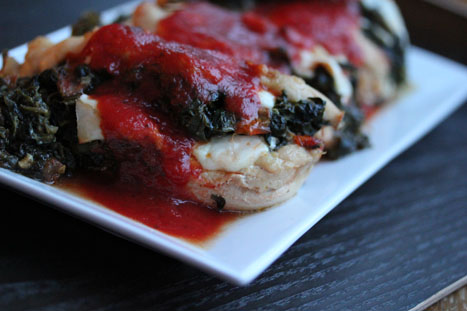 Enjoy. Enjoy. Enjoy!
Ingredients
1

box

frozen spinach

1

Tbsp

olive oil

1

tomato, diced (or 1 15 oz can drained diced tomatoes)

4

garlic cloves, crushed

Sprinkles of dried basil, salt and pepper

4

chicken breasts

depending on size...about 1.3 lb

1

cup

shredded mozzarella cheese

6

oz

can tomato paste

1

tsp

Italian seasonings

Bread or dinner rolls with jam and butter
Instructions
Cook the spinach as directed on the package and drain well. And by well, I mean well.

In a large skillet, add the olive oil, well drained spinach, diced tomato and crushed garlic. Add a few sprinkles of basil and salt and pepper. Saute for 5-7 minutes, or until fairly dry and liquid has steamed off.

Pound out the chicken breasts and place into a slightly greased baking dish. Spoon the spinach and tomato mixture into the chicken breasts. Top with some shredded mozzarella cheese and roll up. Repeat for all the chicken breasts. Spoon any remaining spinach around the chicken in the baking dish. Bake at 375 for 45-50 minutes, or until cooked through.

While the chicken is baking, make some red sauce with the tomato paste. Spoon the tomato paste into a small saucepan and add 2.5 cans worth of water. Whisk and add some Italian seasonings and let simmer over low heat until the chicken is finished baking. Spoon the sauce over the chicken pieves (You could also use tomato sauce, crushed tomatoes or spaghetti sauce!)

Warm some dinner rolls or toast some bread. Serve warm with jam and butter.

Serve Spinach and Tomato Stuffed Chicken Breasts with bread, jam and butter.