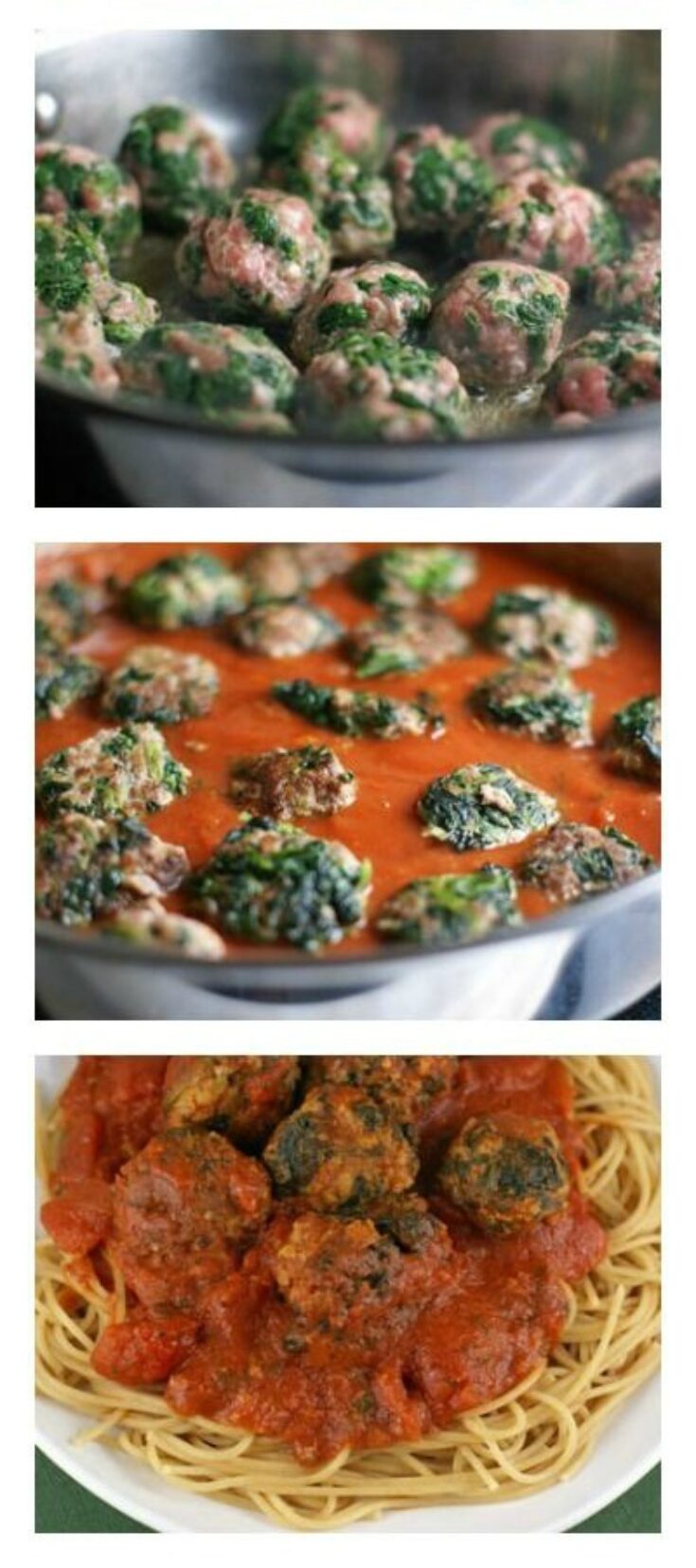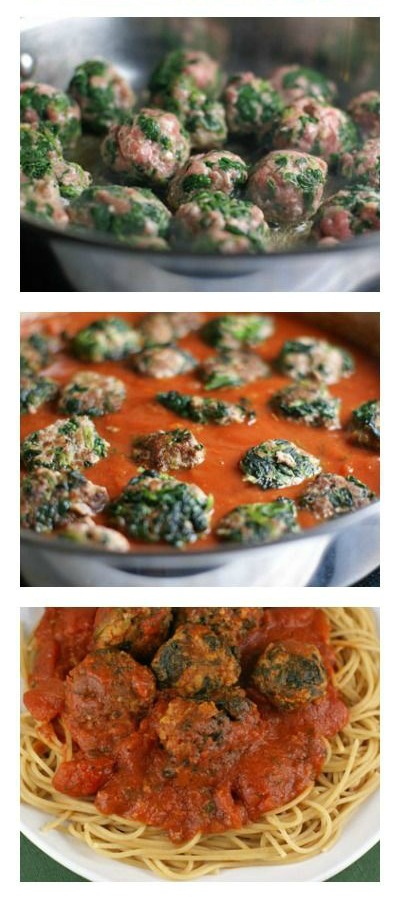 Look at these green babies simmering in homemade spaghetti sauce. After rummaging through the freezer and pantry last week, I discovered that I had everything on hand for these Spinach Meatballs.  A reader mentioned them on Facebook recently, and I had to make them.
I was really worried that the boys wouldn't eat the meatballs because they had "green stuff" in them, but it turned out to be useless worry.  All 3 of the boys gobbled them up. Hopefully your little ones will too!
A two dish, one plate dinner for ya!
Prepare the spinach and drain it. Drain it good. (Well, I mean.) I used the bottom of a measuring cup to press out the liquid.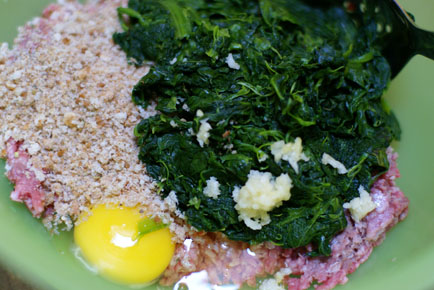 In a mixing bowl, combine the meat, spinach, bread crumbs, egg and garlic cloves.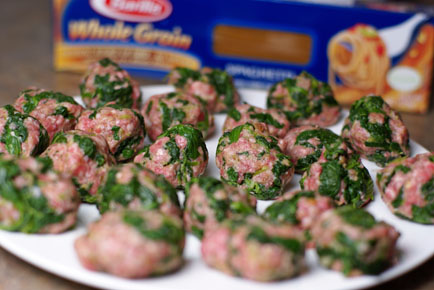 Form into 1 inch meatballs.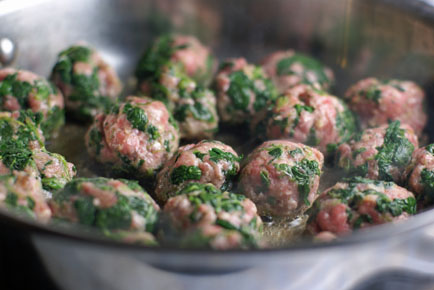 In a large skillet, add the olive oil and brown the meatballs on all sides.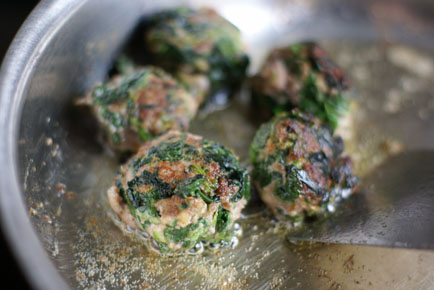 Once browned, set them aside on a plate and drain any excess grease.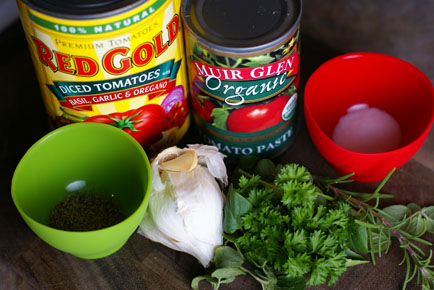 Prep sauce ingredients. Crush the garlic. Rinse the fresh herbs, pat dry and run your knife through them.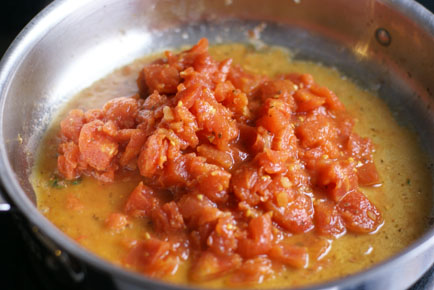 In the same skillet that you browned the meatballs, add the canned tomatoes with the liquid.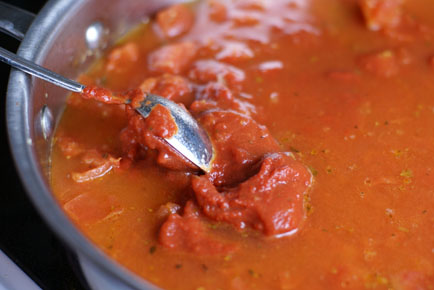 Stir in the tomato paste plus 1 cans worth of water.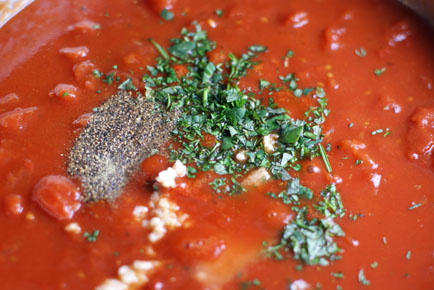 Stir in the fresh herbs, garlic and salt and pepper.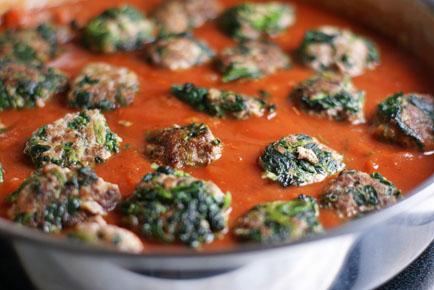 Place the meatballs back into the skillet with the sauce.  Spoon the sauce over the top and cover.  Let simmer for 10-15 minutes.  Serve over noodles.
A one plate dinner. A delicious one plate dinner. A kid-friendly one plate dinner. A mom-approved one plate dinner.  Enjoy!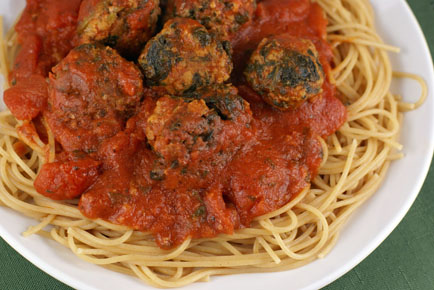 Spinach Meatballs with Spaghetti

Ingredients

1 12 oz box frozen spinach, cooked and well drained ($.25) Sale price and coupon
1 lb. ground beef ($1.59)
1 cup homemade bread crumbs ($.25)
1 egg ($.10)
2 garlic cloves ($.10)
2 Tbsp olive oil ($.20)
15 oz can diced tomatoes with Italian seasoning ($.24) Sale, store promotion and coupon
1 6 oz can tomato paste ($.19) Sale plus $1 Muir Glen coupon
2 garlic cloves ($.10)
Parsley, oregano and rosemary from the garden
Salt and pepper to taste
About 3/4 lb. whole wheat spaghetti ($.38) On sale with coupon for $.50/lb.

Directions

In a mixing bowl, combine the meat, spinach, bread crumbs, egg and garlic cloves. Form into 1 inch meatballs.
In a large skillet, add the olive oil and brown the meatballs on all sides. Once browned, set them aside on a plate and drain any excess grease.
Crush the garlic. Rinse the fresh herbs, pat dry and run your knife through them. In the same skillet that you browned the meatballs, add the canned tomatoes with the liquid.  Add the tomato paste plus one cans worth of water. Stir in the spices, garlic and salt and pepper.
Place the browned meatballs back into the skillet with the sauce. Cover and let simmer for 10-15 minutes.
Serve Spinach Meatballs over noodles.

Cost $3.48