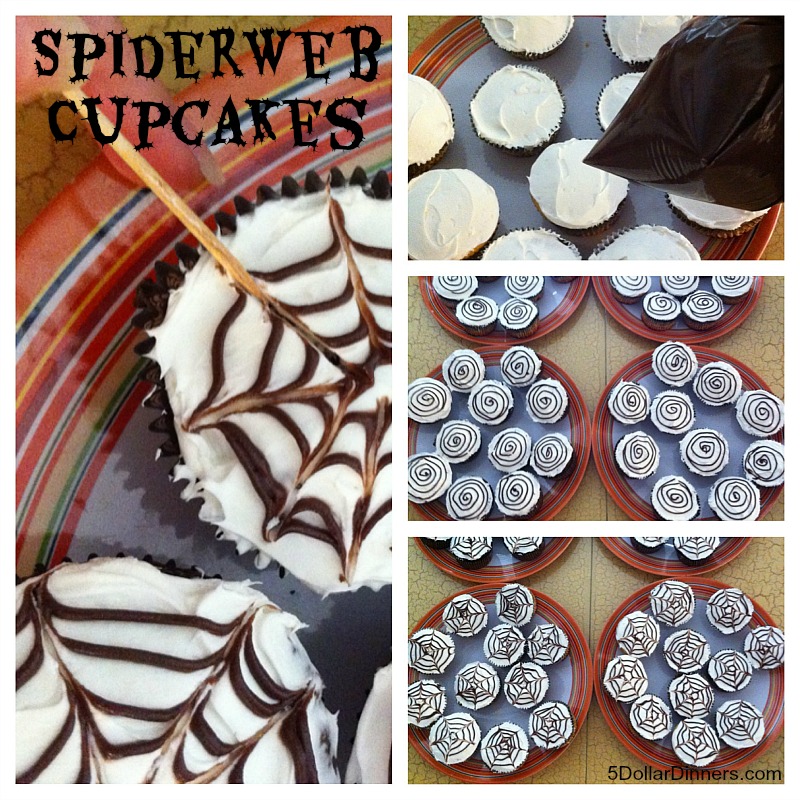 My quadruplets' birthday is this week and somehow they always end up with a Halloween themed birthday party since they were born in October. I've made a ton of Halloween themed treats over the years, but so far these spiderweb cupcakes have been their favorite. I made three dozen of these to take to their school for snack time yesterday and all of the kids went crazy for the spiderwebs!
Even with years of practice I'm not very good at decorating cupcakes but I saw this idea on a mini cheesecake recipe from Family Circle and I thought it was just the thing for the kids. The spiderwebs were super easy to create and they turned out really nice, plus the webs hid any imperfections in my icing skills.
Steps:
I used a devil's food cake mix and a yellow cake mix and made two batches of cupcakes then iced them all using a tub of white whipped frosting.
Next I spooned chocolate frosting from a tub into a zip style sandwich bag. The chocolate frosting was much thicker than the whipped so I added a teaspoon of milk and mixed it well by squishing the bag with my hands.
Cut just a tiny tip off a corner of the bag then start piping on chocolate circles working out from the center of each cupcake.
Once you've piped the chocolate onto the cupcakes use a toothpick to draw lines out from the center to create the spider webs.
Easy as that! Enjoy!
This recipe is featured on Meal Plan Monday #237.