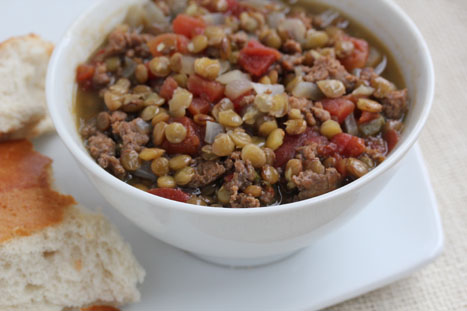 Splurge Alert!
Over the summer I'd stop at the local traveling farmer's market in my town. It comes through every Thursday through the summer, and I look for the sign every week (as I can't remember when it starts back up. May, likely?!) on Thursdays when I take Charlie to school.
There are many days when I just which we had more grocery budget money to spend on the grass-feds and the all-naturals and the free-ranges, etc. We do get farm fresh eggs, and I do buy as many packages of all-natural meats/poultry as I can squeeze into our $75/week budget. This chorizo being one of the all-natural, homemade sausage that I bought from the Amish farmer that come to the traveling farmer's market in our town. (You can see that it's $4.95/lb!)
My hope is that this summer the garden harvest is plentiful and I don't have to buy as much produce from the market or store…leaving more wiggle room for these more expensive meats.
But even with the more expensive meats, I will still apply the overall concept of $5 Dinners!
Pair the expensive ingredients with inexpensive ingredients to keep the overall cost of the meal as low as possible. Like this…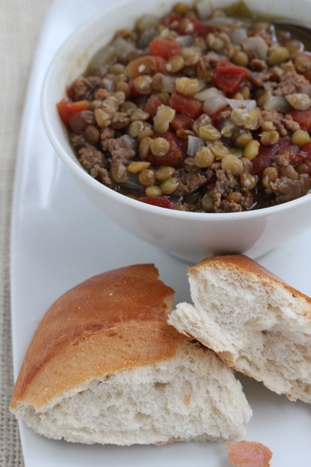 Ingredients
1

lb.

Chorizo Sausage ($4.95)

4 garlic cloves, crushed ($.10)

1

small

red onion, chopped ($.30)

2

cups

broth, chicken or vegetable (free if homemade)

1 1/2 cups green lentils ($.75)

1 10 oz. can Rotel diced tomatoes with green chilies ($.16)

Optional - Couple shakes crushed red pepper

Salt and pepper to taste

Frozen peas, or other veggie side ($.88)

Or bread slices as a side. ($.50)
Instructions
In a large saucepan, brown the chorizo sausage with the crushed garlic and chopped onion. Drain and return to the saucepan. Add the broth, green lentils, Rotel diced tomatoes with green chilies and some crushed red pepper if you can take the heat!

Bring to a rolling boil, then reduce heat and cook for about 20 minutes, or until the lentils have cooked. Season with salt and pepper to taste.

Prepare frozen veggies or other side dish. Warm bread.

Serve Spicy Chorizo and Lentil Soup with veggies and/or bread.