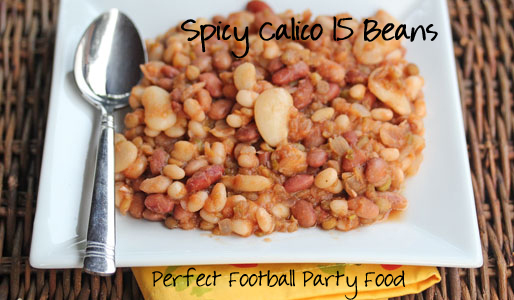 Perhaps it's the season…but these spicy calico beans make me think of football games…and friends gathering together to cheer on (or rival against each other) their favorite teams, their alma maters. These beans just belong on the countertop at such gatherings. Drop a bowl of potato chips next to them and scoop them up by the chip-ful. Or place them next to the burgers that you just brought in from the grill.
There's just something about these that are warm and cozy…but somehow they just go with football. Also, would be great at potlucks and fall picnics too!
Delicious, inexpensive entertaining good…that's what I'm talking about!
Here's how I made them, and how I spicy-ed them up. Used the HamBeens' Cajun style 15 Bean Soup Mix, along with more pepper than I'd normally use when seasoning, and a bit of cayenne pepper. (I would have added more cayenne, if I wasn't serving them to my kids!)
Hope you enjoy!
Don't forget…Enter the Hurst Beans Handmade Clay Pot Giveaway, if you haven't already!
Ingredients
1

lb.

Cajun HamBeens 15 Bean Soup Mix

1 onion, diced

4 bacon strips

8 oz. tomato sauce

3/4

cup

brown sugar

1/2

cup

cider vinegar

1/4

cup

spicy mustard

1 tsp garlic powder

1 tsp cayenne pepper (optional)

Salt and pepper
Instructions
Soak the beans overnight or for at least 2 hours in hot water. Drain and cook the beans with the packet of Cajun seasoning and the diced onions for 30-40 minutes, or until all the beans are soft. (How to Cook Dried Beans)

Meanwhile, cook the bacon strips and then crumble them.

Drain the cooking liquid and return to the pot. Stir in the tomato sauce, brown sugar, cider vinegar, spicy mustard, garlic powder and crumbled bacon. Let simmer for about 10 minutes before serving. Season with salt and pepper.

(If you wish to keep them warm longer than 10 minutes, cover them so they don't dry out.

Serve as side dish, potluck dish or at your next football game party.